Published Nov 17. 2012 - 10 years ago
Updated or edited Nov 5. 2019
The Conversation
This story is an excerpt from Tom Alkire's latest book, River Stories: Headwaters to the Sea, a full of stories about rivers and most of them are about fishing as well. Sometimes meditative, other times humorous.
Cast, mend, swing. Again and again.
I was concentrating on getting a good drift through a slick behind a large boulder near mid-stream. Somewhere hovering under the surface in that slick was a bright fish, streaked a million rainbow colors right through the gill plates. I could see it in my mind's eye, gleaming silver, an iridescent wash of violet, pink and olive, like raindrops on a chrome bumper in the urban night.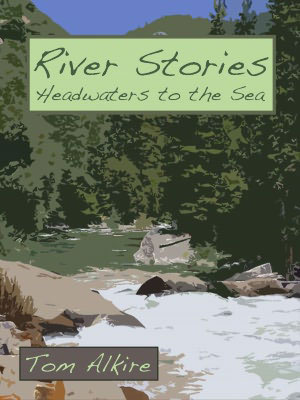 The steelhead was on its journey and I was on mine. Its journey would carry it upstream through the web of life to reproduce. It was fulfilling its destiny, migrating hundreds of miles inland from the ocean where not long ago it had fattened on squid and herring in the Gulf of Alaska. The fish felt a mysterious urge to return to the place of its birth many miles away. Finally, it found this special current with its distinctive smell, taste and flavor.
I imagined that this fish was out there, hidden from my view, but out there all the same, following an invisible thread through the living waters of the undulant terrain all the way to its spawning grounds. There the fish would discharge its reproductive duties, dutifully for it, poignant for us. The fish of my imagination had found a restful balance behind the boulder in the stream, and I wanted to get the Night Dancer in behind the boulder just under the surface.
Cast, mend, retrieve. Again. And again. And again….
And then there was a boil downstream from my line…and then…the pull.
Yes! Line peeled off my reel as the fish headed downstream. The rod bowed. I settled into the zone, a quiet place hollowed out at the epicenter of concentration where there is no reflection, where instinct rules. In the ancient battle of predator and prey, I had re-captured an almost pre-conscious form of being.
Before long the river, the flow, the rapids, and the shore blurred into one and a fish appeared. At first it was only a wink in the darkness of the waters. Then it was a flash.
Cast, mend, retrieve. Again. And again. And again….
Soon I was able to coax the fish into the shallows. Its adipose fin was intact so I knew I would release it. The fish was tired and allowed me to clamp the jaws of a small pair of pliers around the hook. Its gill plates moved back and forth with its labored breathing. It seemed as though it was trying to whisper something to me.
I bent closer.
I listened harder.
The hook slipped out of its lower jaw and we no longer were tethered together. I continued to hold it by the wrist, just up from the tail, while it regained its strength. Its gills pumped new oxygenated blood into its system, and then all at once it quit me as though we never met, uninterested in continuing our conversation.
I climbed up on the bank and sat down on the unruly grasses under an alder tree. Somewhere out in the current "my" fish was resting, as was I. Soon our journeys will continue, each of us in our own way, each of us in our own time.
Facts
This story is an excerpt from Tom Alkire's latest book, "River Stories: Headwaters to the Sea." The book is available as an ebook from Amazon and Barnes & Noble. Oddly enough the book is only US$5.99 for Barnes and Noble's Nook, while it's US$9.19 for the Amazon Kindle.
The product description from Amazon says:
The stories in Tom Alkire's new book, River Stories: Headwaters to the Sea, are about rivers and most of them are about fishing as well. Sometimes meditative, other times humorous, these engaging essays will delight readers who like rivers, fishing and the out-of-doors. The 19 stories flow through the book, beginning from glacial headwaters and alpine creeks to the sea. One story details how our forebears discovered the origins of rivers because for many centuries they thought that rivers originated out of a mysterious subterranean sea.
Other stories include casting out small Elk Hair Caddis flies on quiet spring creeks to floating down raucous whitewater rivers in pursuit of large rainbow trout. Sometimes lyrical and other times practical, these stories include fishing for steelhead in the dead of winter and in the heat of the summer. And as rivers enter tidewater there are more stories -- stories about hooking salmon and halibut in the saltwater using hooks that barely fit in the palm of your hand.
The stories in this book are set in little icy creeks tumbling down steep mountains and big grown-up rivers flowing through rimrock canyons -- waters from California to Alaska, from the Rockies to the Pacific Ocean. These stories are not just about rivers; they are about us because rivers are intertwined with us in so many ways. The people populated in these pages include crusty fly fishermen, homesteaders, Rudyard Kipling, Gonzalo Pizarro, Spey casters, Izaak Walton, ocean-going dorymen, ghosts, a hole-hog sheriff and John the Baptist. All of these narratives written by Alkire are true, or at least as truthful as a fisherman is capable of.
More content from the front page