Published Sep 1. 2003 - 17 years ago
Updated or edited Oct 8. 2020
Autumn season begins
The autumn is here. Temps are dropping, casting arms are rising.
The autumn season starts theis Friday! On the day!
And why that? Well, because I am going fishing Friday and everything seems to add up just Friday: weather, wind, time to go and company.
My wife Birgitte started fishing for real this spring, and now she's the one who keeps asking when we're going. Until now it has been much too warm for real coastal fishing. When the temperatures started dropping a few weeks ago, the wind turned to North-West which is about as bad as it can get in my neck of the woods.
Now, this week the wind is not only turing to my preferred Southern and Eastern directions, but we will probably also have the first nights with temperatures close to the freezing point before that. That is usually a turning day for the fishing. For some reason the first frost sparks activity in the fish.
It also also sparks mails and phone calls. The air is are buzzing with inquireies about plans for forthcoming trips, and we will probably be a small company going out together in the end of this week.
So yes, the season certainly starts Friday!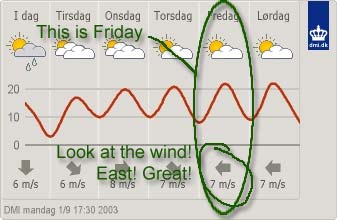 More content from the front page