Published Apr 3. 2006 - 16 years ago
Updated or edited Oct 8. 2020
Opening Day - After
Still 15,000 fish shy
Well, we fished. The weather was almost typical Opening Day. It was actually warm when I left the house, but by the time I met the guys at the gas station, there was a genuine nip in the air. It started to rain when we were getting our waders on, and the downpours came as we got to the water.
Have you read all those famous writers talking about BWO hatches in the most miserable weather? As we were sitting on a log under a conifer of some sort, I spotted what looked like a mayfly drifting near the short. Sure enough - it was a BWO. I got in the water and started to notice quite a few more olives on the water. A sparse hatch - but a hatch just the same. For Opening Day, this was a big deal.
My day was complete when I saw a rise. Yeah - a real honest-to-God trout rising to the surface on the first day of the season. Although I did not catch a fish that day, I took that rise as a sign of good things to come. Ever the optimist, eh?
Back to the beginning. I was making pretty good time, so I decided to detour along the Beaverkill to see what was happening. I have always thought of going to the famed Junction Pool on the Beaverkill to witness the whole "Celebration of the Two Headed Trout" thing. I gotta say, it's a big deal. Campers. DEC cops directing traffing. T-shirt vendors. Wow. This is not your typical Opening Day.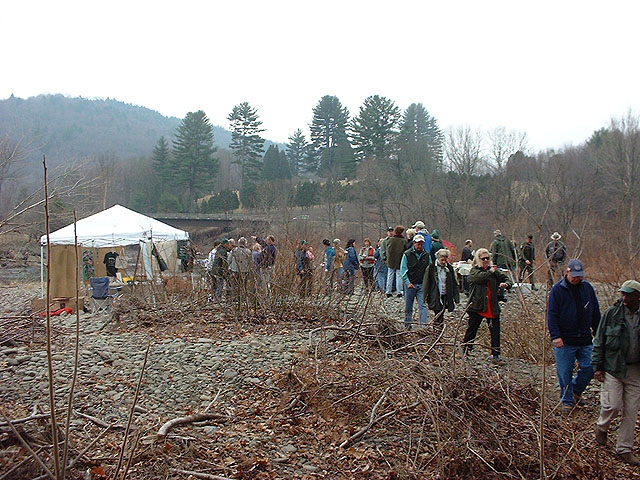 Once the weather had beaten us down, and with bellies full of good Italian sandwiches, this is about all we could muster: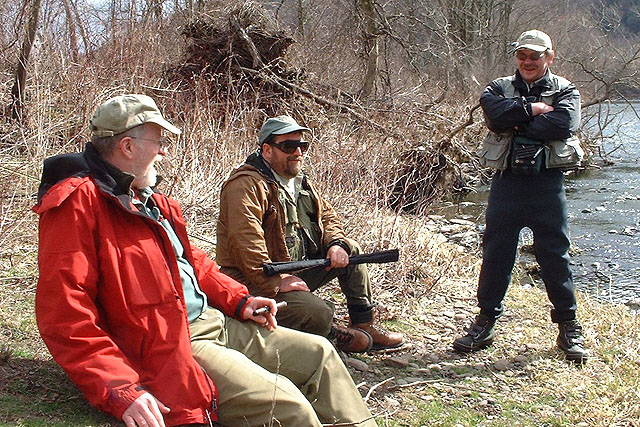 Sitting along the shoreline is a lost art, I believe. There is value in sitting, sharing a flask, and watching the water go by. It's not something you can do as well fishing alone, so when I get the chance, I make the most of it.
Of course, the younger generation has other ideas about times like this.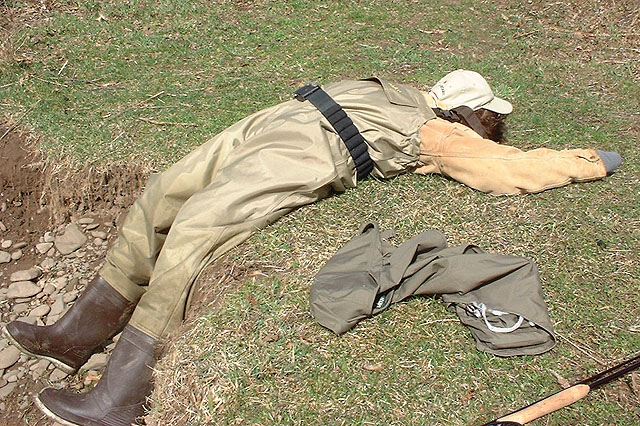 Trout Season is here. And not a day too soon.
More content from the front page