Published Feb 26. 2012 - 10 years ago
Updated or edited Oct 8. 2020
The African fly connection
Here at the Global FlyFisher we get offers to buy flies all the time. 95% come from Nairobi in Kenya.
We seem to attract African fly tying operations like... well like a certain, smelly substance attracts flies.
We try our best to tell everyone that we're not a business, not a shop, not an ad-carrying site, not a real magazine and altogether not commercial at all.
We still get a ton of inquiries about everything from availability of specific products over catalogs to free samples of our "magazine". Needless to say that we are generally unable to provide any of these things.
We also get the occasional mail from some obscure Chinese gear or clothing manufacturer who seems to think that we ought to sell their miserable products - usually baitfishing equipment, hooks for commercial fishing or even nets!
But one type of inquiry or offer is clearly dominant, and that typically comes from a Joseph, Alice or some Mr. Wetende operating out of Africa - Nairobi, Kenya in 95% of the cases - and offering dirt cheap flies for us to sell.
Like most other spam mails these are in many ways annoying, but they are also a source of almost endless entertainment and I usually offer them a bit of attention.
They are really poorly written in pretty helpless English, and mostly offering low prices over anything else.
Here's a few examples.
This one is very typical:
The NN-fly is a professional fishing fly company located in East Africa Nairobi Kenya.
Our mission is to supply the best quality of fishing flies to our customers.
For those who are willing to undertake any businesses with us now or in the future;you can be assured of.
1.Engaging with long-time experienced fishing fly tiers
2.Free sampling packages for these who want to make orders
3.Negotiable prices and flexible shipping alternatives and business transaction methods.
Please for any further business partnership,shipment or inquiries kindly contact.
Thanks
Geoffry
There's mail and phone numbers, but no web sites, references, catalogs or pictures attached (and thanks for that!). But as a serious business approach! I wonder if they ever get any responses?
Another one:
Dear sir/madam,
We are manufactures and exporters of high quality hand-tied fishing flies based in Kenya.We have been among the leading fly tiers over the years with a clear demonstration of quality by the hooks,materials and the tying standard applied.
Orders are delivered conveniently as agreed,our prices are very reasonable and we work to strict deadlines.We can help decrease your costs while increase your profits,we are specialized in all trout flies,salmon/steel heads,saltwater's/pikes and bass bugs.We also do custom tying[whereby you can send flies pictures of your choice,we will dub and tie exactly]please contact us for complete price-list and our working method.Best regards,
Alice.
"whereby you can send flies pictures of your choice,we will dub and tie exactly". Yup, send us a pic and we will send you flies that look like it. Sure!
Pictures and flies like these, maybe?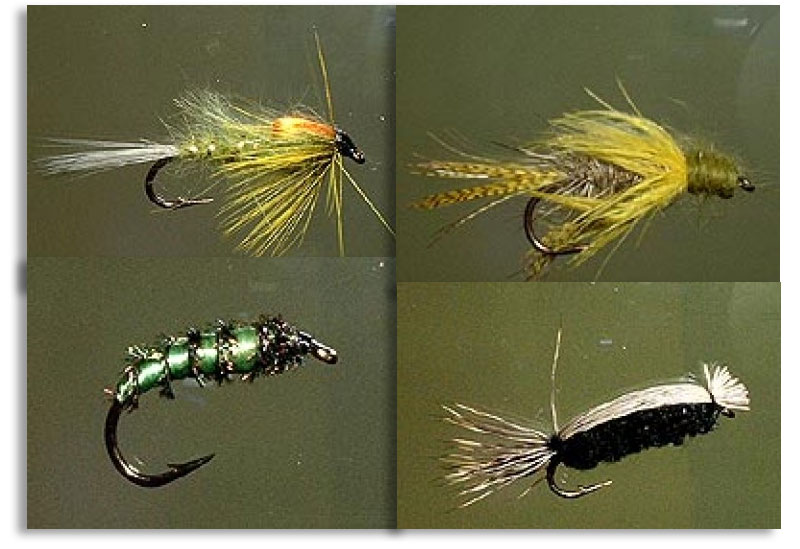 Another one:
Dear Customer,
How are you doing, This is Nnn fishing flies factory located in Kenya, along Kikuyu Road opposite Dagorette feed the children home.
We tie hand craft fishing flies, our quality is high quality and we have some customers which are enjoying our quality with fordable price,Like, MR.Nnn Nnn, from UK, he is enjoying our quality flies with low price, another one is Nnn Nnn from Italy, we have work with him almost three year now, no even single day he has complain to us.
Now it is your time to join us and test our quality. We deliver our customers parcels in time and we sale our flies in Dozens.
"located in Kenya, along Kikuyu Road opposite Dagorette feed the children home" in case you want to stop by for a cup of coffee!
And notice the reassuring
"we have work with him almost three year now, no even single day he has complain to us."
no even single day he has complain to us
The Ladies of the Vice at least have a good story and a cause:
Dear Sirs,
May we take this early opportunity to introduce ourselves to you and advice that we are a small scale fly tying facility operated by women. We are looking to expand our flies business hence our endeavor to contact you. Our fly-tying initiative is based in Kenya.
HOW WE STARTED-THE GROUP
The fly tying business in Kenya is dominated by few rich individuals. Due to high level of poverty, unemployment and poor financial status of the population here, the fly tiers are perpetually exploited, underpaid and over-worked by employing companies. The tiers who are the backbone of these thriving and lucrative international trade earn meager wages, lack job security etc. Their skills, sweat and expertise facilitates, the moneyed to swim in riches while the tiers wallow and drawn in poverty. Most of us in this group have been working for such flies companies before. We have decided to split and start our own initiative. "LADIES ON THE VISE FLY TYING FACILITY" to remedy the above short comings. Our initiative is therefore owned, managed and operated by us the members.
1. OUR PRICES
All our flies are tied with quality materials and by qualified lady fly tiers. You have probably fished with our flies but paid upward of up to 200% or more for them .Below find our wholesale selling prices for the year 2011-2012. All our flies are sold in dozen:
NB: the above prices are when we supply complete product providing both hooks and materials. But if a client avails some basic materials, our price to them reduces accordingly.
2. WHY INVOLVE YOU
Sirs, since fly fishing sport is popular in your country/region, we would be honored to go into a fly's business relationship with you where by we hand tie top quality flies and supply the same to you for use or re-sale. If you are not in this business and know those who find its addictive powers, please don't hesitate to introduce us to them.
Providing you with the higher quality flies, at inexpensive wholesale prices is therefore the right start. Are you interested? Let us just say, checking us out will be your reward since our quality and prices are second to none!! We look forward to a favorable response from you.
Attached, find pictures of some of the flies we tie.
Thanks, Happy fly fishing and tying,
LYDIA ,
CO-ORDINATOR.
LADIES ON THE VISE FLY TYING FACILITY.
"Their skills, sweat and expertise facilitates, the moneyed to swim in riches while the tiers wallow and drawn in poverty"
Well, I know Africa is a hard place to live, but it's hard not to be a bit cynical when you read stuff like that.
And I love the fact that the document with "some of the flies we tie" contained watermarked pictures from assorted web sites and a pattern from GFF!
The ladies' flies... not! Notice the caddis larva lower right. Recognize it?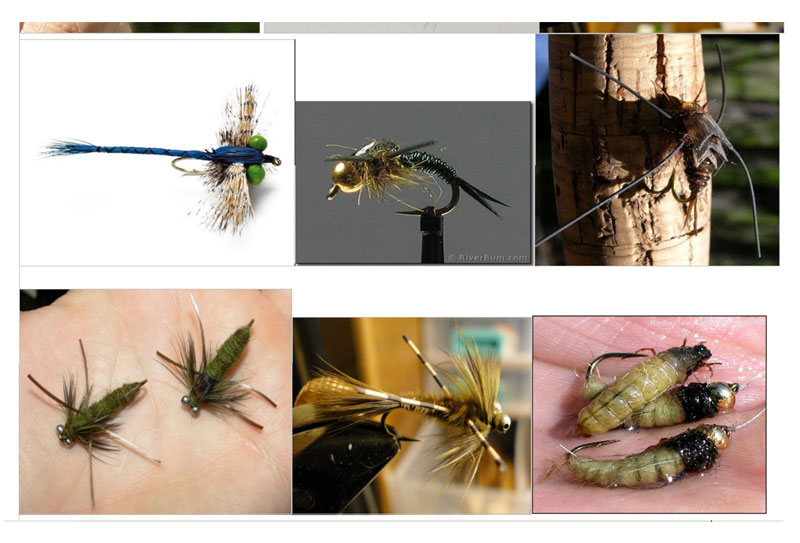 To be fair, there are some who can both write English, take pictures and seem to be able to tie flies.
Dear Customer
I want to be your supplier of top quality flies for fishing. I have a medium factory here in Kenya employing 25 full time tiers with the capacity to make 1000 dozens of flies per week. My rates are very competitive because we charge USD xx per doz. only on all trouts flies including wets, nymphs, dries and streamers without beads. Beaded or copper head trouts cost USD xx per doz while the double hooked salmon flies cost only USD xx per doz.
We have attached some photos of our best tied samples and would be happy to hear from you. We can send you a few flies for testing if you send me your delivery address.
I promise you the best service, fast delivery and top quality flies.
Please let me know if you could be interested in business cooperation.
Have a nice day
This one has both a reasonably formatted price list and some well shot pictures of what seems to very very nicely tied flies. We're still not interested, but there might actually be some one in Nairobi who can tie flies - even tube flies - as you can see here.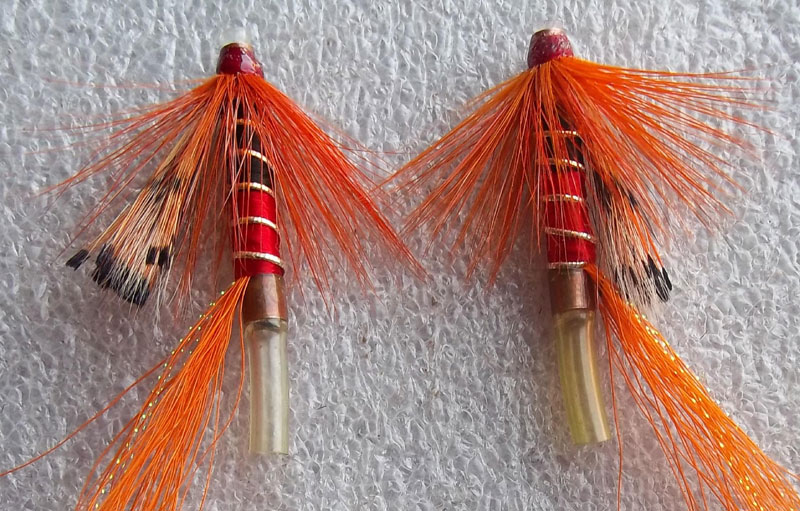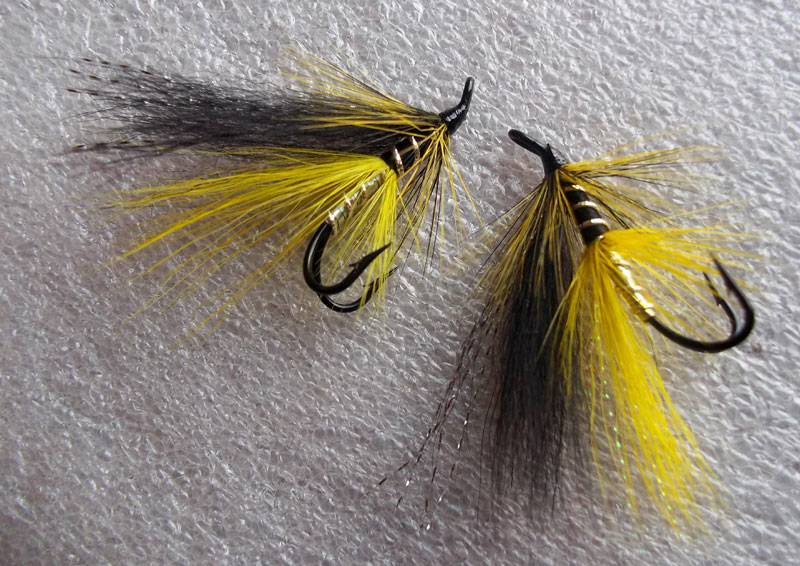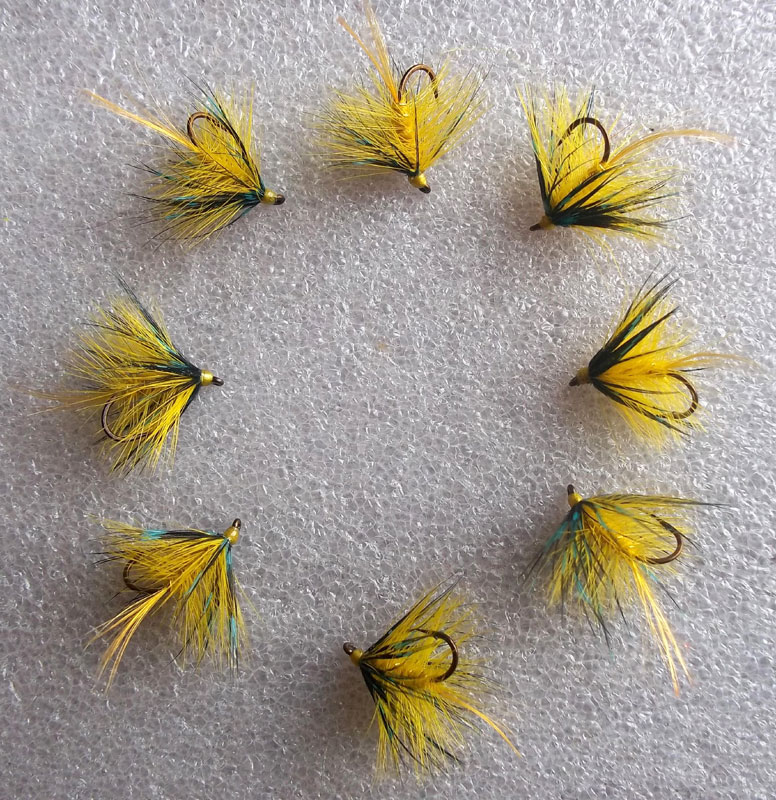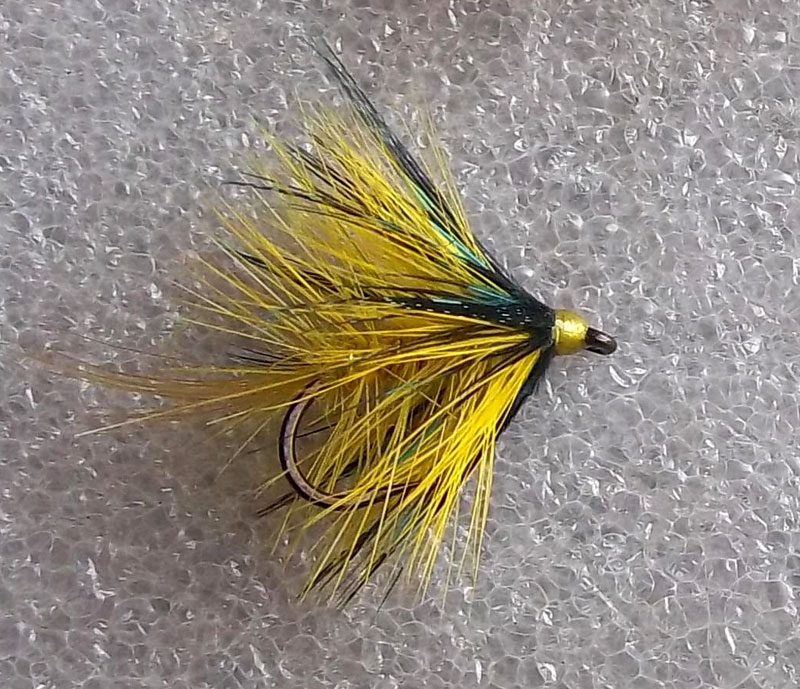 More content from the front page