Published Dec 12. 2005 - 17 years ago
Updated or edited Oct 8. 2020
The Hatch
Interesting video about salmon fly hatch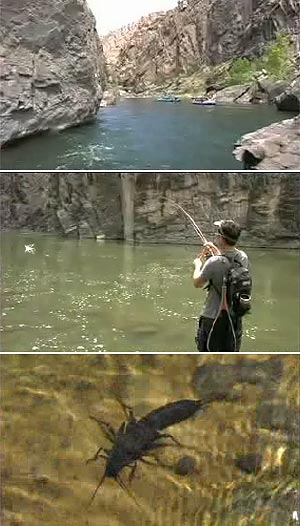 My good freind (and GFF contributor) Kasper pointed my attention to The Hatch and Felt Soul Media.
The Hatch is a video feature on the salmon fly hatch on The Gunninson in Colorado. On their web site the people behind the feature, Ben Knight & Travis Rummel, let you review a sample of the video in both ordinary and very high quality (the latter requires QuickTIme 7 and a fairly hefty computer).
That's a feature worth watching as far as I can judge from the sample footage. And the hatch of the giant salmon flies, a large type of stonefly, seems to be a hatch worth fishing! The hatch is obviously massive during a few weeks in the summer, and some people say that the fish get 75% of their protein for a year during this hatch!
The show is both about the hatch, the fishing and the dangers of ruining the whole thing through dammning and front range development.
It seems that it's a tv feature only. I cannot see any mention of a DVD at least. Too bad, because I would love to see the whole thing.
Well, the trailer is long and worth a watch anyway. Find the low rez version here and the high rez one here. They are both large—about 80-90 megabytes each—but worth the wait.
More content from the front page