Published Dec 1. 1995 - 26 years ago
Updated or edited Nov 25. 2015
Surf zone fishing
We at GFF wish that more people made books like this: small and affordable and right on the target. Ken Hanley's small classic has been reprinted
Fly Fishing Afoot in the Surf Zone by Ken Hanley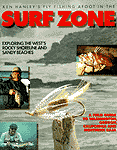 The book was originally reviewed in December 1995, but the review was updated in June 1999 with new information on the publisher and price.
This book on US salt water fishing shows how close to the European tradition it really can be.
Here in Denmark it's the first white Christmas in more than 10 years. That doesn't mean that fishing is out, but family and tradition calls for my attention at home, so I have a lot of time to read in the hollidays.
So the Infamous Danish Book Reviewer anticipates to ride again in the upcoming period.
On my recent trip to Seattle I purchased a couple of small booklets, and here's review of the first one:
Ken Hanley

Fly Fishing Afoot in the Surf Zone (exploring the west rocky shoreline and sandy beaches)

Published by Frank Amato Publications Inc. 1999 (Originally published by Adventures Beyond Publications, Freemont CA 1994)

ISBN 1-57188-177-8

Price: US$ 8.95

The front of this book was what caught my attention: a rocky shoreline, waves smashing, mist in the air and in the middle of the a most beautiful fly: Yellow and brown with a classical mallard wet fly hackle. Now what is this? A US salt water fly? I had just had the experince of asking for salt water flies in a tackle shop, and had been pointed to compartments filled with all kinds of strange, large creatures in bright colors. And now this: a fly that I would love to tie on my tippet (as opposed to many of the 'traditional' US salt water flies). I immediately bought the book.
It's a very small book. No more than 40 pages in letter format. But the advantage about these small books are several: they're fast and easy to read, they're concentrated (not room for chit-chat) and they're inexpensive. True for this book as well.
In the few pages Ken Hanley covers the salt water as a habitat, tide and moon, gives a run down on the important species and equipment, flies, knots and more. All is done in a focused and concentrated way that is just after my heart. Hanley gives some sound advice, and even though it's meant to apply to the special kind of surf fishing he does, I can see that it will apply to many other kinds of salt water fishing too.
There's nothing on flats fishing or fishing from a boat, but lots of facts and advice on fishing wading from the coast. Also Hanley removes the mystery and vastness of fishing the ocean in a way that falls much in line with my own way of seeing things.
One of the real treats of this book is the patterns. There are more than 20 patterns, each covered with a B/W picture and a list of materials. A few of them (too few) are depicted in color on the inner cover. Nice flies! All'n all the book is well illustrated in B/W.
The last part of the book gives a detailed spot-for-spot coverage of the West coast. This info isn't very useful for me, but will probably be to those that have the specific water nearby.
I wish more people made more books like this: small and affordable and right on the target.
More content from the front page