Published Apr 16. 2003 - 20 years ago
Updated or edited Aug 2. 2018
Flyline Maintenance 101
Maintaining that expensive string coated with plastics and polymers is the best medicine for adding years of life your flyline. Consider cleaning flylines after every 3-5 uses or when the water is particularly dirty.
Routinely Maintaning Flylines Can Add a Few Extra Years of Useful Life
3 Steps to Fresh Lines
It pays to clean your flyline after every 3-5 usages or when you've fished particularly muddy, dirty, weedy or mossy water. I just had to retire a flyline I purchased in 1997 and have used consistently for much of my flyfishing over the years. I estimate the line has seen over 150 outings. But I wouldn't have had such good luck with the line had I not taken care of it.
How To Tell if a Flyine Requires Cleaning
It's not too difficult to tell if your line needs cleaning, look for these clues:
You feel micro-grit on the line as you strip it in
For floating line, the first 10 feet or few meters of line doesn't float any longer
The line retains coil memory
The line has small cracks
The line feels brittle
If the latter two observations above are noticed, the bad news is that the line is on its last legs of life. The good news is a cleaning and re-invigoration of the line may add another season of use before you have to replace the line.
Cleaning a Fly Line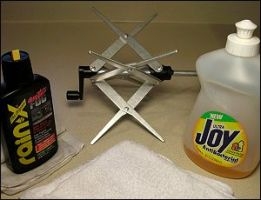 Materials are simple and your workspace can be as simple as the kitchen sink.
Materials
The materials are simple:
Mild dish soap
Clean rag
Flyline dressing (discussion on this topic below)
Line winder (optional)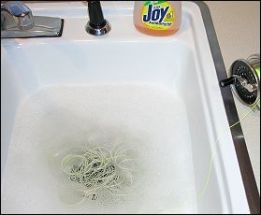 Cleaning a flyline only takes about 1/2 hour of your time. It's time well invested in preparation for your next few flyfishing trips.
STEP 1 - Soaking
Draw about a gallon or a few liters of hot water in a sink
Add just a few drops of mild dish soap. Don't overdo it! All you need is enough to make a few bubbles and help loosen debris. Too much soap will leave a film on the flyline which may help it sink. (not good for floating lines!)
Strip out all the flyline IN LOOSE coils in the sink, ensuring each coil lies on top of the previous. This will help prevent the line from knotting up as it is cleaned in the next step
Allow the line to soak until the water becomes luke-warm; about 15-30 minutes or so.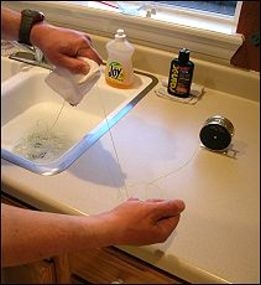 Stretching the line is an important step in cleaning it. Stretching the line once-in-awhile helps maintain its suppleness and prevent line coil memory.
STEP 2 - Cleaning
Taking a clean, moistened rag in one hand, draw the flyline from the sink through
the rag
Apply mild pressure with the hand holding the rag to ensure the line is being "stripped" of all the debris and dirt
You'll know if you have enough pressure by hearing the line "sqweek" through your hands
LOOSELY coil the line on the floor at your feet in preparation for dressing the line with conditioner and allowing the line to dry for a few moments
TIP: as you draw line through the rag, stretch each arm's-length section as you would a leader, to stratighten out the coils that have built up.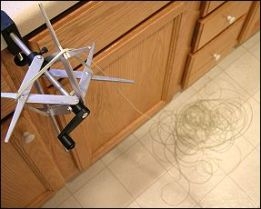 Loose coils of line prevent knotting and tangling.
STEP 3 - Dressing
Using a line winder, if you have one, makes applying line conditioner easier, but is not necessary.
Taking another dedicated rag used for applying line conditioner, soak the rag with conditioner
As the line is wound on the winder, apply the line conditioner in the same manner as the line is cleaned in the step above.
Don't be afraid to be generous with the line conditioner; it's the stuff that will help protect the line in future uses.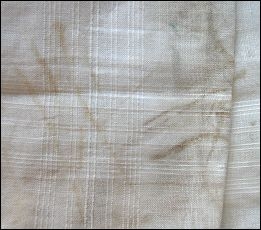 Just like a good teeth flossing, flyline cleaning cleans up the dirt you can't see!
Dirt Be Gone!
One flyline can hold a lot of dirt as shown on the rag I used to clean the flyline in this example!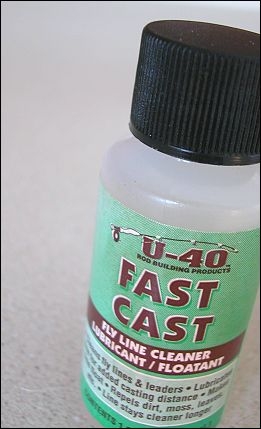 Many commercial products on the market are excellent choices for dressing your flyline once it is cleaned.
Fly Line Dressings
Many different manufacturers produce and sell flyline dressings. So, don't be afraid to try any one of them. But I have found over the years a particular product, not even designed for the flyfishing industry, works quite well in cleaning and dressing flylines.
I like to use Rain-X windshield dressing. It is safe for plastics, as it clearly says on the bottle. Rain-X does a bang-up job of repelling water on windshields for months on end, so why wouldn't it work on flylines!?
I have used Rain-X since 1996. Never had I had a flyline become brittle or "melt-away" as some flyfishers may warn you of. I'm a believer in its use.
There may be other products on the market that work just as well. Just one word of caution: be sure the product is safe for plastics. If it doesn't say that, don't even venture in trying it on flylines. Products that are silicon-based are your best bet. Silicon is flyline-friendly. Flylines are delicate, expensive strips of plastics and polymers that won't tolerate chemicals which can break down the coating, be careful in choosing alternate line dressings not intended for flylines.
More content from the front page