Published Mar 3. 2005 - 17 years ago
Updated or edited Jul 29. 2022
Jacket Blues
GFF partner Martin Joergensen has owned quite a few wading jackets, and none of them have fit his bill for the perfect jacket for his type of fishing. In this article he sings the Wading Jacket Blues and tries to describe the perfect jacket.
I have owned quite a few wading jackets, and none of them have fit my bill for the perfect jacket for my type of fishing. In this article I sing my Wading Jacket Blues and try to describe my perfect jacket.
As some of the readers might know, my preferred fishing is in cold saltwater. I visit the coasts of my native country, Denmark, as often as I can, which - according to my records - was 53 times last year or about once a week.
I fish without a jacket as often as I can, mostly just carrying a small chest pack with the stuff that I need. But as I am located in the Northern hemisphere, I sometimes have to seek shelter from wind or rain - or both - in my jacket. Wading in rough water also calls for a jacket, since waves splashing over the edge of my waders lead to nothing but misery.
Back when
On my first coastal trips I was wearing a suede jacket. Yes, suede! I do not know what put that idea into my head, but it is a fact. I have pictures to prove it. And on top of that I wore a home made fishing vest sewn up from grey and red fabric. A sight for sore eyes I can tell you!
Sometimes when it was cold I swapped the combo for a down jacket, which I originally bought for using in the winter and on trips in the mountains of Norway, fjords of Greenland and other cold places.
Needless to say that none of these solutions were any good for fishing. None of the jackets were waterproof, they drew water like paper tissue and would take forever to dry.
My vest was a feeble try to make my own apparel which came out OK, but never really was in much use - mostly because I never really cared much for vests.
When the weather was really terrible I would creep into whatever rain jacket I currently had. These were chiefly red, blue purple or another bright color suitable for sailing or biking - but not really kosher for fishing.
Well... back then I also wore blue jeans and cotton long johns under my PVC waders.
Them were the days!
Much has happened since then...
My first wading jacket
As a solution I bought my first real wading jacket. It was an English Nomad jacket and it was expensive. At that time it was probably the single most expensive piece of fishing equipment that I owned.
It was a very nice jacket, which I loved. It was very subdued in color and design, but still had style. The fabric was dark olive, the jacket had few features and best of all was the lining which was a plat, Burberry-like colorful, soft fabric. This covered the upper part of the inside of the jacket, while the lower part was a smooth, thin, almost black material.
And the jacket was breathable. It was made with one of these new, high-tech materials, which I think in this case was named Ventflex - although I am not quite sure.
The only sure thing about it was that it didn't work!
Within a few trips I was soaked whenever it rained. Ten minutes of constant rain, and I would feel the water seep through on my shoulders. And a whole day would leave me so wet, that my inner T-shirt would be soaked.
I complained in the shop where I bought the jacket, and coincidentally they had a sales rep from Nomad visiting. He guaranteed me that the jacket was usually very waterproof, and offered to replace it. The swap never took place, and my Nomad Jacket eventually turned into a dry weather wind cover.
I still loved it. It was one of the best looking, most comfortable and best fitting fishing jackets I have had.


No-names
I bought a new jacket. In spite of the fact that the Nomad was both good looking and very comfortable, I could not use it. My jackets are for rainy weather, and need to be waterproof.
The replacement was an inexpensive jacket of a Danish brand called Catch. It lasted half a season, and then had to give in due to wear, zippers failing... and water seeping through when it rained.
The shop owner gave me a better jacket from the same company as a substitution. Yes, gave! Pointless to say that his shop has since closed...
The only real problem with the new jacket was the color. It was a fairly bright burgundy and not really a color that I fancied wearing by the water. The jacket worked OK, and was definitely better than the old one. It lasted me at least a season, and even though it slowly lost its waterproofing, it did keep out water - as long as I just did not stay out in the rain for hours on end.
The only problem there was that I actually did stay out in the rain, and slowly I was soaked in this jacket as well as the previous ones. Time for a new replacement.
More than that
Now before, I sing the next verse of my Wading Jacket Blues, let me chant a chorus with some other details of wading jackets that also annoy me - apart from them not being waterproof.
I first and foremost hate too many details! Yes, details.
Sure it does look good in the ads with dozens of little arrows pointing to all kinds of neat things that you absolutely must have: dozens of D-rings, pockets galore, built in retractors, strips and straps for purposes beyond my imagination and fancy, cuffs with built in mittens and a host of extravagant high-tech, space age materials applied on facilities you never knew you needed.
And you don't!
In my book a jacket is basically a cover for wind and rain. It is not a multi purpose garment that will cover all types of weather and all thinkable situations.
Neither does it have to be able to carry all necessities in life and fishing.
I do like pockets, but basically I need five: chest pockets for gear, side pockets for hands and a back pocket for my lunch pack and a thermos.
I like D-rings, but if I clipped stuff in all D-rings on most jackets, I would look more like a Christmas tree than a fly fisherman. A D-ring in the back for a net and maybe one or two in front for the odd clipper. But honestly I rarely use either, so leaving them out would not mean a big loss for me.
Some built in retractors are actually OK. The spiral "plastic spring", which are sheathed in a narrow canal along the chest pockets seem to work. But few jackets have them.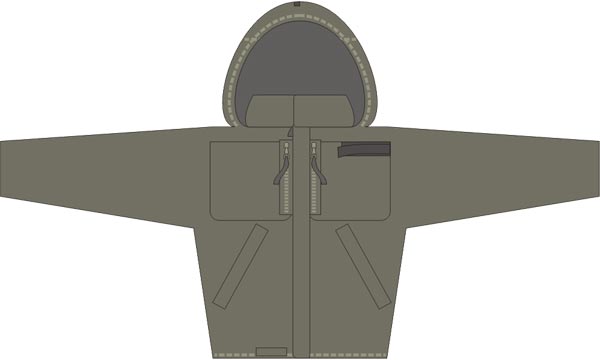 Click on the different parts of this drawing for my thoughts and comments or click here to see:
back side
cuff detail
jacket open
front side
Rust
I fish salt water. Or at least I fish water that contains a bit of salt - somewhere between 10 and 15 permille, actually. And salt kills wading jackets! It kills zippers, it kills buttons, it kills stitching and in the end it kills the fabric too.
Metal parts will generally rust if they haven't been specifically designed to be stainless or at least salt water resistant. And rusty parts fail and in the end fall apart.
Even if they are stainless they will slowly build up a layer of some kind of residue, oxidation or whatever. Salt and metal means chemistry - and not the good kind.
Salt itself will also materialize in all places on the garment. Even though I rinse my stuff under the tap in the bathtub every time I get home, I will discover salt stains that build up on the fabric, on the zippers and in locks and buttons. A trip in the laundry can remove it, but it probably does its evil before I get it off.
And one of the evils is clogging up the breathable membrane. At least that's what I think it does. After a while any jacket will loose its ability to breathe, and only a gentle washing can cure that.
I guess that even the most well made jacket will eventually give in, but I am sure that the salt speeds up this process.
What I don't need
The almost-perfect jacket for deep wading and wet fishing in salt water
Simple design
Short - waist line above hip
True breathable fabric, but still 100% water proof under any circumstances
Thin with no insulation
Limited loose membrane layers between inner and outer fabric
All zippers sufficiently durable, salt water proof with extra cord to pull
Front zipper with two gliders
Chin shielded from exposed top of zipper, but not with a flap that always gets caught in the zipper
Bottom of all pockets higher than the expected wading limit - basically the waders' upper edge
Separate hand and equipment pockets
Large back pocket with side access
Simple not-too-baggy one-room chest pockets with large lids and Velcro closing
Rod holder consisting of a hidden strap in the lower rim and a "Velcroed" strap on the opposite chest front
Large hood that fits in collar
One hand cord tensioning for the hood
Cord to tighten the hood horizontally around head
Machine washable
It is actually more fun to mention all the details that I would rather be without than listing the boring few things that I really need.
I don't want a waterproof inner pocket. All my jackets have had them, but luckily I never trusted my digital camera or cell phone to one. After having seen friends' wallets and cigarettes completely soaked, I have learned that there is no such thing as a waterproof inner pocket. Secondly they are always placed so low that they submerge if you wade deep.
I don't want cuffs that extends as fingerless gloves. After 15 minutes of fishing they are basically transformed into a couple of wet, uncomfortable appendages that either make your hands colder than they were or just sticks unpleasantly to your wrists when you feebly try to stuff the surplus fabric into the sleeves.
And for some reason they never dry. While most materials used on wading jackets are fast drying, these two cylinders will stay wet and soggy for days. On one of the jackets I had, which featured them, the holes for the thumbs were placed in line with the stitching on the sleeve - probably saving a step in the sewing process. No need to say that these holes were not in line with my thumbs!
On the subject of cuffs I must remember that I don't want narrow cuffs with outside velcro straps. Cuffs are OK, and adjustable cuffs are alright too, but they just have to be concealed so that no fly line eating thingys stick out.
I don't want insulation in the jacket. I actually bring my jacket to tropical destinations where the rain can be much harder than back home. And fleece is not welcome when the temperature is 35 degrees Centigrade or running towards 100 on the Fahrenheit scale. I'll accept fleece lined hand pockets, bu apart from that I will supply the fleece I need myself.
I don't want loose layers of fabric and membranes only held together by seams along the edges. For some reason many wading jackets seem to consist of a tough outer layer, the breathable membrane and an inner mesh. I hate this construction. Why can't the jackets be constructed in such a way that all layers stay together? This will make the jacket less fragile and ensure that everything doesn't slide uncontrollably around.
I don't want Velcro strips or small locks on strings outside the jacket. These serve one purpose only: snagging my fly line. The instant I have a good cast going or have hooked a nice fish, my runningline will be tangled in a small spring loaded lock in the lower part of my jacket, which is just in the water's surface. I then have to fight both fish and jacket. I like Velcro and the ability to tighten the jacket, but stove away all locks inside the jacket where they do not get into trouble.
And speaking of, I don't want Velcro and zippers on pockets where it's not needed. I need to close pockets that contain stuff - chest and back - but not the ones that I stick my hands into. Actually my experience with zippers or Velcro on hand pockets is that I scratch myself when I stick my hands in them - after having battled to open them of course. And those are usually cold hands, which makes it rather painful as a matter of fact.
I don't want patches of enforcing or extra waterproof fabrics in contrast colors on exposed places like the elbows or shoulders. In my eyes these patches are a sign of a too weak fabric chosen for the jacket in the first place. If it needs enforcements on large surfaces, it is too weak to begin with. I also hate the patchy look with contrasting colors, which has become so trendy. One color please. And preferably a really boring and dull khaki or olive hue that blends well with the surroundings and not makes me look like a badly designed downtown storefront.
I do not need D-rings and straps by the dozen. A couple might come in handy, but too many will just add extra work, complexity and cost. I do not attach half a dozen or more gizmos to the jacket anyway. I recently discovered a D-ring under a pocket lid on a jacket that I have owned for more than a year! I have no idea what to use it for...
Why, oh why?
I sometimes wonder why designing a good jacket can be so difficult. I can only speculate, but I have my ideas.
Many of them are designed at desks and never really tried in the real fishing situations before they are put in production. The ones that are tried and tested may have good design from the beginning, but during the production design, details are omitted and corners are cut to reduce production steps - and costs.
Materials may also be changed for less expensive ones - in an inferior quality.
I know this is inevitable if you want to hit a good price mark, but I don't really care about the price... well, at least not that much. Have good design and sensible production meet, and make a jacket that has what it needs - and no more.
The odyssey continues
I'm still hunting for my perfect jacket. I have tried a couple of Scierra jackets during the last couple of years, and they do a fine job. My latest venture is with last years Scierra Aquatex jacket, which would be an excellent jacket if it was not for a few things: the side (hand) pockets are far too far out on the side of the jacket, and for some reason close with a zipper. Move them in towards the front (where I want to keep my hands) and remove the zipper, which just scratches my wrists.
Also the jacket takes in water in the bottom when I wade deep. The water stays in there until I press it out! That's what I call water proof!
The cuffs close with Velcro straps, and my fly line constantly gets caught in them. And there is no rod holder. A simple little thing that all jackets should have.
Correct that and omit the contrasting reinforcements on the elbows and we're getting close. The fit is good, the jacket comfortable. It's water proof and seems to be able to take some abuse. And the color is good. I like this jacket.
Much of this seems to be corrected in the new Aquatex, which seems like my kind of jacket, and Scierra has an even better jacket in the make, of which I have worn a sample and that seemed to be close to perfect.
PS: I have since acquired an Aquatext jacket, and while it's still not perfect, it is very close. All the above mentioned drawbacks have gone - including the side pocket problem. This jacket simply has no side pockets! Period. But the cuffs are almost perfect, the jacket is water proof, and the reinforcements have gone. We're getting there. You can see me in the jacket on this picture.
Other jackets that I know of, which would do the job, are Patagonia's classical SST jacket and Simms guide jacket, which are highly praised by their owners, but still aren't perfect in my eyes. Those two still have proved themselves to be excellent choices for many people - but are also hilariously expensive.
Sources
My Wading Boot Blues - the sequel to this article

Nomad. Be warned! They have about the ugliest commercial web page I have seen in ages. A true MS FrontPage Hell...

Simms. Lots of nice but also expensive stuff.

Patagonia. The we-have-it-all-and-then-some company. Dig a bit and you'll find the wading jackets.

Scierra. A horrendously bad web site consisting of a PDF-file embedded in a Flash-thingamajig. And the jacket selection has changed of course. No Aquatex-jacket any more...

Cabela's. I've heard good about their jackets, and the selection seems great. Never tried one, though.
More content from the front page