Published Jan 22. 2006 - 17 years ago
Updated or edited Feb 28. 2017
ZipCast
When the bottle came in the mail, I got out an old hankie and wet a small bit and ran the line through the hankie a few times. Out to the yard to see how it cast. Hmm ... it was noticeably slicker and flowed through the guides with ease. Nice.
Unfortunately Zipcast seems to have gone out of business and their web site has disappeared. So getting your hands on this fly line conditioner is probably a question of having luck and finding some old stock in a shop.
GFF Rating: 6
Global Class!
ZipCast http://www.zipcast.net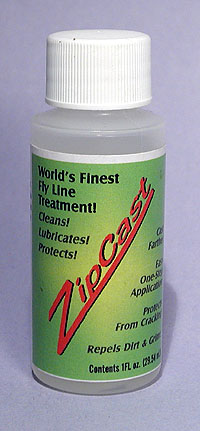 "... the line had that fresh out of the box feel again."
The oldest fly line I own also happens to be the one I used most often - an old Orvis Hy-Flote WF4F. This past winter, I was contemplating buying a new 4wt line because I just could not seem to get this one clean, no matter what I tried. It hadn't cracked yet, and it wasn't sticky like some lines, but it had lost its "zing" awhile ago and the tip wasn't the greatest floater any more. My worry was that a new line wouldn't feel the same as this one in its prime. This line matched my favorite rod, a Sage RPL 486, just perfectly. The combination of the two created that "thoughtless fishing" combination that we all hope for, where all you think about is where the fish are, not what you need to do to cast. I wanted a new line because I fish a 4wt floater more than any other line, but I didn't want to spend a small fortune for a line and be disappointed. (Before anyone says anything - no - I did not plan to go to a shop to test cast their lines. Test casting is not fishing.)
It was around the time I was shopping for a new line that I heard mention of ZipCast. On Tom Kirkman's rod building board, a couple posters praised the stuff in terms that made me wonder if there was something different going on. Fly line cleaners have been around as long as fly lines, and while I've tried many of them, none have really knocked my socks off. The ones where you gotta let it dry then polish are no good. Too much bother. I used one once that made my line sticky like pasta left in the colander to dry. Man - I hated that worse of all. Still others seemed to do absolutely nothing at all to make the line cast of fish better.
Why bother?
All it took was a couple more posts that mentioned ZipCast in glowing terms for me to give it a try. I mean - what did I have to lose other than a few bucks for a bottle? So I placed an order. When the bottle came in the mail, I got out an old hankie and wet a small bit and ran the line through the hankie a few times. Out to the yard to see how it cast. Hmm ... it was noticeably slicker and flowed through the guides with ease. Nice.
The next test, of course, was to use the line while fishing. Without any exaggeration, the line had that "fresh out of the box" feel. It shot through the guides like a brand new line, and floated
well again.
The final test would be to see how it reacts over time. Some cleaners turn sticky and that never seems to go away. After a couple trips, what happened with ZipCast? The answer is - nothing. I noticed at first the line wasn't shooting as well, but it was still floating ok. It had just lost some of that "fresh out of the box" feel. I shot Tom an email asking about the stuff, how it is different from other cleaners/conditioners, and how he uses it, and this is what he had to say:
"It's somewhat unique compared to all the rest. It doesn't use the same old Silicone that all the others use. Silicone is slick at first, but tends to get sticky or gummy in short order. At that point, it begins to pick up debris rather than shed it." [Ed: Yeah - no kidding]
"The answer is a dry teflon, but it won't stay on your line very long! This is why the ZipCast needs to be applied about every other trip. The upside is that because it is so easy to do, the application is just not a big deal. I actually put it on my lines before EVERY trip. One wipe up, one down, and I'm good to go. ZipCast also has a mild alcohol in it, so it cleans your line as you apply the teflon. It will not hurt the line and many fishermen report that the more they use it the better their lines feel."
One question that remains unanswered is how many seasons I can get from one bottle. While the price is certainly in line with other cleaners, the fact that I have to use it so often obviously means it won't last as long. But since it works better than others, I'm certainly more willing to use it as often as necessary. It only takes a couple minutes wipe-on and wipe-off (there's a bad joke there that I will skip), so it's not like it's a big ordeal to treat your line every trip. And it's not like you have to soak a towel in the stuff each time. Just wet a small portion of a hanky and you're in business.
I'm also curious how long I will be able to maintain my line beyond what I would have been able to with other cleaners or conditioners. Well - maybe that's not so important, since I was *using* the other cleaners and still wanted to get rid of my favorite line. Maybe it's not right to do a comparison in that way. This season was not a great testcase, as I did not fish as often as normal due to a number of reasons, but if I can get another three or four years out of my line, this bottle of ZipCast was certainly
a worthy investment.
I also wonder at what point a fly line is "beyond repair" using ZipCast. My line did not have any cracks in it. It was still essentially a sound line, it had just become dirty and, while it wasn't sticky, it no longer shot through my guides with carefree abandon. Other cleaners hadn't done much, and I figured the line was at the end of its useful life. ZipCast certainly cleaned most of the dirt off the line, and it did shoot through the guides when it was finished, but I'm sure there are lines in such a state that the best idea really is to replace them. I wish I had some of my old sticky lines that I've long since replaced. If ZipCast could "un-sticky" them, that would be quite a bragging point.
I'm hoping this upcoming season will be more "normal". If my line feels as good at the end of the season as it does at the beginning, and still shows no signs of cracking, I'll be buying a few backup bottles of ZipCast to keep around the house, just in case Tom gets hit by a bus (knock on wood).
For more on ZipCast, check out the website: http://www.zipcast.net. (The web site has been closed down since late 2016 and the manufacturer seems to have gone out of business).
More content from the front page