Published Nov 17. 2017 - 6 years ago
Updated or edited Aug 24. 2020
IPS '96: Muddler
This is my entry from the first ever Illustrated Pattern Swap in 1996. No idea what an Illustrated Pattern Swap is? Well read on and learn.
While going though my huge archive of old GFF stuff, I stumbled over this entry for the first Illustrated Pattern Swap. This was a thing back in the late 90's and early 2000's. People would not swap flies, but illustrations of flies. My entry dated November 2nd 1996 was a couple of B/W pages about muddlers. Back then as well as now, these deer hair flies were my absolute favorite flies. I loved and still love tying them and I love fishing them. The entry was illustrated with simple pencil drawings and was printed and exchanged with the rest of the swappers in return for a full set of their entries.
1996 is long gone
I have most of the IPS entries saved here, but the first one is gone for some reason. OK, it is a few years ago... like 20... but I feel pretty stupid for not saving it with the other swap entries, all still pristine in their original folders in my book shelf.
But I do have my own entry on the computer – and by diving into the abyss that is the archived web, I could also dig out some information about the swap from the original Flyfish@ mailing list site, which is still alive, and from Byard Miller's web site The Virtual Flybox, which has since shut down.
You will find the entry in its original form attached as a PDF below, but for the sake of preserving it in a slightly more universal format, I have drawn out text and illustrations and made this page, where it's visible directly in your browser.
A little history
Before you get the meat, here's a little appetizer in the form of the history of the swaps.
The IPS's were originally organized by Sue Kreuzer from Colorado and orchestrated through the Flyfish@ mailing list, a very busy list joined by fly anglers and tyers from all over the world. The archives are still online, and Sue has told the story herself in the series of posts called "Legends of the List" posted in the section "History of the list".
Sue wrote this on Byard Miller's web site The Virtual Flybox a few years after the first IPS:
Back in late 1996, I was going through a major attention span lapse. I suppose I needed an extra project to keep me happy and out of trouble. I created the Illustrated Pattern Swap (IPS). And just what IS this Illustrated Pattern Swap? It's an eclectic collection of written/illustrated flyfishing patterns, images and stories done by members of the Internet's "FLYFISH@" Listserv.
What you have here is the very first IPS. Unlike subsequent years for the IPS, in this first one, all the entries related to a flyfishing pattern. All the participants included not only a description and illustrations of the pattern, but also a tied version.
The participants
This is the list of participants back then, each followed by the pattern he or she submitted:
David Hood, Adam's Dragon
Dave Shapero, Antelope Bomber
L J DeCuir, Bead Head Pheasant Tail
Jack Amundsen, Big Creek Special
Agust Gudmundsson, Biot Bodied Loop Wing Dun
Henk Verhaar, Bunny Diver
Joe Libeu, CDC Callibaetis
Aaron Hirschhorn, Dark Bug
Joe Cronley, Fiddler in the Grass
David Blair, Foam Pike Popper
Claude Freaner, Glass Bead Bodied Nymph
Mark Purvis, Glen Tanar
Joyce Westphal, Glorie de Neublans
Andre Lorenz, Green Butt Skunk
Hans Weilenmann, Grizzly Sledgehammer
Sue Kreutzer, Hemingway Special
Michael Valentiner, Humpy
Michael Dell, Knotted Stoneflies
Allan Fish, Lucky Grouch Nymph
Lance Taylor, Midge (Diptera) Adult
Martin Joergensen, Muddler
Mike James, Olive Hackle Web Lacewing
Eli Robillard, Poet Cad
Bob Petti, Rusty Rat
Harrison Steeves, Smidge
Jim Stangowitz, Stimulator
Jack Tucker, Twisted Extended Body May Fly
Marguerite McKenzie, White Tyes and Tales
---
Muddler
The original text from my IPS '96 entry – typos corrected
It's probably no coincidence that muddlers are some of my favorite flies. Not only do I like tying them, but the kind of fishing for which they are so well suited - night fishing - is the fishing that I find most fascinating and exciting.
The mother of all muddlers - The Muddler Minnow - was conceived by Don Gapen. This simple and beautiful pattern has survived and is still catching fish as well as eyes all over the world.
I actually never tied a genuine Muddler Minnow. The specimen depicted above was given to me by Steven Fernandez.
My own muddlers are somewhat unlike other muddlers I have seen. I trim the heads in a way that I rarely see anybody else do. Most of the muddlers I have seen have heads that are cut to flush with the collar of hair - like on Steve's fly above, which was trimmed with a razor blade. The Swedish fly tyer Lennart Bergquist uses a pair of scissors, but trims the fly from behind. This makes a head and collar that looks much like a Streaking Caddis. Mine have a distinct head with a back rim that gives the fly character and adds turbulence when it moves through water.
The muddlers are excellent for night fishing because they both offer a clear profile, move a lot of water and swim high in the water. This means that fish dwelling in deeper water will feel them and see them easily against the night sky.
The muddler makes a lot of commotion when it moves, and if you pull the line hard it splashes and dives - a typical baitfish behavior.


For this pattern I used:
Hook: Kamasan B840, black streamer hook
Thread: Strong (Bennechi 12/0)
Tail: Soft black polar fox
Body: Flat silver tinsel
Rib: Oval silver tinsel
Wing: Polar fox
Collar: Tips of natural deer hair
Head: Trimmed, spun deer hair


Tying a muddler is like tying any kind of fly except for one thing: the head.
This is made up of compressed deer hair which is later trimmed to a suitable shape.
A note on deer hair
Get the best you can for spinning. The type used for bass bugs is excellent. Avoid the caddis wing type, which flares poorly. The ideal hair is thick, black tipped and straight with very little or no underfur. You can use natural or colored hair according to taste and use. The hair is available in all sorts of strange colors. Mix as you please. For night fishing, it doesn't matter much. All the fish sees is a profile.
Follow these steps:
1) Finish the first part of the fly and be sure to leave a piece of the shank bare for the head.
2) Cut a bunch of straight deer hair with fine dark tips.
3) Remove all underfur
4) Trim the hair a bit longer than needed.
5) Stack the hair to even the tips.
6) Trim to 1½ of the collar length.
7) Stack again.
8) Tie in on your side of the hook shank.
9) Lay two fairly loose turns and then tighten the thread gradually on the third one.
10) Guide the hair and slowly let it go to allow it to spin around the hook shank.
11) Take a few turns of thread through the bunch.
12) Press it against the collar using fingers or tool (Chris Helm' Brassie recommended)
13) Lay some turns of thread in front of the bundle.
14) Add a bit of varnish to the bases of the hair and the wraps (optional)
15) Prepare another bundle. This does not need the nice tips and straightness of the first.
16) Use the same method to spin, compress and varnish it.
17) Repeat the above steps until the shank is filled and the hook eye is covered
18) Whip finish and varnish thoroughly
19) Let dry
20) Trim...
The last little word sounds easy, but is really quite difficult. My method of stacking and trimming the first bundle of hair makes trimming around the collar easier, but getting a neat muddler head requires practice just the same.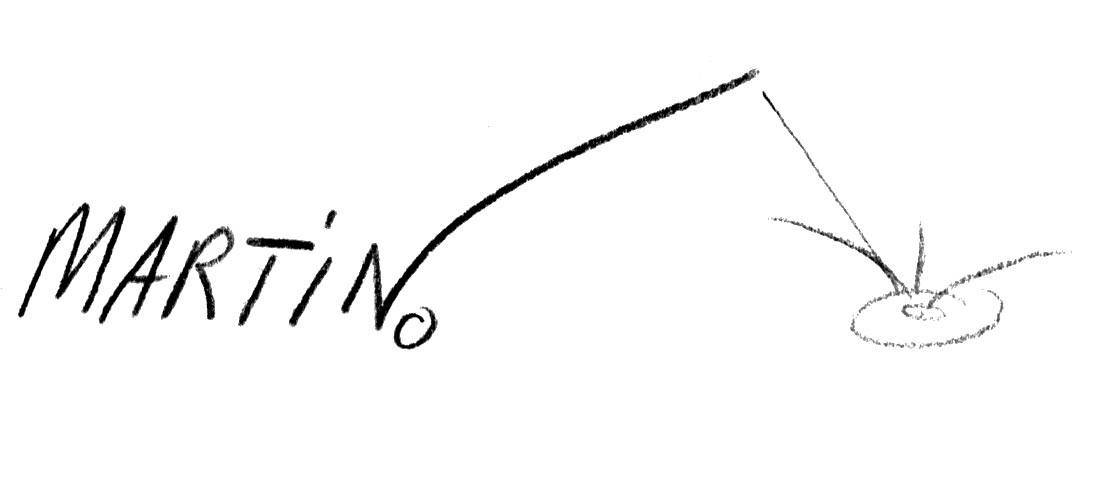 Happy trimmin'
martinj@login.dknet.dk
---
Although it might be obvious, I still have to confess: this illustrated pattern is computer manipulated. Those of you who haven't got the original to compare with, will not know that it is a far cry from the result that you see here. I haven't got much control of a pencil, but I pretend that I know how to handle a computer.
---
This small note concluded my IPS '96 entry, and below you can see it as it appeared in the swap itself, typos and everything.
Since I have most of the later swap entries preserved, I have actually seriously considered scanning them and posting them online. It's a major task, but I may just start that project one day.
More content from the front page