Simply the Best Place to go for Online Fly Fishing and Fly Tying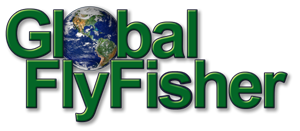 Published Apr 24. 2006 - 12 years ago
Updated or edited Nov 17. 2015
Tango Trout
Author Joe Kissane got an unexpected and generous offer when a friend called from Buenos Aires to invite him to Patagonia on a fly-fishing trip to the Rio Manso Lodge in the shadow of the Andes Mountains. He was told that the waters were relatively untouched - and full of trout.
The hitch - the only way to fit the trip and the other aspects of my schedule together was to route myself through Miami.
Where would I rather be the first week of January?
On one hand, there were the New Year's resolutions I was "persuaded" to make to cut back on my intake of red meat and the potential to "enjoy" all Chicago's winter has to offer, and on the other hand there was fishing for big trout in a Patagonian summer, and enjoying a culture that embraces beef as a staple of its diet. Clint told me of a lodge that was barely 2 years old in the shadow of the Andes Mountains - Rio Manso Lodge. He told me the waters are relatively untouched - and are full of trout.
"Let me take care of the arrangements - all you have to do is show up," he assured me.
It was, as they say, an offer I couldn't refuse - decision made.
Joe's flies mentioned in the article

Cheap Lazy Bastard varieties
Miscellanea emerger
/>
Brown, rainbow and brook trout
The trout populations in the area have developed with little or no interference from man since the initial stocking over100-years ago. They include brown, rainbow and brook trout - the coloration of the three species is as much a delight to the eye as their energy level is to the spirit of the fisherman. These are beautiful fish that fight, and fight hard.
Glacial runoff and slightly silty waters might lead one to presume the streams and lakes are not necessarily the "food factories" that produce large and abundant fish. But the aquatic food chain that is more than adequate combined with minimal fishing pressure has produced healthy self-sustaining populations of all three species. Trout foods include abundant caddis and mayfly species, stoneflies, dragon and damselflies in some reaches. There may be some native crustacean food source, too. Owing to the staggered spawning of each trout species, "salmo-caviar" and fry may well also contribute to their vigor. We encountered bees at a couple of locations, and they may find their way onto the trout's menu from time to time, as well.
Lots of water
The first thing that struck me about the fishing was the size of the water - the rivers were out of their banks with unseasonably heavy rains, but the water was still not all that badly colored. The bottom of the river was not visible in the main channel, in fact it was only visible near the banks - but the depth of the water, and not necessarily excess turbidity was responsible for this. We could still find places where we could sight fish, but more often than not, we were fishing to likely holding water or structure. It occurred to me that we were often casting and catching fish in areas that were dry land during most seasons.
A pattern called a "Terresticator" - half strike indicator and half bug-eyed foam monster was quite successful, too. Similarly, submarine-sized black Wooly Buggers, Matukas and Bitch Creek nymphs in size 6-8, fished with a deep sinking line were most productive. The Chernobyl Ants, Club Sandwiches, BLTs, and related monstrosities are large gaudy rubber-legged foam things that are more likely taken as terrestrial (or "extra-terrestrial," judging by appearances) foods. It may be that they incorporate enough feeding triggers with few discouraging characteristics that the bigger fish cannot pass up the potential big meal. The big stonefly nymphs may well be taken as just that. Wooly Buggers (large and dark) are a universally accepted standard for big deep-water presentations.
Lacking Datus Proper's translation skills (see What the Trout Said), I am forced to rely on conjecture. The deep subsurface patterns were most effectively fished with a steady slower retrieve, and those with rubber legs or matuka-style rabbit fur strips did well. Again, the flooded areas may have added things to the trout's menu that aren't typically on their diet. I had several flies destroyed by fish pulling the rubber legs or rabbit fur strips off of them. "Stinger hooks" on the tail or double hook flies are not permitted, so that was not an option.
Another day's outing was split between the upper Rio Manso and Lago Hess - a nice mixture of river and lake fishing for us, but a grueling day of work for our guide, Javier Mesas. Javier's size (somewhere on the low side of 5-foot 5-inches tall) does not give any clues as to his strength or stamina, and he rowed the rubber raft tirelessly, repeating pools along the river beat where we either saw fish or wanted a second shot at particularly appealing water. We continued down the river to Lago Hess, and fished the shoreline from the inlet of Rio Manso around to its exit in "the channels," with Javier rowing the entire stretch against the wind.
The channels are another of the jewels of the area. They consist of a braided section of the river as it leaves the lake and has some of the best dry fly water we encountered. We enjoyed two evenings there with more conventional patterns - Elk Hair Caddis, Stimulators, modifications of my Cheap Lazy Bastard pattern, and various caddis and mayfly emergers. There, as the sun sank low, huge fish, some close to 5 pounds began sipping emerging caddis and mayflies from the smooth water surface. It was a pleasant switch to go from the huge flies earlier in the day to small dry flies. And the satisfaction that some of these big guys would fall victim to my own relatively small flies was gratifying. The serenity of the setting was complete with native waterfowl and aquatic fauna, the echoing calls of birds that sound more like what one would expect in the Amazon - interrupted only by the drag of our reels as one or both of us connected with obliging trout - and all within site of the lodge.