Simply the Best Place to go for Online Fly Fishing and Fly Tying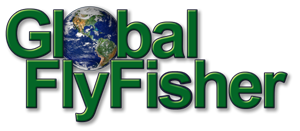 Published Aug 9. 2004 - 13 years ago
Updated or edited Nov 17. 2015
Heat
The summer got hot anyway!
I was complaining about the rainy and cold weather in Denmark. I escaped from it... to Mexico...
In Mexico it was hot and wet. Hot every day, very rainy some days. Not that it was a problem: we avoided the worst heat by fishing in the morning, and the rain usually only came in the afternoon after we had returned.
And yes, I fished. Trying for tarpon again for the second time in my life, and again without catching the big one. My personal record was a 10 lbs. fish - a baby tarpon - and the record on the trip was about 50 lbs., which was quite far from the 100 lbs. specimens we had imagined and heard of.
Well, I had fun, and there will of course be a story on GFF soon. Until then you can enjoy the picture to the right here.
And need I mention that now that I'm back at my desk, it's sizzling hot and humid in Denmark?