Published Oct 14. 2002 - 19 years ago
Updated or edited Dec 4. 2015
Grizzly Streamers
GFF co-webmaster Bob Petti coordinated an effort to share Grizzly Streamer Patterns by members of the Streamer List.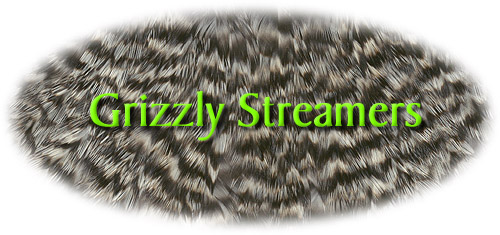 There is no doubt that some form of mottling or striations add to the effectiveness of many patterns, whether streamers or not. Materials such as woodduck flank, teal, and hare's ear fur, all rely heavily on their coloration and mottling when applied to fly tying. Above all others stands the grizzly hackle. Such barred feathers are used on every manner of fly, from the tiniest of trout flies such as the Griffith's Gnat to large saltwater streamers such as Dan Blanton's Sar-Mul-Mac.
The use of grizzly hackle, both natural and dyed versions, in trout streamers has a long and rich history. Flies such as the Gray Squirrel Silver Streamer by Ray Bergman or the Witch flies by Carrie Stevens serve to illustrate the popularity of these feathers in the early days. From bright attractors such as the Perkins Wonder given to us by Bryant Freeman, to realistic imitations such as Lew Oatman's Brook Trout, the grizzly hackle is used in any number of ways. If someone were to ask one of those cliche "If you could only have ..." questions about fly tying materials, grizzly hackles would certainly show up on the vast majority of answers.
The flies shown in this feature were tied by the members of Bob Skehan's "New England Streamers" mailing list. It is the intent of this feature to never be closed. All readers are welcome to submit streamers and patterns listing for inclusion. It is my hope that over time we can grow a representative sampling of historic and contemporary trout streamers that highlight the varied uses of these magnificent feathers.
Bob Petti
December 2000
Perkins Wonder
Tied by Bryant Freeman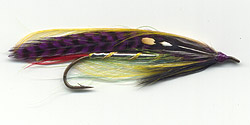 | | |
| --- | --- |
| Hook: | Gaelic Supreme Mike Martinek, 8xl #1 |
| Tail: | Red Hackle Barbs |
| Body: | Flat Silver Tinsel |
| Rib: | Gold Floss w/ Gold Twist on either side of floss |
| Belly: | Lt. Blue Polar Bear followed by White Polar Bear |
| Throat: | Yellow Hackle, Golden Pheasant Crest curving upwards, the Black Hackle |
| Wing: | Light Green Polar Bear followed by four grizzly hackles dyed purple. |
| Shoulder: | Jungle Cock |
| Topping: | Amherst Pheasant Crest followed by Golden Pheasant Crest |
---
Gray Squirrel Silver Streamer
Tied by Bob Petti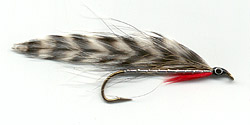 | | |
| --- | --- |
| Hook: | Mustad 3665A, #6 |
| Body: | Flat Silver Tinsel |
| Rib: | Oval Silver Tinsel |
| Underwing: | Gray Squirrel Tail |
| Wing: | Grizzly Saddle Hackles |
| Throat: | Red Hackle Barbs |
| Eyes: | White w/ Black Pupils |
| Note: | This is a contemporary version of Ray Bergman's classic fly. Flat tinsel with a rib replaces embossed, red hackle replaces dyed golden pheasant crest, and painted eyes replace jungle cock. |
Sportsmen Say
Tied by Chris Del Plato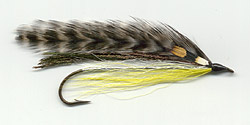 | | |
| --- | --- |
| Hook: | Gaelic Supreme Mike Martinek, 8xl |
| Body: | Flat Silver Tinsel |
| Rib: | Oval Silver Tinsel |
| Rib: | Yellow Bucktail |
| Wing: | White Bucktail, Peacock Herl, Grizzly Hackle |
| Cheek: | Jungle Cock |
| Head: | Black |
---
Sander's Streamer
Tied by Chris Leonard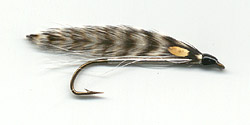 | | |
| --- | --- |
| Hook: | Gaelic Supreme Mike Martinek, 6xl |
| Body: | Medium Flat Silver Tinsel |
| Wing: | A very small bunch of white bucktail (about 25 hairs) extending past the bend, over which are four grizzly saddle hackles, slightly longer than the bucktail. |
| Cheek: | Jungle Cock |
| Head: | Black |
---
Dusky Smelt
Tied by Scott Daskiewich

| | |
| --- | --- |
| Hook: | Mustad 94720, #4 |
| Tag: | Flat Silver Tinsel |
| Body: | White Close |
| Rib: | Flat Silver TiInsel |
| Throat: | Peacock Herl, above hook, white bucktail below |
| Wing: | Blue hackle inside, grizzly hackle outsise |
| Shoulder: | Mallard Flank |
| Cheek: | Jungle Cock |
---
Bill Special
Tied by Robb Nicewonger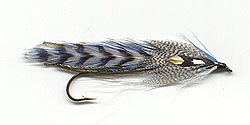 | | |
| --- | --- |
| Hook: | Gaelic Supreme Mike Martinek, 6xl |
| Body: | Flat Silver Tinsel |
| Belly: | White Bucktail, sparse |
| Wing: | Grizzly Hackle |
| Shoulder: | Silver Pheasant |
| Cheek: | Jungle Cock |
---
Cameron #2
Tied by Lindsey Grandison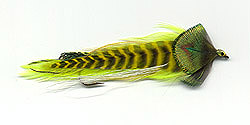 | | |
| --- | --- |
| Hook: | Mustad 94720 |
| Thread: | Olive |
| Tag: | Flat Gold Tinsel |
| Tail: | Peacock Sword |
| Body: | Orange Floss |
| Rib: | Narrow Flat Gold Tinsel |
| Throat: | White bucktail and Golden Pheasant Crest curving upward |
| Wing: | Sparse Orange Bucktail, Six Strands of Peacock Herl extending beyond tail, Golden Pheasant Crest curving down over peacock, two bright green saddle hackles under two olive saddle hackles under two grizzly saddle hackles dyed yellow. |
| Cheek: | Peacock Neck Feather |
| Head: | Olive w/ Yellow Eye and Red Pupil |
| Notes: | This fly was originated by Ellis Hatch of Rochester, NH. Pattern taken from "Forgotten Flies". |
---
Stealth
Tied by Stan Jakubaszek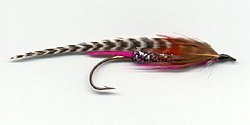 | | |
| --- | --- |
| Hook: | 6x Streamer |
| Tag: | Copper Tinsel |
| Tail: | Cerise Marabou |
| Body: | Kraft Cord, Black and Silver |
| Throat: | Cerise Marabou |
| Wing: | Grizzy (2), long |
| Cheek: | Red Golden Pheasant Body Feather |
---
Pink Lady
Tied by Wes Autio

| | |
| --- | --- |
| Hook: | Gaelic Supreme Mike Martinek #1 8xl |
| Tag: | Flat Silver Tinsel |
| Body: | Pink Floss |
| Rib: | Flat Silver Tinsel |
| Belly: | White Bucktail |
| Throat: | Pink Schlappen |
| Underwing: | 4-6 Peacock Herls |
| Wing: | Four Grizzly Hackles |
| Shoulder: | Teal Flank |
| Cheek: | Jungle Cock |
| Head: | Black with red (or pink) band |
| Notes: | Originated by Carrie Stevens. Source, Hilyard and Hilyard, Schmookler and Sils |
---
Grizzly King
Tied by Wes Autio
| | |
| --- | --- |
| Hook: | Gaelic Supreme Mike Martinek #1 8xl |
| Thread: | Black |
| Tag: | Flat Gold Tinsel |
| Tail: | Two matched section of red goose shoulder (or duck quill) |
| Body: | Green Silk Floss |
| Rib: | Flat Gold Tinsel |
| Throat: | Grizzly Hackle Fibers |
| Wing: | Four grizzly saddle hackles |
| Shoulder: | Teal Flank |
| Cheek: | Jungle Cock |
| Head: | Black |
| Notes: | Originated by Gardner Percy. Source: Bates, Schmookler and Sils |
---
Grand Lake Streamer
Tied by Darren Bua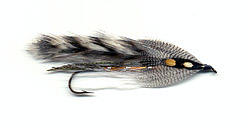 | | |
| --- | --- |
| Hook: | Mustad 94720 |
| Thread: | Black |
| Tag: | Flat Silver Tinsel |
| Body: | Orange Floss |
| Rib: | Flat Silver Tinsel |
| Throat: | White Bucktail |
| Wing: | Four to Six Strands Peacock Herl and a Pair of Grizzy Hackles |
| Shoulder: | Gray Mallard Flank |
| Cheek: | Jungle Cock |
| Head: | Black |
| Notes: | Source: Forgotten Flies, by Schmookler and Sils |
More content from the front page