Published Sep 14. 2002 - 20 years ago
Updated or edited Dec 27. 2017
Waddington shanks
Classics in a classic way. These flies may look like something of today, but the concept of Wadington shanks is old as Methusalem. Danish fly tyer Niels Have has converted four classics to effective flies for early salmon and sea trout fishing. See the pictures and patterns.
A selection of Niels' Wadington shanks: Willie Gunn, Green Highlander, Spey Ghillie, Tadpole
Danish fly tyer
Niels Have
- a good friend and fishing companion of mine - ties a lot of classical salmon and sea trout flies. And notice: these are flies for fishing, not for framing! In preparation for his upcoming trip to Norway he has tied up a lot of flies. Among those I especially fell in love with these Wadingtons. Wadingtons is a traditional English way of dressing flies, where you utilize a special shank in stead of a hook. The shank is attached to a treble hook before the fly i tied, and part of the fly - typically tag and butt - will be tied on this treble. The connection between the shank and the hook is stiffened with a piece of monofilament to assure that the treble hook will not turn and ride sideways, when you fish the fly. See how to fit a treble on a Wadington shank.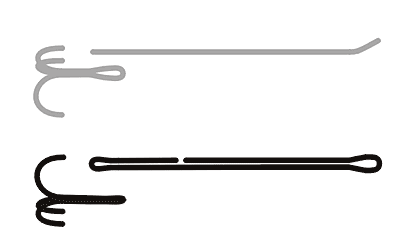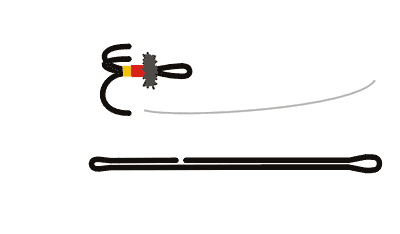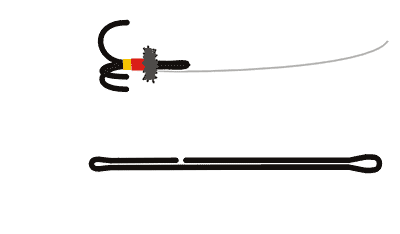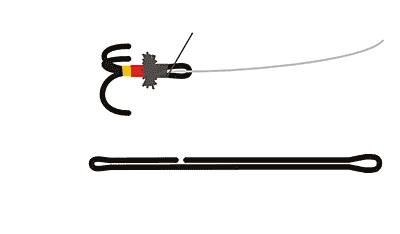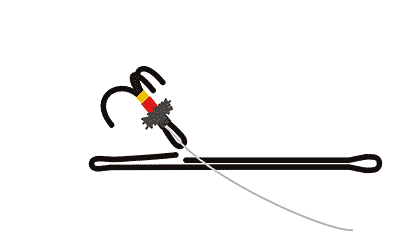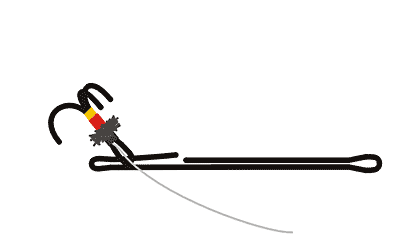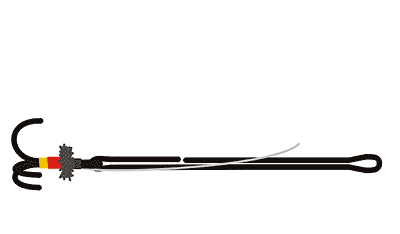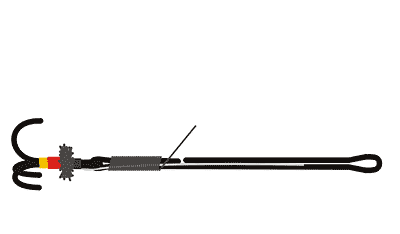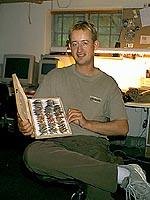 Niels with a box of 50 feather winged salmon flies ready for this summer's fishing in Norway
When the treble is dressed it is connected to the shank and the rest of the fly is tied on the whole assembley. Wadington shanks are well suited for fishing in spate rivers or rivers with fast water. In Denmark we also use them for deeper streams and rivers when fishing for sea trout and salmon in the spring. The shanks can be difficult to obtain outside Scandinavia and Britain, but if you want to you can easily fabricate them yourself from a suitable wire. We have done well with shanks made from welding wire. These shanks will be a little lighter than the ones commercially manufactured by Partridge. The flies shown here are all classics tied up as Wadingtons. They are simplified in comparison to the original pattern and have straight hair wings made from bucktail. Niels mixes the wings of two or more colors for each pattern. The Tadpole is the only pattern with separated colors, while the rest are totally blended. This is done by cutting an appropriate - small - bunch of each color, mixing them by hand and carefully stacking them in a hair stacker. The wings are then tied in in three bunches on three sides of the shank after the body is finished. This makes it much easier to control the distribution of hair around the shank.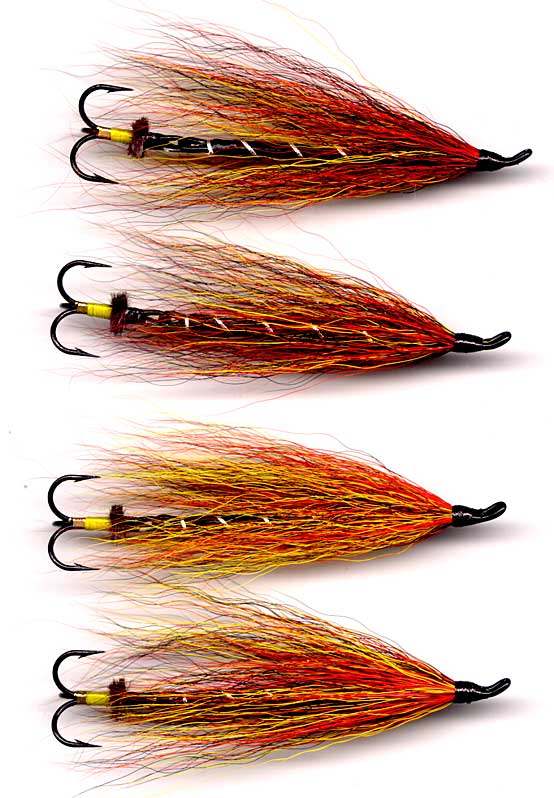 Materials Willie Gunn:
Shank and hook
Partridge
Tag
Fine oval gold tinsel and yellow floss silk
Butt
Black ostrich herl
Connection
0.60 millimeter nylon monofilament
Rib
Medium oval silver tinsel
Body
Black floss silk
Wing
Mixed yellow, red, and black - equal amounts
Head
Black tying thread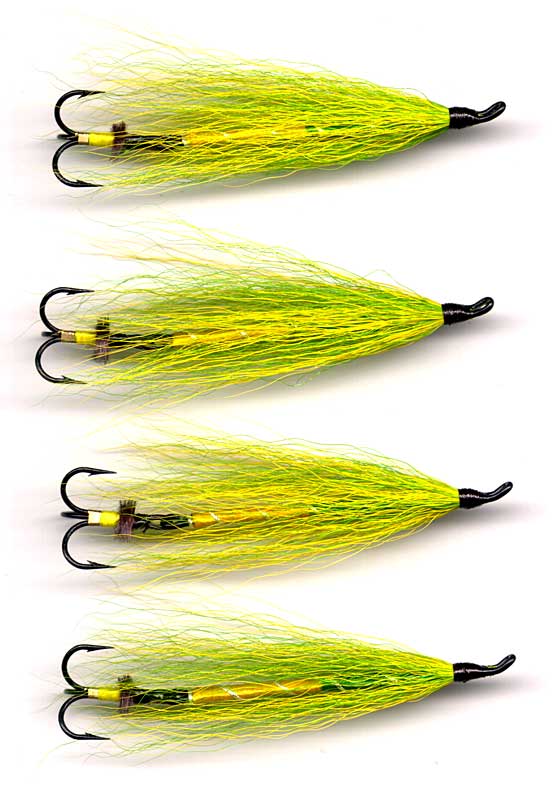 Materials Green Highlander:
Shank and hook
Partridge
Tag
Fine oval gold tinsel and yellow floss silk
Butt
Black ostrich herl
Connection
0.60 millimeter nylon monofilament
Rib
Medium oval silver tinsel
Body
Rear half yellow floss silk, front half green floss silk
Wing
Mixed yellow and green - equal amounts
Head
Black tying thread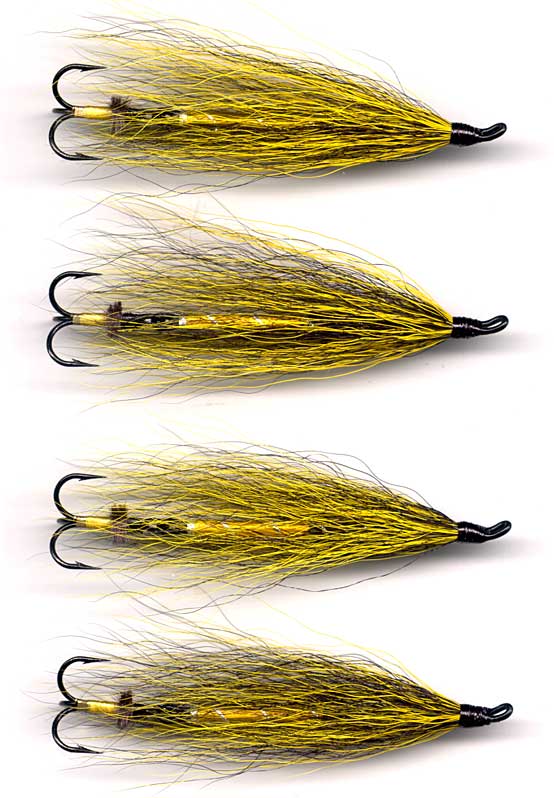 Materials Spey Ghillie:
Shank and hook
Partridge
Tag
Fine oval gold tinsel and yellow floss silk
Butt
Black ostrich herl
Connection
0.60 millimeter nylon monofilament
Rib
Medium oval silver tinsel
Body
Rear half yellow floss silk, front half black floss silk
Wing
Mixed yellow and black - equal amounts
Head
Black tying thread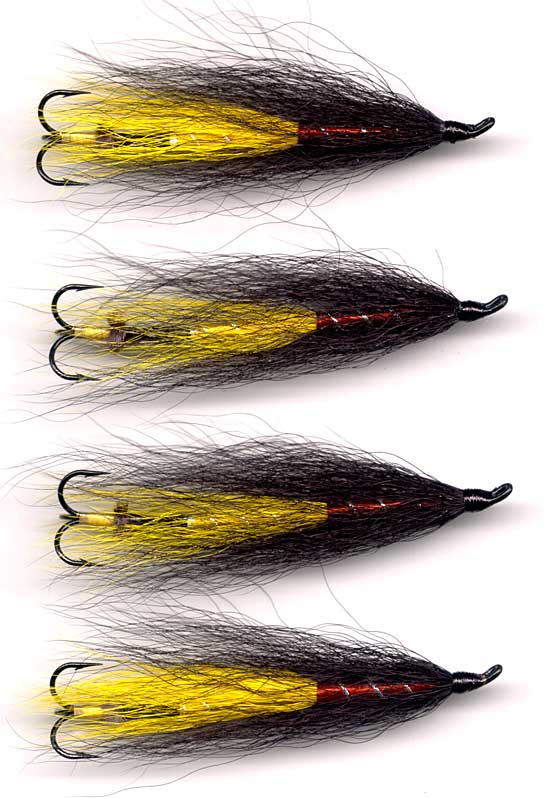 Materials Tadpole:
Shank and hook
Partridge
Tag
Fine oval gold tinsel and yellow floss silk
Butt
Black ostrich herl
Connection
0.60 millimeter nylon monofilament
Rear rib
Medium oval silver tinsel
Rear body
Yellow floss silk
Rear wing
Yellow bucktail
Front rib
Medium oval silver tinsel
Front body
Red floss silk
Front wing
Black bucktail
Head
Black tying thread
More content from the front page