Published Jul 15. 1997 - 25 years ago
Updated or edited Dec 10. 2015
Doing the Limbata
I apologize to you in advance for the disappointment you will feel upon learning that this article is not about a hot new dance step from south of the border and will not contribute to your romantic relationships or skills on the dance floor.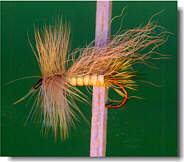 Traditional hex pattern (above)
and foam emerger (below)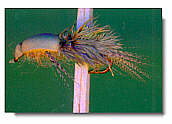 "Doing the Limbata", instead refers to the glorious time of fishing for large brown trout during the brief hatch of Hexagenia limbata, known in this part of the Midwest as "the Hex Hatch". For those unfamiliar with this insect, the hex is about the largest mayfly I know about and also as far as I know its brief two or three week hatching period seem to be restricted mostly to waters of Wisconsin, Minnesota and Michigan in the latter part of June. Amazing to me, I have met anglers who had never heard of the Hex and were completely unaware of its presence.
Fishing the Hex is among my favorite fly fishing events along with the accompanying rituals and traditions the group I fish with has developed over the years. Fishing this great hatch can be the most excitement one can experience on trout waters anywhere. Just being out there and witnessing the emergence of these huge mayflies right after the touch of darkness reaches the stream can raise the hair on the back of one's neck. Hearing the soon forthcoming sounds of trout--large trout--eating will make gooseflesh appear on the arms of even the most jaded fly fisher. The possibility of making contact with the stream's largest residents of the brown trout variety is a reality. The biggest trout will come to feed voraciously, seeming to forget all their usual wariness. This happens like clockwork. At about 9 p.m. the emergence begins. An hour later, and it is usually over. The hatch can be so thick that, as it was on one evening this season, we could not see the alders on the opposite side of the riverbank.
Shining one's flashlight overhead would reveal a dense moving highway of hex flying about twenty feet above the water. Sometimes there is a spinner fall Hexagenia later on. Occasionally, the hatch of duns will be smaller and one might see a sustained spinner fall for that evening instead. It tickles me to feel and hear the little 'plip' sounds of the spinners bouncing off the crown and brim of my fishing hat as they fall into the water.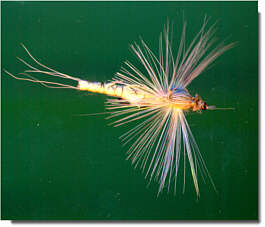 Humongous Hexagenia spinner imitation
Our hex season for the year has now unofficially closed. I made this pronouncement to myself on July 3rd when I found myself alone at the site of our hex camp. I wanted to go fish the Unicorn Pool, on the same spot that I had initiated my daughter Ruthie to fishing the hex and see if there was still a big brown like the one she hooked hiding on the edge of the log jam.
None of the rest of our little informal group showed up. Only the half-dozen farm dogs greeted me. Fred, an aging arthritic Border collie came close and rolled over asking to have his belly scratched. Even though the temperature was in the upper 70's, the camp seemed almost cold with no one else there. No other cars parked on the lawn. No fire going.
No gas lantern on the picnic table. This was definitely an omen since some members of the group fish the hex virtually every night and tracks its progress in great detail. We fish the Tomorrow River and headquarter in the yard of a friend's farm located fifty feet from the stream. Visions of stampedes of other hex anglers cause me to withhold the name of our farmer friend and a more precise location of the camp. Even though we refer to our headquarters as a "camp", only occasionally does anyone ever really camp and stay overnight there. Most of us have to be at work in morning. An 18-inch brown or a 10-inch brook trout is the minimum keeper size for our stretch, not that we usually keep what we catch. The lower section seemed to fish best this year with the biggest of the big boys coming from the Tunnel Bend and Pool, the Big Suck and the Hoover Pool. The Floofy Woofer and the
Unicorn Pools, among others further upstream didn't produce much of anything over 13 or 14 inches.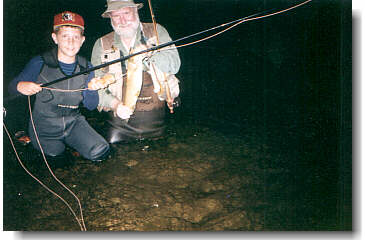 First trout ever: 10 year old Kreuger and slightly older Nebel with a 19 1/2" taken on a Flex-Hex
One particularly memorable evening this season John Nebel, who is also a professional guide, brought along a father and son duo. They were paying customers. John took them down to the Tunnel Bend and spent his time with the kid casting to two risers having earlier sent Dad along a little upstream within shouting range. The kid, a cute ten-year-old who had never been fly fishing before, much less hex fishing, suddenly found a big one on the end of his line. The kid, a cute ten-year-old who had never been fly fishing before, much
less hex fishing, suddenly found a big one on the end of his line.
Ingoring several other smaller rising fish nearby, he had been casting to only that fish for almost two hours. His patience paid off. "Should I reel him in!" cried the boy. "Just leave that reel alone and keep your tip up!" shrieked John. John gets pretty excited and emotional for a grown man who has fished as much as he has. Up and down the pool the big fished raced while the wide-eyed kid obediently held his tip up and listened to the thrashings, charging and mutterings.
John was doing a lot of thrashing, charging and muttering while trying to net the fish. At last the big brownie was safely netted. When John put the tape to it he measured 19 1/2 inches! A trophy brown on the first trip in the kid's life! We were all jealous.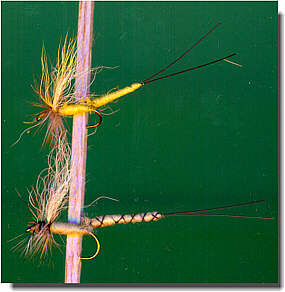 Flex-Hex dun and spinner
Even though the best fishing often lasts just an hour or so, there is a lot more to this type of fishing. Our hex camp group has many necessary rituals and traditions enfolding the brief period of actually fishing than at any other time we fish. The preliminary rituals before we head out on the stream require at least an hour or two. Just getting dressed and geared up is no small endeavor. It is more than just getting ourselves physically geared up with appropriate rods, waders, flies and so on. We also gear up emotionally. One has to arrive by at least 7p.m. to get the full benefit.
This process requires the repeating of good stories and experiences with which we fortify one another's egos and build expectations for the coming fishing. Some of these stories have to be repeated because we all will have arrived separately and at slightly different times depending on how quickly we could get away from home and how far any one of us has driven. A few of our regulars come as far as 80 miles for the evening. Silly as it might seem, each of us has to walk around, sipping on our favorite beverage, and inspect the other's equipment and flies even though we know after all the years what flies and rods the others will be using. Bob Herubin will be using his three-piece 8-1/2 ft. Winston five weight "honey" and a bushy, parachute type hex pattern. John will almost certainly have a 6-1/2 ft. Nova cane rod and a Flex Hex pattern. This year, however, I startled everyone by revealing that I was using a "new" pattern called the Picket Pin! This revelation was very controversial. My abrupt departure from the conventional and expected sparked lengthy discussions by some of the other members.
Then there are the negotiations to determine who is going to take what spot to fish. "Don, why don't you take the Dustbuster pool instead since you are fishing alone and you know Tim and I are going to fish together tonight so we need the room on the Hoover Pool?" "Okay", replies Don agreeably. Our negotiations are pretty tame and friendly. After all these issues are settled the lantern on the picnic table is put in place for later. By the time we finish the preparations and head out to fish at about 8 o'clock the atmosphere is electric. The feeling is almost like the opening of a football game as the team enters the stadium. We could all easily yell, "YEAH, LET'S GO GET 'EM!"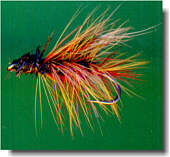 The Picket Pin
Sometime around 10:30 the first arrivals return back to camp for the closing ceremonies of eating and comparing notes. We all wait for John to arrive who is in charge of the food. After any fish that was killed and kept is thoroughly examined, the other results of the evening's fishing experiences are expounded on. There can be a wide diversity of experience. One night, for example, three of our members hardly even made any casts at all while others found a lot of good action in their area. Another night there was a blanket hatch down just above the Big Suck Pool while in our position only a hundred yards upstream there were very few duns coming off at all. That night Mike Northrum caught his first 18+ inch brown. Sometime during the review of events John opens the big cooler and hauls out the food. Pickled hot asparagus, peppers and mushrooms along with crackers, cheeses and maybe a tin of herring are our typical appetizers. Everyone greedily dives into these while John begins making the hearty sandwiches, the main course.
Different kinds of mustards are spread on the whole grain bread. Each slice is then topped with two or three kinds of shaved meats, sprinkled with Italian spices and a final layer of thin pepperoni.
It is approaching midnight before the group breaks up and heads out to return home and get to bed. Morning and work come early. Each one is happy and pleased, and resting in thought that, for awhile at least, there is always tomorrow for another glorious night on the Tomorrow.
---
The Flex-HexThe fly that did the Limbata as told by Jim Hauer above
Easier done than told...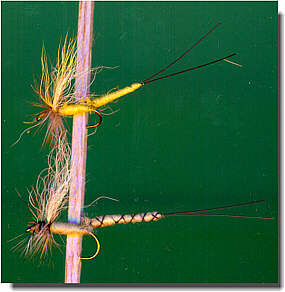 Two Flex-Hex's. Top: dun with yellow body and wing. Bottom: spinner with cream body and tying thread pattern.
Advantages: folds up, soft = deceit
Tough poly yarn body = endures 20+ fish, snaps dry
Easy casting = no leader twist
Barreled upright wings - Stand'em up = dun, pull'em flat = spinner
So on a good night one fly may be all you need.


Materials:
Tail
2-3" of 8 lb. brown Maxima
Rear body
Bright yellow polypropylene yarn
Hook
Daiichi 1180, #8
Connection
4 lb. monofilament
Wing
For dun: elk and yellow calf tailFor spinner: white calf tail
Front body
Bright yellow polypropylene yarn
Hackle
grizzly, cree, yellow, ginger or your local choice

Maxima for tail


Set in vise


Cover with poly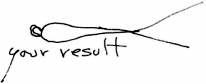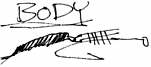 Connect to hook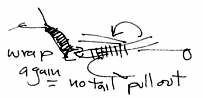 Reverse to strengthen
John Nebel drawings
[REFLECTIONS]
Find the size - style - color - wing - hackle that fits YOU
If the tails are too long - trim them. Even down to 1/4 inch
Get a rejection?
Fold the Flex-Hex over in half, roll cast and there's a good chance that it lands with a NEW PROFILE = BIG TROUT
...or finger nail the tail...
...or trim the hackle...
...or sink the fly...
...or pop it up...
...or...
Flex-Hex tying instructions:
Pinch 8 lb. brown Maxima into vise to form tail section
Set in vise as shown
Tie 6 wraps of black 3/0 Monochord tightly nestled against vise jaws
Tie in yellow polypropylene yarn
Cover first section of Maxima while manipulating to a narrow taper
Bring back poly yarn, tie off and cut
Tie optional criss-cross pattern of tying thread over the rear body between tails and back
Whip finish, cut and varnish
Mount hook in vise
Thread 4 lb. mono through eye in tail section
Tie mono on hook with the link right over the hook bend
Reverse the mono and wrap again to keep the tail from pulling out.
Tie on wing. I prefer to post it in two separate wings with thread
Tie in hackle in front of wing
Cover front body with poly yarn
Wrap hackle, tie down and cut
Whip finish, cut and varnish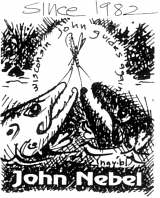 © The Flex-Hex is a copyrighted concept and trademark name.
Enjoy it. Tie it. But use the term Flex-Hex only with credit to me (or permission). No Flex-Hex sales w/o contractal permission.
John Nebel
336 Chute
Menasha, WI 54952
USA
Phone: 414-722-4004
More content from the front page