Published Jan 20. 1996 - 27 years ago
Updated or edited Jan 20. 2019
Glitter Shrimp
A killer fly in the right hands on a cold winter day. A very simple shrimp pattern for Danish sea trout and many other targets.

The standard Glitter Shrimp as it's known all over Denmark
Glimmer Rejen - literally the Flash Shrimp or Glitter Shrimp - is a well known Danish pattern which is typically used for cold water fishing. It seems that the bright appearance of the fly is able to stir the attention of even the slowest and most reluctant trout.
Simple as that
The fly is a very simple tie. It can be tied using two materials: bucktail and flash chenille. The fractionally more advanced version has monofile eyes and the really avid tyer may add a rib. But that's it.
The flies' name indicates some kind of imitatory likeness to a shrimp, but not even the dumbest trout can possibly mistake that red or orange monster for something living. The flies' strength probably lies in provocation and visibility more than imitation.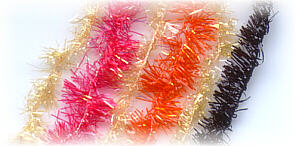 Flash Chenille, Fritz, Cactus Chenille - all well suited for Glitter Shrimps
Fish it deep and slow
This is a fly for winter fishing. When the water is cold, the trout will stay low, deep in the water, and eat very little. They move slowly due to the low water temperature and it can be very hard to draw their attention to anything.
This fly will typically be fished right over the bottom using a sinking or intermediate line.
An important component in succes with this fly is to take it easy. Fish it slooowly with figure-of-eight retrieval and let it rest on the bottom from time to time. If there's a current you might need to add some weight to the fly to get it down. This can be added as lead wire on the hook shank or by using bead chain eyes in stead of the monofile ones in the original pattern.

My own Fancy Glitter Shrimp - same fly with some bells and whistles
My fancy version
I haven't been able to resist the urge to make this look a bit more like a shrimp. By adding a shell, a rib and some black pearl or mono eyes you get a profile more like the real thing, and if you use some white, light olive or light yellow (seals fur) flash chenille, you actually wind up with a very good imitation. For all round fishing the fly is too bright for calm water and sunny days, but its visibility might save you on a windy day with some dirt in the water.
For the winter fishing, it's normally recommended to fish on such bright and sunny days. Fish over fairly shallow water with dark bottom or in deep lies. The first place is where the fish will look for the first few signs of life in the cold winter, the deeper lies are where they will hold to avoid the colder surface water.
Materials:
Plain version
Fancy version
Hook
Tiemco TMC 200R size 2-6
Hook
Tiemco TMC 200R size 2-6
Thread
Red or orange
Thread
Red or orange
Tail
Red or orange bucktail
Tail
Red or orange squirrel or Arctic fox
Eyes
Burnt monofile
Eyes
Black pearls on copper wire
Body
Fritz, red or orange
Rib
Copper wire
Head
Thread
Shell
Clear plastic strip
Body
Fritz, red or orange
Head
Thread
* below indicates fancy version
Tie in a tuft of hair at the hook bend over the barb, length 3/4 shank length
Tie in the eyes on top of the hoo shank pointing to the rear
* Prepare the shell by cutting a narrow strip of plastic
* Tie in ribbing and shell material both pointing to the rear.
Attach a length of flash chenille at the hook bend
Advance the thread to the hook eye and follow by 'touching' turns of the chenille
Tie down and cut surplus
* Pull the shell over the flash and tie down and trim
* Follow by the copper wirein open turns
* Tie down and cut surplus
Form a head from the tying thread
Whip finish and varnish
Trim the flash to a tapered body shape
More content from the front page