Simply the Best Place to go for Online Fly Fishing and Fly Tying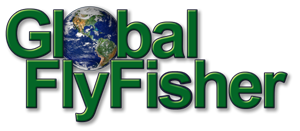 Published Sep 14. 2001 - 16 years ago
Updated or edited Aug 10. 2016
Morrisfoam Diver
"My, what an ugly fly!" Henning glances with disgust at the brightly colored foam fly shining from the hook rest on my 5 wt. "I thought you had higher standards" he continues, knowing that I usually prefer muddlers made from natural materials for my night fishing for sea runs.
"My, what an ugly fly!"
Henning glances with disgust at the brightly colored foam fly shining from the hook rest on my 5 wt.
"I thought you had higher standards" he continues, knowing that I usually prefer muddlers made from natural materials for my night fishing for sea runs.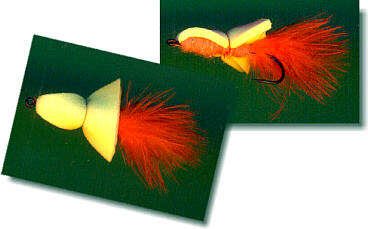 And true; the fly is ugly and my flies of choice are normally naturally colored muddlers with a tightly spun and trimmed deer hair head. Usually I even prefer small 10's and 12's while this creation is tied on a size 4 hook.
Another track
But Skip Morris has temporarily put me on another track. The fly on my tippet is a Morrisfoam Diver - slightly different from and a lot smaller than Morris' own divers, but a lot larger than most of my usual night flies
During a visit to the U.S. in November last year I bought a dozen sheets of ethafoam in Michael's Craft Store, and Skip Morris' book on foam flies sent me searching for those sheets in my all-too-large stock of fly materials never used.
Morris' diver seems inspired by the classic Dahlberg Diver with a tapered, sloping head that ensures a diving action on the floating fly.
When using muddlers I usually carry a bunch and change often, because I want the floating/diving action that the fresh and dry fly can give. Once the muddler is soaked it still floats, but it doesn't pop up like a cork. The foam flies do.
What you have
I have decided to tie some Morrisfoam Divers. Morris prescribes using rabbit for the tail and weighting the hook shank with lead. But I don't like the thought of the rabbit, which is usually too coarse and long haired for smaller flies in the range 10-4. I decide to use Chickabou - currently one of my favorite materials - and dig out the fresh orange skin that I just bought. I also want a light fly, so I omit the lead. The top sheet in my pile of ethafoam is yellow, so it's going to be a bright fly.
That won't mean a great deal, because at night all flies are gray, and the yellow color will not distract the trout, but certainly aide me in seeing the fly in the dark water.
Super floater
Back at the water I ignore Henning's remarks and reenter the water. it's getting darker now, and I have substituted the Morrisfoam Diver for the cone head Magnus that I have used without success until now.
The water is calm and even though it's a bit cloudy, I can still see the light summer sky clearly in the surface. It's 10:30 PM and the sun set about an hour ago. This should be the time where some excellent fishing could be expected to start.
Henning and his girlfriend Maj-Britt are still on the beach, slowly entering the water, when I see a wave behind my fly. I can clearly see where that is - not because of the yellow foam, but because it draws a highly visible triangle as it streams in the surface.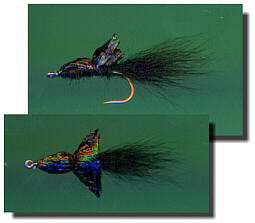 Small black Morrisfoam Diver on a short shank #6 hook. The foam is white packing dyed with a black marker
Going once, going twice...
The fish strikes with a loud splash but misses. I don't even get the time to be disappointed before it strikes again. This time it sticks and immediately heads for the bottom. This behaviour indicates cod, and I take it quite easy, slowly pressing the fish, testing the size. It feels like a fair cod, but not a big one.
I don't bother getting the line on the reel, but slowly pull in the fish letting the loose line float along with the slow current.
My estimate of the fish and its size gets a revision as it pulls steadily and starts traversing the coast in front of me. That's trout behaviour. I regret the loose line and start winding it on the reel.
The trout - I'm sure it's a trout now - manages to pull a bit of line off the reel, but isn't really strong. It crosses back and forth in front of me, and resists my steady pressure.
No jumper
It doesn't jump, but slowly gets closer. As the leader enters the top eye, I see the fish. Not a biggie, but a nice fish of about 2 lbs. It turns over when I tip the rod to the left and slides into the net. The first night trout of this summer is a fact.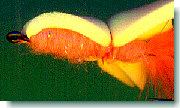 Foam covered head and body
I remove the fly and assess the size and condition. Maj-Britt and Henning are out by my side now. She's a rookie and Henning urges me to show her the beautiful fish, which does have a flaw though: one breast fin is small and curled up, forming a small lump.
I decide to keep it, and borrow Henning's priest. A couple of strikes over the head, and the fish is lifeless, although still beautiful in my hands.
Slow night
Within ten minutes I get one more strike, but loose the fish after a few seconds. The night is slow on the average, and I'm the only one who sees or feels fish. Not even cod are moving. The water is hot, and even though there's a steady current, the hot summer conditions are not optimum for the fish.
But the few ones that were there liked my new Danish Morrisfoam Diver.
Materials:
Hook
Kamasan B840 size 2-4
Bright colors might not mean that much at night. This is what you see from above (top) and what the fish probably sees from below.
Thread
Red
Tail
Two orange Hoffmann Chickabou rump feathers or orange marabou
Body
Orange Scintilla Dubbing
Head/collar
Yellow ethafoam sheet cut to shape
Black variant:
Hook
Partridge John Holden size 6
Thread
Black
Tail
Tuft of black Arctic fox
Body
Black Arctic fox dubbing
Head/collar
Black ethafoam sheet cut to shape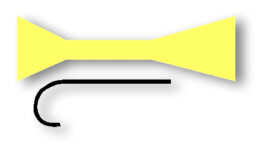 Shape and size of the foam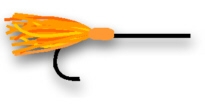 Tail tied in and first part dubbed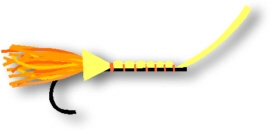 Foam tied on, small triangle first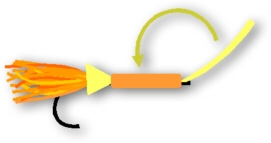 Body dubbed, foam ready for bending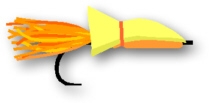 The finished fly, whip finished over the foam
Cut a piece of foam as shown
Tie in tail on top of hook. Length approx. as shank
Dub a small part of the shank above the hook point, reaching a third shank length
Tie in the foam on top of shank, small triangle pointing to the rear and curving slightly around the hook shank
Tie down the foam forward along the shank and leave the thread in the front end
Dub a cylindrical body over the foam, working your way rearward again
Bend back the large foam triangleand tie it down approx. mid shank
Varnish the thread and whip finish over the foam
Trim the foam collar if needed
The Morrisfoam Diver can be made in many colors and materials. This one is more like an average Danish coast fly for sea trout.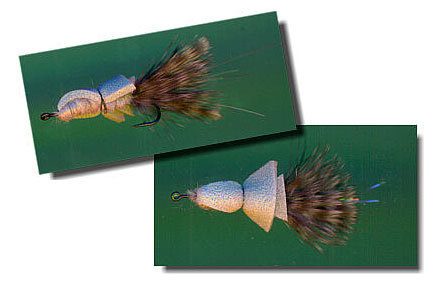 Grizzly Morrisfoam Diver tied with gray foam and Grizzly Chickabou
Materials:
| | |
| --- | --- |
| Hook | Kamasan B840 size 2-4 |
| Thread | Black |
| Tail | Three grizzly Chickabou tailfeathers over 6-8 straws of clear, smooth flash |
| Body | Grey Scintilla dubbing |
| Head/collar | Gray ethafoam sheet cut to shape |
Babtism of the Morrisfoam Diver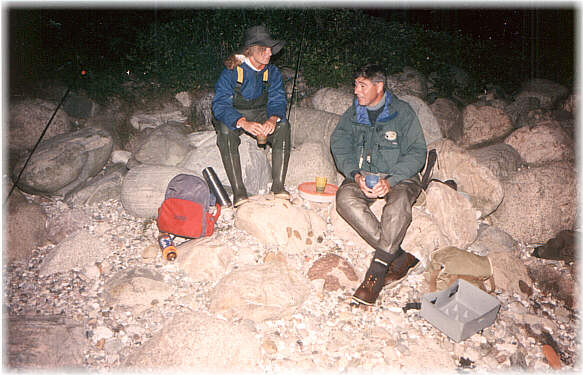 Maj-Britt and Henning during a break - ham sanwiches and black coffee.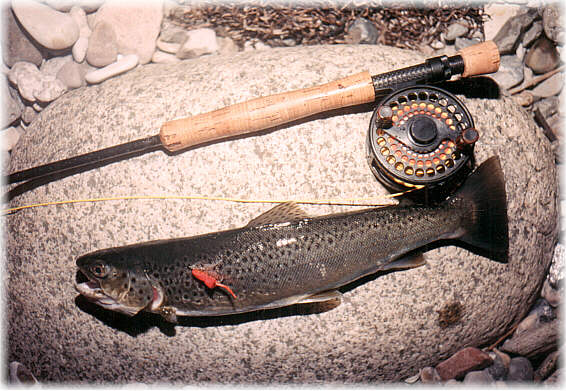 The first fish on the Danish Morrisfoam Diver
The first fish I caught on the Morrisfoam Diver was a small sea trout which I took on a nightly outing with Maj-Britt and Henning. I had never tried it before, but it proved quite effective. I was the only of the three of us to even have contact with fish - not least land one.