Published Jan 10. 2000 - 21 years ago
Updated or edited Aug 10. 2016
Opossum
A simple fly for sea trout.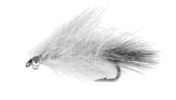 A small, simple autumn pattern, that lives through the sparkling sandcolored opossum. Easy to tie, but still effective.

| | |
| --- | --- |
| Hook | 8 or 10 streamer down eye hook |
| Thread | Tan |
| Tail | Small tuft of brown hackle fibers or whole hackle |
| Body | Opossum, natural sand/yellowish |
| Eyes | Bead chain |
| Head | Tying thread |
The tail can be formed by tying in loose fibers, but forming a normal, turned hackle, and tying it down leaves a larger tail. Dub thread with fur and cover the shank. Make the fly fairly thick. Stop just in front of hook eye, and tie in eyes beneath the shank. Eyes can be glued with superglue for a more durable fly.
Finish off with tying thread, and rip up the dubbing with a needle.
More content from the front page