Published Jan 16. 2006 - 17 years ago
Updated or edited Jan 30. 2021
Speyshal
Like most ideas... they mature slowly. It was not until late March that, during a private flytying tuition session to a talented, young colleague, I saw clearly in my mind what my Skunks would look like.
Another small series of EZ flies came out of the vise recently. The idea came up in my flytying mind some months ago, when looking at a 'Green Butt Skunk' pattern tied Spey style. I find small Spey flies very pretty to fish with, a pleasure to tie and good looking in any fly box.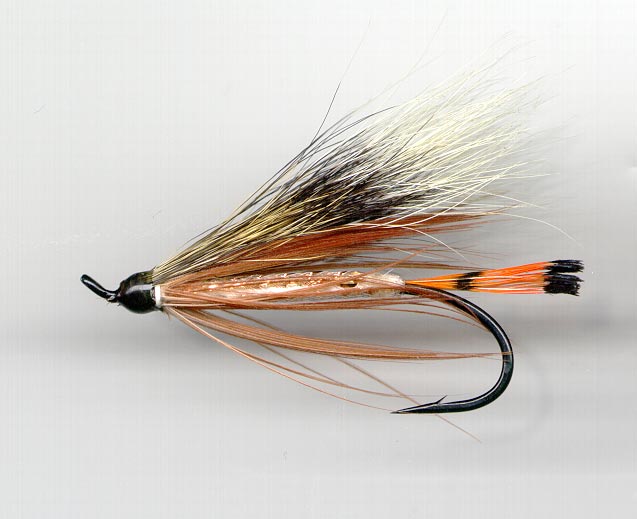 Golden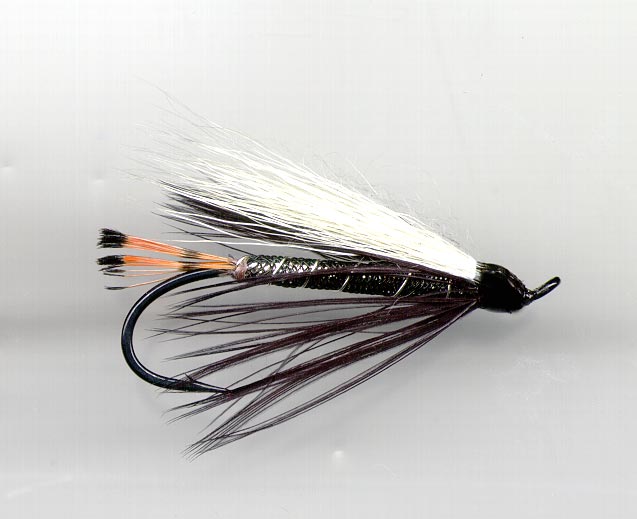 Ebony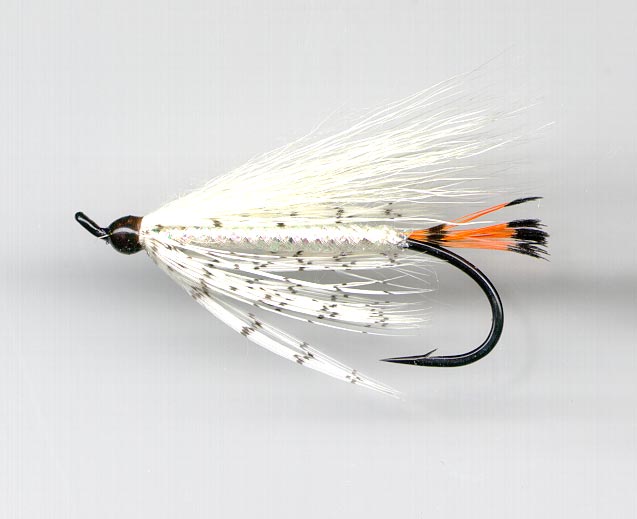 Silver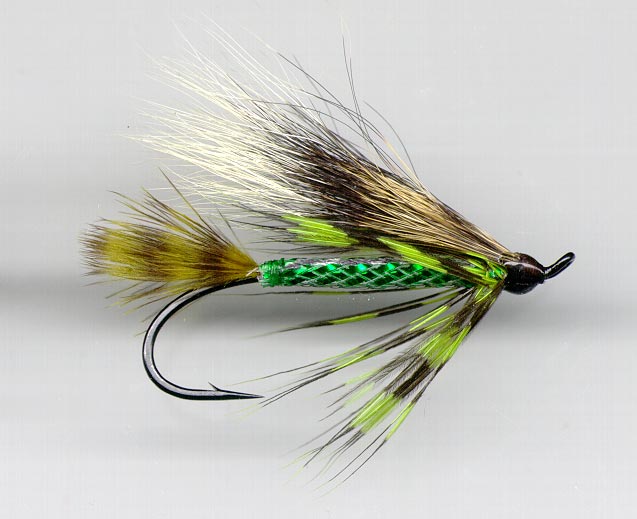 Green

Like most ideas... they mature slowly. It was not until late March that, during a private flytying tuition session to a talented, young colleague, I saw clearly in my mind what my Skunks would look like. It was a most 'inspirational' fly tying morning... spiritual even... my flytying buddy at the Waldron... trying out some new CDC techniques I had just shown... fresh coffee in the pot... surrounded by Beethoven... his 'Pastorale' softly, but majestically floating around... some fly tying hours that remain forever carved in my memory. When looking at the endresult of my series, we both say: "Yes, they are very Speyshal, and not only phonetically!"
Enough of this pleasant reminiscing... let's tie some 'odorless' Skunks! Four of them...the 'Ebony Skunk', the 'Green Skunk', the 'Golden Skunk' and the 'Silver Skunk'.
Materials (for all flies):
| | |
| --- | --- |
| Hook: | Tiemco 7989 size 8 |
| Thread: | Black 14/0 |
| Tail: | Golden Pheasant Tippets (except for the Green Skunk which has an olive Chickabou tail) |
| Underbody | Medium-size, flat, gold, silver or green tinsel |
| Body: | Mini EZ-Body, Silver, Gold, Green or Black |
| Rib: | Uni-French Wire ME, silver (only on the Ebony Skunk) |
| Throat hackle: | Breast Hackle of Silver Pheasant, Guinea Fowl (dyed olive), Black Schlappen, or Trachopan Pheasant |
| Wing: | Either soft long goat hair or squirrel tail. (Did I hear anybody whisper "polar bear"...? Perfect!) |
| Head: | Black (optional: a tiny drop of Epoxy) |
Those of you fishing the 'salt' or the 'brackish' (Lake Oostvoorne), may consider using Patridge's: JS Sea Streamer Hook CS11GRS size 6.
Sources:
Thread: Giorgio Benecchi
Body: EZ-body, J.A. Enterprises
Tinsel: UNI Products
No commercial strings attached
Having trouble shoving the EZ-Body over the tinsel underbody? Take a knitting needle.. whenever she's not looking... carefully shove 4 to 6 inches over the needle …. heat with a hair dryer for a minute or two. The body material will expand to the size of the needle and will now easily fit the shank.
Tying instructions: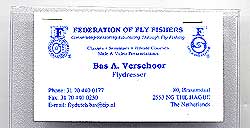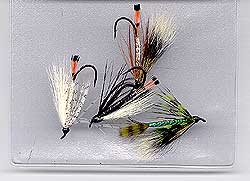 Bas' Speyshal Skunk Series
Place hook in the vise and cover the shank with thread to a point just above the barb.
Tie in tippets or Chickabou feathers for the tail, and wrap thread forward.
Tie in medium-size, flat, silver, gold or green tinsel. Wrap tinsel back to the base of the tail and back forward. Tie of with a whipfinish knot.
Cut of a piece of EZ-body matching the length of the hookshank, and shove it over the underbody. Make a few thread wraps at the base of the tail and tie off.
Tie off EZ-Body behind the eye of the hook, leaving enough space for the throat hackle and the wing.
Tie in feather for the throathackle by the tip, 'good' side facing upward. Moisten fingers, folding the hackle along the stem, and work the fibers back as you wind the hackle on.
Take a small amount of either one of the above wing materials, clean and stack the tips and tie in as wing (keep it sparse)
Trim the head, wrap it with thread forming a neat head and whip finish.
So far for the new addition to this page. My 'Skunk Series', derived from the good ol' Greenbutted Skunk. Do these flies catch more fish? I think they do! As a fisherman I can 'lie along with the best of them', but... you'll hear no tall tales from yours truly this time. I'd rather hear stories from you, readers of this page, as was the case after publishing my Coney Snowbugger, which - as I have been told - has already accounted for 7 different species, from large Largemouths to tiny, little Crappies.
A final note. 'Bastardized' flies, I can hear some of you esteemed 'purist' colleagues say. Yep... Bastian is bastardizing again. Of course ...couldn't agree with you more!
But, I ask you... "Would we have a Royal Wulff... a CDC & Elk... a Hardy's Favorite Spey if we would not adventurously indulge in the pleasure of dressing a few bastards, every now and then?
Tight Threads and have fun featherbending!
More content from the front page