Simply the Best Place to go for Online Fly Fishing and Fly Tying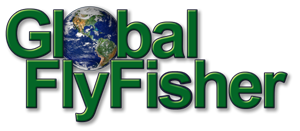 Published Dec 20. 2010 - 7 years ago
Updated or edited Sep 13. 2015
Feeding Time
A single disk! And that's it.
No real DVD cover, no colorful photos, no neat booklet. Just the title printed on a white DVD.
No, the Drake DVD Feeding Time does not impress when it comes to design and packaging. I haven't even got a cover, which I can scan and use for the review.
And please notice: this is not an right-out-of-the-presses preview or a special reviewer's copy.
No, this is a DVD, which I bought and paid for through the Drake online shop. And I paid the same to have it posted to Denmark as the DVD itself costs! Currently it says free shipping on the web site, but living on a non-US address has taught me not to believe such promises before I see the bill. I paid 20 US$ on top of the DVD price to have my copy posted to Europe.
Where this title does impress though, is in the online store on the Drake Magazine's homepage, where the description says:
...featuring some of the most creative and innovative flyfishing footage ever assembled. Nothing like this has ever been attempted in the flyfishing industry.
Personally I'd be very careful writing something like that, especially in an era where one stunning DVD after the other hits the shelves, and both on- and offline is soaring to new heights with every new release. I have many DVD's in my own collection, which easily match and surpass what I find in Feeding Time.
And Drake Magazine's staff ought to know. Not only can they follow the development in the market like anyone else, but on top of that they host the Annual Drake Five Minutes of Fly Fishing competition, which is a video competition that displays exactly some of the "most creative and innovative flyfishing footage", and has done so for the fifth year in a row in 2010.
Seen in that light, I'd be really careful when penning the promotion something, which is good, but honestly far from the standard seen in many of today's DVD's and online videos.
It's even old fashioned letterbox 4:3 format, which is rarely seen these days, where 16:9 and HD is the name of the game.
Don't get me wrong! This is a very nice video, assembling some great sequences of fishing and opinions on fishing and related issues, but there seems to be a couple of steps up to the best on the market concerning both content, format and presentation. It might not be the newest DVD on the market, and it might have been good when it came out, but with that in mind, the presentation might need a slight rewriting.
Of course the modest 20 US$ price tag does give a little leeway (especially if you don't have to pay any postage), but considering the Drake history, I'd expect more.