Simply the Best Place to go for Online Fly Fishing and Fly Tying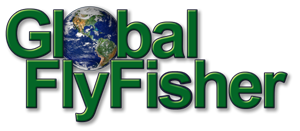 Published Jul 10. 2008 - 10 years ago
Updated or edited Sep 13. 2015
Fish Bum Volume I: Mongolia
The opening scenes of River Wolf - after the titles - are no less than breathtaking. And by that I mean breathtaking in the literal sense of the word. During the team's hectic trip through Beijing - from the airport to the train station - you are gasping for breath and hoping for the best.
The speed of the trip is somewhat slower the following three days - going by train to Mongolia, which is the final destination for the bums this time. In spite of the long train journey you still sit close to the edge of the seat because during the intro you have been introduced to the fishing after the river wolf, the taimen.
Splashing, underwater footage, "4 feet!", "5 feet!", bent rods and lots of ooh'ing and ah'ing. Oh, yeah! You have an idea about what you're in for. Something big and wild.
But before getting to that you have to join the trout bums fishing for several days catching lenok - an Asian trout species - which is not quite like catching huge Taimen, even though it certainly looks a lot of fun.
One of the first taimen hooked straightens a 4/0 Owner hook, and after the frustrating hunt for this elusive fish, the spell breaks and fish are finally caught. And what fish. Whoa! This taimen adventure is just downright crazy. The places, the locals, the cars, the breakdowns, the towns, the landscapes, the beer, the flies... and not least the fish.
You wouldn't think that the guys from Angling Explorer Group could do it again, but even though "The River Wolf" doesn't have quite the freshness of the first of AEG's productions "Trout Bum" in South America and New Zealand, it still carries the heritage of the previous productions from this ground breaking fishing video company. They definitely started a style that has inspired others, has been copied but not surpassed by anyone.
I was watching this with some friends and one of them said "Now, that's a trip that you would like to go on!". I can't find no better recommendation. Said friend isn't a type who goes on any trip with anybody, and his statement emphasizes that we're talking a special trip with some special people. The fishing is exciting, of course, but the places and the company doesn't seem bad either.
I other words: if you are a) an AEG fan, b) love adventurous fishing in exotic places, c) enjoy action and big fish this is a video for you. The tempo is not quite as hectic in spite of my opinion about the intro, and I don't find the editing and music quite as rock video inspired as the Trout Bum DVD's, but then again, it might just be me who have gotten used to that characteristic and often copied style, which I enjoy so much.