Published Jun 1. 1999 - 23 years ago
Updated or edited Nov 15. 2016
Book review: La mosca ahogada
Spanish flies are different! At least the ones that are shown in this book. The flies that this book treats are not only tied in a very special fashion, but almost all use Coq de Leon feathers. Read our review of La mosca ahogada.
The flies that this book treats are not only tied in a very special fashion, but also all use Coq de Leon feathers. These alone make the flies stand out in a pack, but add the tying and fishing method and you have something unique.
The flies also made the book stand out when I was shopping in a Fnac store in Madrid - a large chain of stores, which have books, videos, cd's and much else.
The selection of fly fishing and fly tying books was not impressive. Actually the fishing selection as a whole was not impressive, but then again; the fishing potential on the dry, central plain where Madrid lies cannot be profound.
But this little book struck my retina and a quick leaf through it convinced me that this was the souvenir that I had been looking for during my business trip to Madrid. I immediately bought it.
It's in Spanish, OK. And I don't read Spanish, sooo... You might think that we would make a strange couple. But not so. The book is clearly illustrated with some fine drawings and very special photos. My little knowledge of Spanish makes words like Plumas, mosca, and montaje make just a little sense.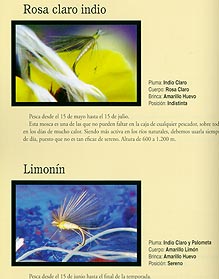 The flies tied herein are simple and very similar. They all make use of a thread body and a hackle made from the barbs of the beautiful Coq de Leon feathers. The flies are tied on spade hooks and can apparently either be snelled or tied on the leader with a loop behind the hackle. The drawings in the beginning clearly show how the flies are used and tied and the pictures accompanying the 100-or-so patterns give enough information to make you able to tie the flies.
A savage Northern European like myself is probably not able to appreciate the subtle differences between the different variations of the plumas de gallos de Leon - be it Indio, Pardo Aconchado, or Pardo Corzuno. Still the vast number of variations possible within such a narrow corner of fly tying can fascinate me.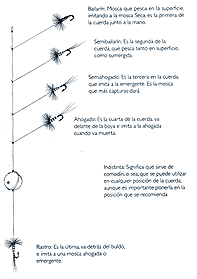 I cannot say how well this book is written. It seems easily approachable and well structured. But I can judge the drawings and photos, which are both functional and beautiful. The flies are set on different backgrounds and sometimes slightly out of focus, but always clear enough to illustrate that precise pattern.
The first part of the book describes how the flies are fished, and that's almost the most fascinating part. The author uses a bubble float and a team of up to five flies, arranged in a very specific manner with certain types of flies at very accurate distances on the line and leader. The method and fly style seems to be common in Spain. A least I saw a box with flies and float in a large department store. I'd love to see this rare arrangement at work. I do not doubt that these flies will work on a fly rod. They seem so universal and generic, and should be able to tempt a trout in any region. The last chapter of the book is on the birds of Leon and their feathers. It shows the hens and roosters, the different types of feathers and coloration and the breeders. A perfect tour to round off this fascinating subject. A rarity, yes but also a fascinating insight into a type of fishing and fly tying, which we don't often get to see. Spanish speaking or not: this book will give some entertaining hours in front of the fireplace or at the vice.
More content from the front page