Simply the Best Place to go for Online Fly Fishing and Fly Tying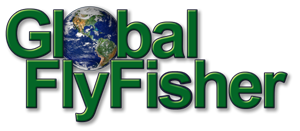 Published Sep 27. 2011 - 6 years ago
Updated or edited Sep 13. 2015
The Underwater World of Trout
Volume 3, Trout Vision and Refraction
Bob Petti's review:
It's been a long time since I spent any time in a classroom studying the concepts of refraction - how a wave (in our case a light wave) changes direction as it crosses the boundary layer between two different media. Back in college all I really cared about was doing a good job on my homework or getting a good grade on my exam. The concept of refraction didn't seem to have much significance outside the classroom, save for letting me know why my golf club looked bent when fishing balls out of the water hazard.
Turns out, I grew up to be a fisherman, and a trout fisherman at that. Every trout fisherman is keenly aware of the boundary between air and water, the dry fly fisherman in particular. Not only does it separate the portion of the world where humans can breathe from where trout can breathe, but the word "float" would have little meaning without it. The transition from air to water is a magical place for a trout fisherman.
In "Trout Vision and Refraction" - the third entry in Ozzie Ozefovich's "Underwater World of Trout" series of DVDs - we get a much deeper understanding of the importance of air/water boundary. He brings us into the trout's world with his camera, showing us in specific circumstances what the "trout's window" is, and how it applied to our fishing. He also walks us through several experiments that illustrate refraction's influence on what we see when looking into a trout stream from above the water. This has value beyond helping us judge where a spotted trout is when preparing to present a fly. After all - if we can see the trout, the trout can see us as well.
One of the most fascinating segments in the film is when Ozzie observes a fisherman along the shore from underwater, where his fishing license, the color of his vest or shirt, the shine off his reel, or even the dial of his watch can be detected by an underwater trout causing alarm we'd rather avoid. We hear the terms "stealth" and "streamcraft" and we think we understand, but the demonstrations in this video drives the point home. The less visible we are to the fish, the less aware they are of our presence, the better our chance of fooling the fish with our offerings. Believe me, I will think of these experiments the next time I take off my hat and before stepping into the stream, just as I will keep in mind the significance of the special ten degree angle.
Refraction is only half of the title, however. The other half is "Trout Vision", which is a fascinating look at the anatomy of a trout's eye. While most of us are less interested in getting a biology lesson than learning hints to help us catch more fish, understanding a trout's visual capabilities helps drive home the points that are related to on-the-stream strategy. Many of us know from experience that fishing can be best on dark overcast days, or in the shadows when there is sun on the water. Knowing that trout cannot constrict their pupils or even squint help us understand why they avoid these bright conditions. The flipside of this of course is that knowing the trout can detect colors and have excellent eyesight only feeds the dementia of fly tyers who will argue for hours over the proper color of Hendrickson pink. Go figure.
While it might seem like this DVD is a science class in action, there are practical angling lessons to be learned:
How to behave along the edge of a trout stream to prevent spooking a fish.
Tips to help determine the actual location of a trout in the water, rather than the perceived location.
Where to cast a fly to allow it to reach the trout's depth.
How to determine the feeding lane of a fish that has not risen.
Where and how to best approach a spotted trout.
How to design flies that appear natural as they enter a trout's cone of vision.
Ozzie's DVDs are eye candy to a trout fisherman. There are few things in nature more beautiful than a native brook trout, and Ozzie seems to go out of his way to show us the beauty of these fish in their natural habitat. His DVDs are worth the cover price for the underwater footage alone, but there is a wealth of information in each one that will help every trout angler improve their chances of catching a trout, whether you are brand new to the sport or a salty old veteran.
Steve Schweitzer's review:
For just over an hour, you'll become increasingly aware of your gawdy presence as a fly fisher stalking fish. The video is packed with tidbits of information about how trout see, perceive color & motion and why. The material may be too technical for some and just right for others. If I didn't take notes as I watched the video for review, I'd miss out on tidbits like: Did you know that trout cannot see color between dusk and dawn? You'll learn why in the video. And, trout can perceive light in the ultraviolet spectrum…what does this mean to the fly tyer armed with UV spectrum dubbing and the like?
A few of the underwater video shots of trout feeding are intellectually illuminating as they are downright spectacular to see. In some cases, it appears as though you are riding a fin of a fish as it feeds. Throughout the video, ample diagrams are interjected to illustrate the narration and author's point. However, the narration is somewhat choppy at times, as it is clear a script is being "read" versus "said". And, early in the video, narration is overly-lengthy during the diagrams - after a few seconds I found myself yearning to see something other than a static diagram. But stick with it and about 20 minutes into the video you'll be seeing how a trout sees. Just like learning any new topic, the background material covered in the first third of the video is essential academia; however it would be nice to have more visual variety and less watching a static diagram for a minute at a time.
The video combines the principles presented in several instrumental books written by some of the topic's top scientists and thought leaders. In a little over an hour, you get a visual digest of a dozen books and research papers written on the subject of how a trout sees.
Which looks more realistic to a trout: an over-hackled fly or a sparsely hackled fly? Would a face of a watch cause enough flash to spook a trout? Does the flash of a shiny rod blank spook a fish? The answers may surprise you. Learn what clothing colors to stay away from. Should you wear clothing that matches the sky or the surrounding terrain? While all the magazine editors like shots of anglers with red shirts (ever wonder why that is?), red is not a color that should be worn while fishing. It shows up like a beacon.
If you don't walk away thinking twice about how you are perceived by trout, then you apparently didn't watch the whole video. It's unclear who this video benefits more; the fly tier or the fly fisher. But if you are both, it's a double feature packed into one DVD.
Trout have a gland on top of their head that acts like a photoelectric cell
Trout can see the top and bottom of emergers & nymphs due to the refractive nature of the water surface
Trout closer to the surface are skinnier in appearance
There's a balance of false casting to get the perfect presentation versus getting the fly near the trout's window quickly
I've changed my entire outlook on how to approach a fish, particularly when the water surface is smooth. And how to observe a fish to see exactly what it is up to. The eyes of a feeding trout are always moving & shifting.
A trout fly is magnified on the edges of the trout's window
Emerger colors are very important
A trout's visual acuity is 14x less than a human's, about 20/200 vision
Tie wally winged flies
Tie spinner flies (trikes)