Published Jan 10. 2000 - 23 years ago
Updated or edited Sep 8. 2016
Herb Welch flies
If I was sitting with ten fellow trout fisherman and mentioned the name "Herbie Welch", I would probably get ten quizzical looks.

If I was sitting with ten fellow trout fisherman and mentioned the name "Herbie Welch", I would probably get ten quizzical looks. On the other hand, if I mentioned "Black Ghost", I'd be quite surprised if I didn't noticed a number of nodding heads, as the Black Ghost remains as popular and killing a fly pattern today as it was during the depression era of the 30's.
Herbert "Herbie" Welch tied his first streamers around the turn of the century, a fact he used as the basis for his claim of being the first person to tie streamer flies. True or not, the statement certainly adds weight to his mythical status. I can also be said that he served an important role in the development of modern day long shanked streamer hooks. His initial streamer flies were tied on hooks reshaped from bluefish bait hooks which he forged into a sleek shape that better served the needs of his smelt imitations. He recognized the need for streamer hooks long before there were any commercially available. In many ways, Herb Welch can be considered the "Father" of the New England streamer.
Herb's shop was at Haines Landing on Lake Mooselookmeguntic. Although best remembered for his fly patterns, he was also a well known taxidermist, guide, and an accomplished artist and sculptor. Some of his bronze pieces remain on display today in the Smithsonian's American Museum of Art. An excellent fly caster, he was often invited to be a featured demonstrator at many sporting shows. He was far from a one dimensional personality.
Although versions of the Black Ghost were tied as early as 1919, the version we know today was first introduced in 1927. There is some legend behind the origination of this famous fly pattern, but there is no doubt that the rise in popularity of the fly was the result of Nellie Newton producing them for Percy Tackle Company in Portland, Maine. The fly continues to be popular today, although you see far more bucktail or marabou winged versions than the saddle hackle featherwing.
In addition to the Black Ghost, he also tied a fly known as the Green Spot, or what is sometimes mistakenly referred to as Green's Pot. Herb made another rather controversial claim that this fly went on to become the "Nine Three", another very famous Maine streamer. Some of his other original streamers include the Welsh Rarebit (sometimes spelled Welch), the Jane Craig, the Kennebago Streamer, and the Welch Montreal.
While not as well known as Carrie Stevens, the undisputed "Mother" of the New England streamer, Herbie Welch's impact and contributions are no less significant. It is with that in mind that we present a sampling of his fly patterns, tied to represent as closely as possible a set of original Herb Welch streamers photographed for the latest edition of Joseph Bates classic work "Streamer Fly Tying and Fishing".
---
BLACK GHOST
Submitted By Chris DelPlato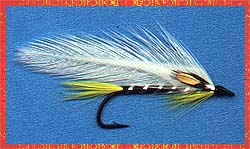 | | |
| --- | --- |
| HEAD | Black |
| TAIL | A small bunch of yellow hackle fibers |
| BODY | Of black silk, dressed rather heavily and tapered slightly at bothends |
| RIBBING | Medium flat silver tinsel |
| THROAT | A small bunch of yellow hackle fibers |
| WING | Four white saddle hackles |
| CHEEKS | Jungle Cock |
Undoubtedly, one of the most famous streamers ever tied - and with good reason. Quite possibly the most effective streamer pattern on the planet. Maybe one of the most effective FLIES - PERIOD. If I had to take only one streamer out with me, this would be the one. No fly fisher should be out on the water without at least a couple in his fly box/wallet. Have I made my point? It is more common today to see this fly tied with a marabou wing, to which it converts very nicely, rather than the original feather wing. Herbie preferred saddle hackle to neck hackle for his featherwing streamers, claiming they had better action in the water.
---
CUPSUPTIC
Submitted By Chris DelPlato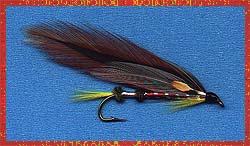 | | |
| --- | --- |
| HEAD | Black |
| TAIL | Small bunch of yellow hackle fibers |
| BUTT | Made in three parts, which take up one third of the body. Rearquarter of butt is peacock herl, middle half is white silk, and forwardquarter is peacock herl. |
| BODY | Red silk |
| RIBBING | Narrow flat silver tinsel, over red silk only |
| THROAT | Small bunch of yellow hackle fibers |
| WING | Two dark red saddle hackles with a bronze furnace saddle hackle oneach side |
| SHOULDERS | A gray saddle hackle, two-thirds as long as the wing |
| CHEEKS | Jungle Cock |
| COMMENTS | One of Herb Welch's (or anyone's, for that matter) most intricatepatterns. Inspired, in part, by salmon flies Herb had been given from'across the pond'. |
---
GREEN SPOT
Submitted By Bob Petti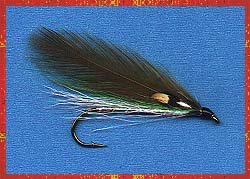 | | |
| --- | --- |
| HEAD | Black |
| BODY | Flat Silver Tinsel |
| RIBBING | Oval Silver Tinsel |
| WING | White bucktail, over which is bright green bucktail, overwhich are four dark green saddle hackles. |
| CHEEKS | Jungle Cock |
| NOTE | Sometimes mistakenly called "Green's Pot". Welch claims thisfly is the ancestor of the very well known Nine-three. Blame my lackof suitable hackles for the olive green wing instead of the dark green called for in the original pattern recipe. |
---
JANE CRAIG
Submitted By Chris DelPlato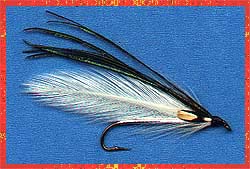 | | |
| --- | --- |
| HEAD | Black |
| BODY | Medium flat silver tinsel |
| THROAT | Small bunch of white hackle fibers |
| WING | Six white saddle hackles |
| TOPPING | Seven or eight strands of bright green peacock herl, as long asthe wing |
| CHEEKS | Jungle cock |
| COMMENTS | Originated by Herb Welch around 1923. Named after a popular Vaudevilleactress of the era. It was intended to be primarily a smelt imitation. Like many of Welch's flies, it has a simple, yet elegant look with all thenecessary ingredients required for effectiveness - white hackle, silverflash, dark back and prominent eye. |
---
KENNEBAGO STREAMER
Submitted By Bob Petti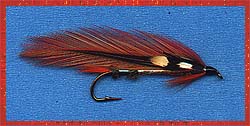 | | |
| --- | --- |
| HEAD | Black |
| TAIL | A small bunch of orange hackle fibers |
| BUTT | Made in three parts, which take up one-third of body. Rearquarter of butt is peacock herl, middle half is pale blue floss,and forward quarter is peacock herl |
| BODY | Flat Gold Tinsel |
| RIBBING | Oval Gold Tinsel (over gold body portion only) |
| THROAT | A small bunch of orange hackle fibers |
| WING | Two dark red hackles inside of two golden badger hackles |
| CHEEKS | Jungle Cock |
| NOTES | Named for the Kennebago Stream, a trout and landlocked salmonfishery in the Rangeley region of Maine. Note the length of thehackles in relation to the hook shank - rather long. |
---
WELCH RAREBIT
Submitted By Chris DelPlato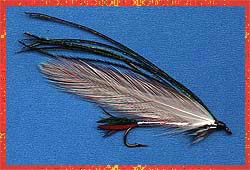 | | |
| --- | --- |
| HEAD | Black |
| TAIL | Extremely narrow sections of duck or goose wing feathers in red,yellow and blue plus two strands of a peacock sword feather. All fourcolors are of equal and normal length, with the blue and yellow marriedtogether on one side (with yellow at the top) and the red and peacock onthe other side. |
| BODY | Medium flat silver tinsel |
| RIBBING | Narrow oval silver tinsel |
| THROAT | A small bunch of fibers from a guinea hen body feather |
| WING | One wine red (dark red) saddle hackle on each side of which are twowhite saddle hackles |
| TOPPING | Nine strands of bright green peacock herl, as long as the wing |
| COMMENTS | Similar to the Jane Craig, the dark red saddles give a nice color blendwith the white. Perhaps the most complex streamer tail you'll tie. Notice the wing extends well past the hook bend - a common characteristicof Welch's streamers. |
---
YELLOW JANE CRAIG
Submitted By Bob Petti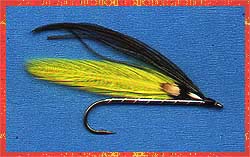 | | |
| --- | --- |
| HEAD | Black |
| BODY | Flat Silver Tinsel |
| RIBBING | Oval Silver Tinsel |
| WING | Four bright yellow saddle hackles |
| TOPPING | Six or seven strands of bright green peacock herl as longas the wing |
| CHEEKS | Jungle Cock |
| NOTES | A varation of the Jane Craig streamer used on dark days oroff-color water. Also not the lack of throat hackle and the additionof a ribbing, differing from the original Jane Craig. As with mostWelch streamers, the hackles are long in relation to the hook shank,extending a good length beyond the bend. |
Chris Del Plato
Bob Petti
January 2000
More content from the front page