Published Aug 20. 2007 - 16 years ago
Updated or edited Oct 1. 2022
Tube Ressources
Want to venture further into the world of tube flies? This list of material suppliers, tools, vises, DVD's, books and much more will give you links to many more hours of entertaining reading and viewing.
A few places to turn for further inspiration and materials, books and DVD's, tube adapters and vises.
Please notice that this page is almost impossible to keep up to date! Product makes and models, not to mention web pages change (or simply disappear) faster than I can keep up, and some information may be inaccurate or wrong and links might be broken. Please inform me if you find errors.
Martin
Inspiration on the web
Bob Kenly's Nordic Way Tube Flies
Originator of some truly amazing tube flies and coauthor of the latest tube fly book together with Mark Mandell. Also a contributor to this site with several articles.
---
Shops, tube and tool sources
Bidoz Products
French Andre Fourniez Bidoz has bottles and cones in a wealth of materials, shapes and colors. You can also trust Bidoz as a stable source of beads, dumbbell eyes and other materials.
Canadian Tube Flies
A really large assortment of tubes and tube-related materials - amongst other things some really nice, colorful soft tubes and some excellent tube fly hooks as well as a wealth of other tube fly related materials.
Eumer
Eumer in Finland has a large assortment tube tying tools and tubes in ordinary as well as some very innovative shapes and colors. The site also sports tying instructions for several flies and lots of patterns, which can serve as en inspiration. Eumer also specializes in fur and has a broad selection of fur in different colors and qualities.
Eumer also added a new site EumerTube.com in June 2009, which has even more information on tubes.
Foxy-Tails
A UK company specializing if furs and tails. They have a ton of hair very well suited for tube flies as well as a nice selection of tubes and tube accessories.
Futurefly
A Danish company hat deals in tubes, beads, cones, disks etc. and not least great hair for tube flies. FutureFly also reintroduce the Fisker Tube Tool, which is now the FF Tubefly Adapter.
Grays of Kilsyth
This Scottish shop has different tubes and materials including some interesting stainless needle tubes.
Guideline
Carries the Frödin tube system AKA F.I.T.S. (Frödin Improved Tube Fly System), which is a system of four tube diameters that fit together two-and-two.
HMH
Produces some of the most commonly used tube fly tools and tube vices plus common tube materials.
Jurij Shumakov tubes
The inventive Shumakov's special tubes directly from the source. Shumakov's tubes are now available from other sources, Bidoz Products amongst them.
Mad River Outfitters
This shop has a fairly wide selection of tubes and tube fly materials as well as hooks and tools.
Mustad
Norwegian Mustad has a colossal selection of hooks including dedicated tube hooks (the new single 60500BLN among others) as well as many other types of hooks suitable for tube flies. Mustad hooks are widely available, but unfortunately the selection, names and information on the web keeps on changing, so no direct links...
Partridge of Redditch
English Partridge (now a part of Mustad) has a large selection of classical double and treble hooks for tubes, but you can also find plenty other hooks suitable for tubes in their assortment.
Pro Sportfisher (previously Pro Tube System)
Danish supplier of a very innovative system of tubes, weights, cones and discs all designed to be almost endlessly interchangeable and flexible.
Rooney Tube Works
Fine quality plastic and metal tubes from Tanya Rooney in the US. The fate of Rooney's business is unknown to me, but the web site (www.rooneytubeworks.com) is gone.
The Fly Co
Danish Morten Valeur's wholesale company Fly Co has lots of tubes, cones and bottles in all colors, materials and shapes, including Juri Shumakov tubes, US tubes, Morrum tubes, lowwater tubes and much more. The Fly Co can also supply cones, beads and all other fly tying materials.
FlyFishUSA AKA The FlyFishing Shop
Located in the US and has a large selection of tubes, bottles, cones and more. Offers a huge starter's selection for about 10 US$ and has many colors and qualities of tubes.
Wurm Tungsten Shop
A German manufacturer that specializes in tungsten products including bottle tubes in lead free tungsten. Wurm also has plastic tubes and hooks for tube flies as well as a whole series of different cone heads, dumbbell eyes, beads, all in tungsten.
---
Books and DVD's
Mark Mandell and Les Johnson
Tube Flies: A Tying, Fishing and Historical Guide. This book from 1999 is the first volume that really focuses on tubes, and Mark Mandell covers a wealth of patterns with pictures and a materials list for each. Time has been mild on this book, which is still available and worth reading and should be in any tube fly tyers library.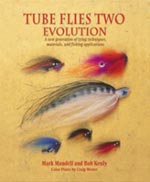 Mark Mandell and Bob Kenly
Tube Flies Two: Evolution. This is a brand new book from 2007, and is a modern update (and then some) of the 1999 book. As the title indicates it concentrates on the ongoing development of new tube styles and methods, and does an excellent job.
Chris Mann
Hairwing & Tube Flies for Salmon. A book that covers a wide variation of salmon and steelhead flies, but contains images and material's lists of some new as well as classical tube flies. With Chris Mann's usual stunningly accurate illustrations and well written and researched text on history and patterns.
Ken Sawada
Japanese Ken Sawada's The Tube Fly is a beautiful and thorough book showing some fantastic tube flies in exquisite photos. It's not an inexpensive book, but certainly worth the money for a tube fly enthusiast.
Tony Pagliei
Tying Convertible Tube Flies DVD's Volume 1 & 2.
Tony's DVD's on his modular tube fly system where the flies are combined from two sections: a head section tied on a tube and a dressed hook, giving even more variations from the same small selection of tubes and hooks.
Dick Talleur
Talleur has a couple of older videos still on the market (yes: VHS) in the series "Hooked on Fly Tying".
Michael Frödin
Moderna Laxflugor: Att binda på tub. (Modern Salmon Flies, tying on a tube) This DVD is in Swedish but useful to non-swedes as well. It is very meticulous on the tying methods for Frödin's popular flies - honestly bordering on the boring at times. The DVD covers five patterns, and lasts three hours! It's announced to be available in English from July this year.
---
Tube fly adapters
These gadgets go under a large variation of names: tube fly holders, tube fly needles, tube fly adapters, tube fly attachments and many more. They come in an even larger variation of constructions. Most of them consist of a section that you mount in a standard vice and one or more rods or mandrels that you poke through the tube and into the holder. Some have more or less intricate methods of securing the tube further.
This GFF-theme has a whole article on the subject of tube fly tools.
Cascade Crest
Makers of fly tying tools. Their tube adapter is much like the Veinard tool with no tightening screw*. Cascade Creat also makes a full tube vise known as the Crest 600 Pro Tube Fly Vise.
Eumer Tube Fly Tying Tool
This is a universal tool that fits in all vises and has a tightening screw* and three mandrels.
Fisker Tube Tool
This Danish tool was one of my first tube tools, and in many ways a fine tool. I include it here because it uses a different method of holding the tube, namely holding it perpendicular to the tube. Unfortunately it's hard to find online as well as in shops. My last resource was Danish Leisure Time, which had the tool in its online shop, but they have closed. The tool has been reintroduced by Danish FutureFly in 2014.
H.C. tube fly adapter
This Danish made tool has been one of my personal favorite adapters - well made, very strong and with a locking screw and a couple of mandrels. Will hold most tubes very well. Unfortunately it's hard to find and I have found no shops that carry it - neither on- or off-line.
HMH Tube Tool
The all time classic tube fly adapter widely used by thousands of tyers all over the world. Available in a plain (Starter) and a luxurious (Premium) version. Has no screw tightening*, but will pinch the tube in one end and has a small edge that cuts into the other end of the tube and holds it quite firmly.
Falkenberg tapered fly needles
Falkenberg straight adapter
Falkenberg winged adapter
The Falkenberg tools are handmade Danish tools and come in several different models: the bent needles, which fit in a vise and adapters that fit in most vises and takes needles with several tapers and lengths. The tools are all of an excellent quality and craftmanship and work really well.
See them on Peter Falkenberg's web site here (in Danish)
Snowbee Universal Tube Fly Attachment
The tube fly part of the Snowbee/Waldron tube fly conversion set for their vise built as an adapter. A nice tool with very good clearance and a tightening screw with a locking ring*, but a bit thick in the part that fits in the vise. Make sure your vise can open more than the average before investing in this tool.
Stonfo tube fly tool is a tool in the rotating collar style, solidly made and delivered with two mandrels. Can be hard to find, but contact Stonfo for local dealer contacts.
Terra Tube Fly Tool
Terra has gone out of business about 2010/2011, and will most likely be hard to find. A typical Indian tube tool. Probably not the greatest, but the price is really great. Looks much like the Indian tool I bought locally.
Veniard Tube Fly Holder-Vice Adaptor 120
An all classical adapter. Consists of an adapter and a couple of mandrels. The tool has no screw to tighten the tube*, but does have a fairly good grip. It seems to change its name now and then and is now called Tube Fly Holder-Vice Adaptor TFVA.
---
Tube vises or vise conversions
These are traditional vises, which can be adapted to tube fly tying by changing the head assembly with a tube fly holder. Some manufacturers make dedicated tube fly vises, while the others provide a tube head as an accessory to their standard vises.
Cascade Crest Tools
Cascade Crest has a reasonably priced (70 US$) dedicated fully rotating tube vise with a mandrel that accepts many tube types.
Dyna King Tube Fly Vise 2002
Dyna King is known for its industrial strength vises, and has a dedicated tube fly vise on the program. At US$269.- it seems fairly priced for a complete rotary vise.
Eumer Tube Fly Vise
Finnish Eumer has a dedicated vise constructed like their adapter (or is it vise versa?). The price range is UK£50.- which must be considered more than fair.
HMH Tube Vise Converter
If you have an HMH-vise this kit will convert it to a dedicated tube fly vise. The holding system is unique compared to other systems, and reminds more of a drill chuck than of the mandrel-based systems commonly found on other vises and adapters.
Nor-vise
The Nor-vise is an "ultra-rotating" vise, which is developed by Norm Norlander. Norlander offers a tube conversion kit with several mandrel sizes. The vise is about US$300 and the conversion app. US$95.
Renzetti
Renzetti offers a series of tube vise extensions ranging from a US$55.- head to add to your existing Renzetti vise to a complete tube vise with a C-clamp (at US$100.-) or a base (US$135.-).
Snowbee/Waldron
This fairly new contender in the high-end market can also be modified to hold tubes. The Adapter is slender and offers a lot of space as well as a screw-out tightner with a locking mechanism*. Comes with two mandrels.
Stonfo Tube Vise
A solidly made and feature rich dedicated tube vise made in Italy. It's priced in the 100-130.- USD range and not that widely available, but can be found on eBay and through several dealers. Ask Stonfo for local dealer contacts.
TFVise
This product seems to have disappeared from the surface of the earth. Any new info is welcome.
A newly developed tube fly vise developed by Tony Pagliei and sold for app. US$140 by Mad River Outfitters, who also have other tube fly supplies as well as some info on tube flies.
Grays of Kilsyth needle fly vice
Made by the Scottish shop specifically for the very thin needle tubes. At a price of UK£16.- it's a fairly inexpensive tool, but comes with no clamp or base.
NB: All prices quoted are approximate and found during July 2007, and have been updated late 2012 where possible.
* Tightening screw
The tightning screw or locking screw mechanism is a part of the adapter, which can be turned on a thread to "shorten" the mandrel after the tube has been mounted in the vise. This will ensure an even better grip, and keep the tube from turning when you tie on it. Even unlined metal tubes can be held firmly with the best of these tools. In my opinion the best tube tools are the ones with tightening screws.
More content from the front page