Published Oct 24. 2002 - 21 years ago
Updated or edited Jan 14. 2016
Wash-n-Dry Dubbing
Make your dry fly dubbing in bulk quantities while washing your clothes! It's that easy! Harvest the fibers that come from you tumble dryer and prepare it for fly tying. Read the whole story by Steve Schweitzer here.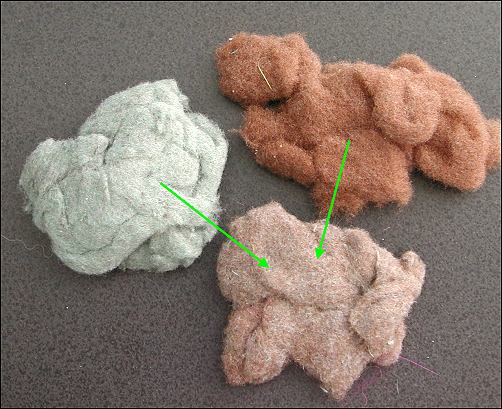 Dryer Lint Dubbing can be a very valuable FREE source of dry fly dubbing!
Mixing Olive-Grey (left) with brown (right) yields a perfect Adams-Grey dry fly dubbing.
The Ideal Materials
Make your dry fly dubbing in bulk quantities while washing your clothes!
It's that easy!
Not all fabric makes for good dry-fly dubbing, however. The most ideal clothing materials are polar-fleece and cotton blends. 100% cotton is a better for nymphs as it dubs on as an absorbing material, but washing cottons, such as old sweatshirts and t-shirts yields very little dubbing at a time. NEW clothes are your best bet!
In particular, if you have a new sweatshirt or polar-fleece garment, dry it separately to ensure your dryer lint-trap catches the lint exclusively of other garments Ideal colors to consider are earth tones and whites. I recently purchased a new brown polar-fleece garment and an olive-grey sweatshirt. I made careful preparations to wash and dry them separately. The results were greater than my expectations and yielded far greater dubbing than I'll need for years to come!
The Process
I recommend washing the NEW garment by hand to ensure the washer does not "wash away" any more potential dubbing than necessary. This also preserves the color of the garment if you like the color as it stands. Regardless, even if the color is not what you desire, if it's made of polar-fleece or cotton-blends, it is easy to dye later, if you so desire. Aside from the color, the dubbing fiber consistency and usage to dry flies make the effort worth-the-while to manufacture your own dubbing.
Worn garments can also produce a nice array of dubbing, but quantities are much less than new garments. Cotton-blend sweatshirts and towels always seem to produce viable quantities of usable lint.
The Results!
The results are stunning! As seen in the series of photographs below, the polar-fleece and cotton-blend lint produces a fiber consistency that rivals SLF Finesse blends and Wapsi or Orvis dry fly dubbing. The lint dubbing came out of the dryer in 100% usable form, ready to use!


Light olive brown with a touch of adams gray.


Adams gray.


Basic light brown or a faint scud pink
Preparing the Dubbing for Use
If you've taken care to separate your potential dubbing material clothes, there is probably no need to pick through the dubbing and "cleanse" it from other dryer lint debris that tends to get in the trap.
Take note that it is a good idea to clean your dryer and lint trap with a vacuum prior to drying a garment. This will ensure a very clean batch of pure lint for use in dubbing. This is especially true
if you have pets inthe household that shed and leave thier trace in the washing room!
One other hint: Soak a drop or two of Hareline Dubbin's Water Shed on the fly. Polar-fleece dubbing is exceptional at accepting this type of water-proofing. As an alternate, use 3M's Scotch-Guard fabric protector, which works just as well.

Water-shed or 3M's scotchguard fabric protector is a great additive to making your dry flies more durable and longer floating.
CAUTIONS!
Follow manufacturer instructions for laundering clothes!
Do not use your dryer for wools, angora sweaters, delicate silks or any thing that you really would like to see if it produces good dubbing! This article is about dry-fly dubbing primarily using poly-fleeces and cottons. GFF does not recommend any other fabric in your dryer.
Check with the laundry-master in your household before expirementing!
Don't dry clothes any longer than it takes to them dry. You won't get any more dubbing out of a garment by drying it for hours. All you will do is continue to break down the garment and shrink it beyond wearable form! After all, you buy clothes to wear, not for dubbing, ...don't you?!
More content from the front page