Simply the Best Place to go for Online Fly Fishing and Fly Tying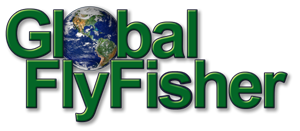 Published Dec 31. 2014 - 3 years ago
Updated or edited Nov 17. 2015
Same same, but different
Looking back at 2014. The most popular articles and pages on the Global FlyFisher the past year looks much as it always does... with a few changes.
The top ten list of popular articles looks like this and contains both new and old material.
Hans Weilenmann's excellent and thorough coverage of the CDC feather.
An intro to tying simple buzzers.
The fantastcic imitation of a caddis larva by Bulgarian Radoslav Kiskinov.
A coverage of the useful Light Curing Resins.
Tom Giglio's 2006 article on converting Ray Bergman wet flies to streamers.
A treatise on fishing with more than one fly on the leader.
A killer pattern revisited by German Raoul Kempkes.
A great addition to your tying: Ole Willers' bench with room for vice, tools, materials and more.
Simple and easy instructions in spooling backing and line on your reel for the first time.
Yes, knots. Simply knots for the flyfisherman
---
If we hover a bit higher and look at sections rather than single articles, the picture is much as it has been before. Again the video section is left out and
the front page on the site
as well as the
video section front page
also receive a high amount of traffic, but that's no surprise, since they are people's way into the site.
These are the top ten most popular sections in the Global FlyFisher.
It's not the busiest forum on the web, but still quite popular.
It's a big site and the search function is naturally very popular.
Shrimps are popular, and this theme section has links to most of our shrimp articles.
Nice pictures for your computer screen.
It's not a section that sees many new articles, but it's still very popular.
Instructions on how to improve your fishing has always been popular.
Articles with pictures and articles about taking pictures.
The good old New England Streamers section is still riding high.
Tying tips are popular as always.
Fly patters is and has always been our most popular section - until the videos came. It's still best of the rest.
---
#10 Videos by Giancarlo Donninelli
Giancarlo asked to have his videos removed earlier this year (hence no link), but managed to get on the top 10 before that.
A simple list sorted by title.
Videos chronologically ordered.
Dutch Hans Weilenmann has contributed more than 150 videos.
Jim is by far the most productive contributor with more than 500 videos.
A list of the people who have contributed videos.
The list of the most viewed videos since last midnight.
The videos voted best by our viewes.
Scottish Davie McPhail has a high star with the viewers.
The fly tying videos are the most popular.
---
The top ten list of the most popular individual videos of 2014 looks like this:
#10 Wet Fly New Zealand Fishing
#9 Northern Midge (Dry Fly)
#8 Blue Wing Olive Nymph
#7 Spatsizi trailer
#6 Once in a Blue Moon
#5 Presentation techniques for trout
#4 March Brown Dry Fly
#3 Sea Trout Secrets 5, Spin Fishing
#2 Last Cast On Lost Creek
#1 Damsels in Distress
You can see the all time most popular videos here and on this page you can see some general facts about the whole site, amongst other things that we ended 2014 with a bang serving a little more than 3 million pages to about half a million visitors in December alone.
Happy New Year, and may your 2015 be rich in fishing, fish and great experiences.