Published Jun 13. 2007 - 16 years ago
Updated or edited Oct 8. 2020
50$ fly rod/reel/line
I bought a complete brand new fly rod kit at 50 US$ in my local supermarket - and it's a nice rod
Just a couple of days ago a flyer arrived in my letterbox. It was from a local supermarket, and on the front I noticed something that wasn't a gallon of orange joice, sliced ham or diapers in big bags. It was a fly rod! Now supermarkets and grocery stores usually don't sell fly rods, but this is one of a bunch of fairly new discount stores that has gotten into a pattern of buying up stuff, which you wouldn't usually find in your neighborhood supermarket. The most recent flyer from the same supermarket actually has a folding bike and an inflatable canoe on offer!
Well, I digress. The presence of a fly rod wasn't the only surprise. So was the price. A complete kit with rod, reel, backing, line and leader plus a rod sock - all for Danish Kroners 279.- or very close to US$50.- or some 37.50 Euros. That is cheap! I don't think I have a single fly line that costs that little let alone a whole kit.
I had to have one!
Yes, it does say fly fishing set, large arbor reel, fly line, carbon fiber, cork handle, 6-7 weight, cloth bag and a few bits more - all for DKK 279.- or US$50.-!
So I spent some time chasing one down. My local store only received two, and both were sold, but a larger market a short drive away actually still had four in stock, and I purchased one.
And you know what? It's not a bad rod at all, and the line... a bit bumpy, but not nearly as bumpy as my first fly line. The reel is close to useless, but who cares at that price? I rigged the kit when I went fishing last, and fished with it for a while.
It's a 9' 7 weight and a bit on the heavy side compared to what I usually use, but if someone told me that I had to fish with this rod the rest of the season, I didn't have to be very unhappy. I'd certainly wish they'd let me use another reel, but the line and the rod are absolutely OK. The only problem is that a half decent reel would run me 2-3 times what the whole kit cost.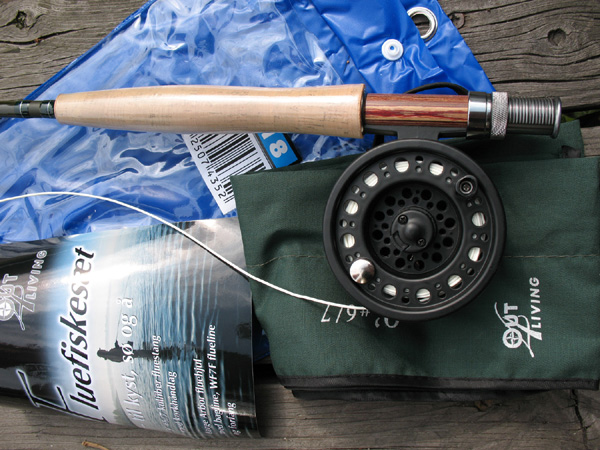 Nice bag! Not all rods come in a blue bag with a transparent front...
The rod is no hand built beauty, and it's both a bit heavy and a bit on the thick side compared to most other rods I have. But it's not like it's embarrassing. Just not quite as elegant. The reel seat is nice with a wooden insert, while the handle is really crappy. It's cork, but the worst possible quality and workmanship. Good cork is hard to get, so this is not surprising, and the fact that it's cork at all and not foam, is a plus. The blank and the wrappings and coating is nice. I have seen worse on very expensive brand name rods. The guides are one foot rings and the tip top a pear shaped one. Pretty nice altogether. Not premium class, but again seen worse. Particularly when considering the price.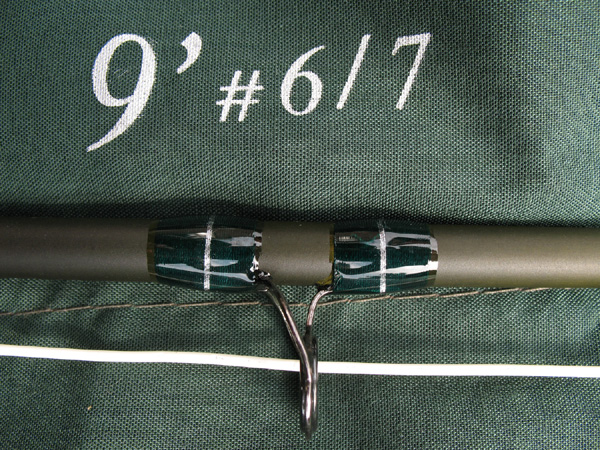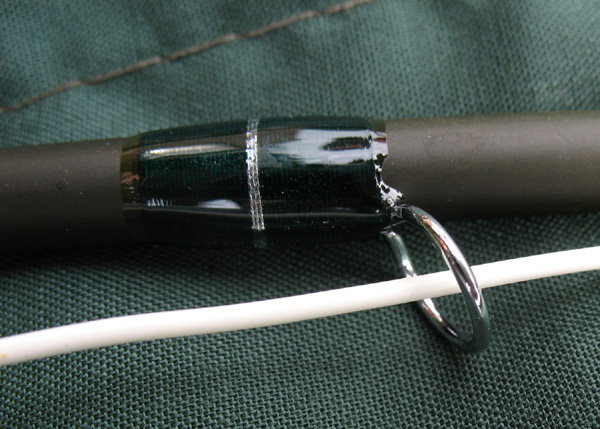 I've seen worse, but I've certainly seen better too.
A thing like this makes me wonder what we actually pay for when we bleed 5, 6 and 700 US dollars for a rod. In my local shops I can easily find rods up to 14-1500 US dollars, which I consider hilarious. These are factory built rods of common brands and not hand built, special made beauties. Someone must be laughing all the way to the bank!
I like rods in the 2-400 US$ price range. I get a lot of rod for the money, but can still leave my rod in the car without having an armed guard standing next to it while I'm fishing.
And even the best hand built rods need not be that expensive. I just ordered a little 6 piece rod from Dave Lewis' Performance Rods, and at 400 US$ that seems like a bargain to me. Danish rod builder Michael Koch Jensen of Koch Rods sells the most exquisitely made two hand rods for as little as 6-700 US$. So custom built or special rods do not have to rip your wallet to shreds.
But of course it's still pretty far from 50 bucks...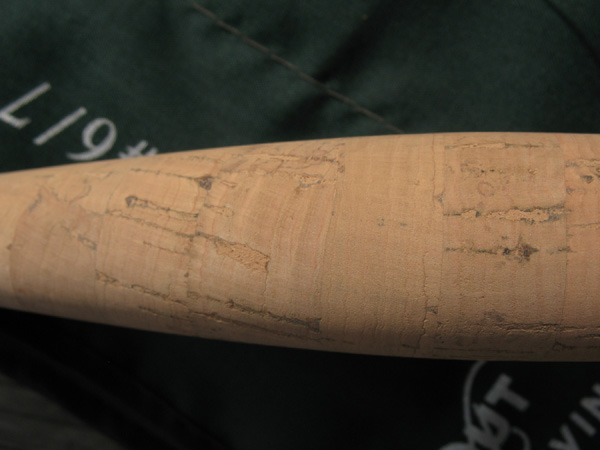 Not even bottle cork compares...
More content from the front page