Published Jul 20. 2007 - 15 years ago
Updated or edited Oct 8. 2020
Great rod tests
Yellowstone Angler is a shop - but they test rods. And they do it well!
Good rod tests are few and far apart if you ask me. UK Magazine Trout&Salmon has some that I like and, I occasionally bump into other magazines that have some good tests too. I know no web sites that have good rod tests - or rather: I knew no magazines, because now I do. More on that below.
Of course we have tried ourselves, but our problem is that very few of the large anufacturers respond to our requests for testing gear. For some reason most print magazines have easy access to almost any kind of gear - rods, reels, lines etc., but I never had great success in trying to request rods for testing. British Hardy has responded. Danish Scierra has too. Scott was also forthcoming as well as Taiwanese Harvest. But If I ask Sage, Orvis or some of the other really dominant brands I hear nothing or at best get a pretty reluctant answer.
That unfortunately influences a test significantly. Doing a real comparison and drawing conclusions isn't really fair when you only have four rods, of which none are amongst the most common ones on the market. Essentially I can only compare rods that I own, which is not quite enough to do unbiased tests.
Luckily others have better access to rods, and the perfect place to do rod testing would be in a shop that has all the brands. Yellowston Angler is such a shop. I bumped into their tests of 5- and 8-weight rods by sheer coincidence, and was struck by two feelings: respect and envy!
George Anderson of Yellowstone Angler tests ten 5-weight rods sixteen 8-weights! Even though some of these are the same brand, and even though they of course are rods that the shop sells, these tests are some of the best and most thorough I have seen.
I love the generous amount of photos, the quantification of the findings and not least the deflection characteristic curves. I have always dreamt about doing something similar on the back wall of my house, because I always wondered about the connection between rod action, bending characteristics and casting abilities of rods. I may very well do it in spite of the danger of being seen as a copy cat.
No matter what, the Yellowstone Angler rod tests are a great read, and I learned a lot from reading them.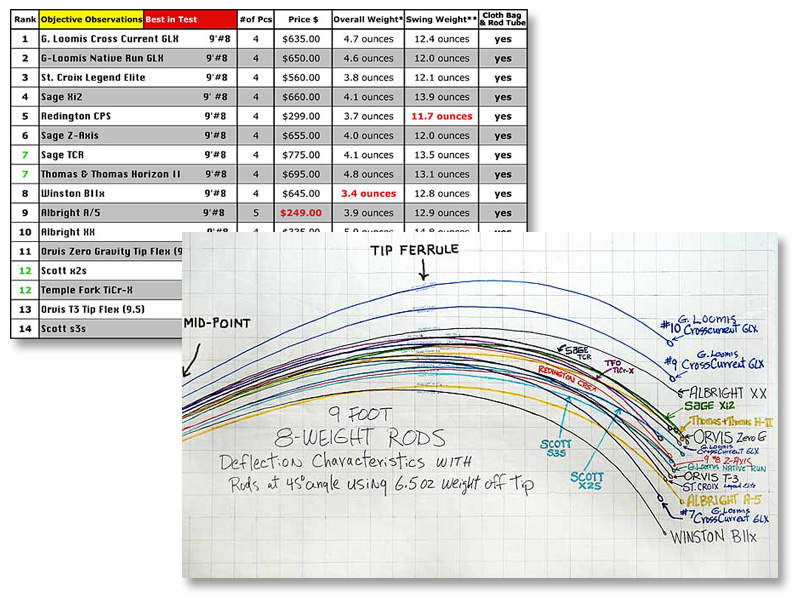 More content from the front page