Published Jun 16. 2008 - 15 years ago
Updated or edited Oct 8. 2020
Hardy DVD
A British company with the fantastic name Trufflepig Films has made an interesting DVD about Hardy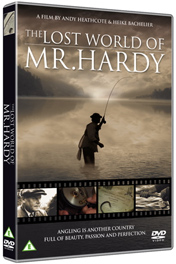 Andy Heathcote and Heike Bachelier have put together a DVD, which seems particularly interesting to people into the historical perspective of fly fishing - and in Hardy in particular - and certainly worth watching for the rest of us. Hardy has always represented something special in fly fishing, and judging from the trailers, the Truffle Pig has certainly found a lot of tasty Hardy-morsels.
The DVD has attracted quite a bit of attention and has drawn some great reviews. We're trying to get our hands on a review copy too, so you may get GFF's opinion too.
Until then you can enjoy one of several trailers on the web site, which has set up to sell the DVD. It can be purchased online for £25 or about USD 49.- or 32.- Euros.
More content from the front page