Published Mar 31. 2006 - 16 years ago
Updated or edited Oct 8. 2020
Opening Day!
The Opening Day of Trout Season is tomorrow here in New York. I will be meeting some friends to fish somewhere along the West Branch of the Delaware River, a place I have not fished since I moved here from Endicott. Maybe once a couple years ago. There are too many trout streams between where I live now and the West Branch for me to take the drive, even though it's a relatively short drive.
Last year we had massive floods to start the season. On April 2nd, we had storms that caused most local rivers to overflow their banks. For some, they suffered through "hundred year floods". This year is just the opposite. The water is generally low in the area, and barring any unforcasted storms, the Opening Day conditions should be good.
We've had a milder than normal winter here - with little snow and mostly warmer temperatures. Only a few times this year did the thermometer dip below zero. You can't always forecast the Spring and Summer based on Winter's weather (or at least I can't), but if the weather patterns continue with little precipitation and warmer temps, the trout season will be an abbreviated one this year.
This is what things looked like last year on April 2nd. This was a storage shed from the nearby football field that got washed away in the floods and eventually lodged underneat this bridge. The water here is normally well below bridge level. I remember talking to an old timer who was out walking who said in the umpteen years he's lived in the area, he'd never seen the creeks rise so hight. They eventually declared a state of emergency for my county and most of the surrounding counties.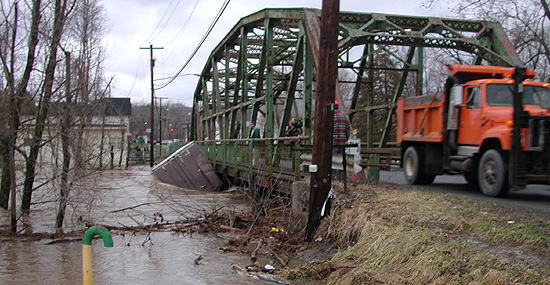 I fished the Beaverkill Opening Day last year in water that was about 2000cfs, which is very high and unwadable for that river. The next day, I saw the USGS web site had the water level peaking "off the charts" well above 40,000 cfs. The area where I was fishing was completely underwater 24 hours later. So while we might have low waters today and tomorrow, things can change in a hurry.
More content from the front page