Published May 5. 1999 - 23 years ago
Updated or edited Nov 8. 2021
The Technology of Fly Rods
An In-Depth Look at the Design of the Modern Fly Rod, its History, and its Role in Fly Fishing
This isn't a book for everyone. It has a tendency to be detailed and technical, which makes perfect sense given the title. It doesn't teach you how to do stuff like other books, nor does it entertain you with one pleasant andecdote after another. It's not necessarily a pretty book. It's probably not going to get dog-eared from use.
That's not to say it is an unpleasant book to read, but has to be a bit of engineer in you to really appreciate it. By that I don't mean you are required to have college degree in mechanical engineering, but rather a deep curiosity about how things work.
Engineers are nothing but problem solvers, attempting to put theories and ideas to practical use. In order to really enjoy and appreciate Don's book, it helps to have a sense of curiosity so strong that you will gladly wade through the mountains of information for no other reason than to learn more about how and why fly rods behave as they do, which I happen to think it is a very worthwhile endeavor.
Those of us who came onto the scene after the development of graphite fly rods will appreciate the insights Don has on the early development of these rods. What was particularly interesting to me was the fact that while graphite rods are certainly the most common in today's market, that is not necessarily because graphite is the best material. If we are to believe Don, and there certainly is no reason not to, graphite is so widely used today because it is relatively cheap and easy to use compared with, in his view, the technically superior material boron. In fact, the processes to construct graphite rod blanks is very similar to the processes used to produce fiberglass rod blanks, so it was easy and cheap for companies to phase out glass in favor of graphite. As Don states, it is not always superior technology that drives the market.
Anyone who has heard the terms "taper", "wall thickness", "scrim", "spine", "hoop strength", "modulus", etc. and wondered what they meant, will learn something from Don's book. He goes into details far beyond those common terms. As best he can without getting too into the calculus involved, he tries to describe the consideration of a fly rod as a "flexible lever" and some of the physics associated with such a dynamic system. That's heavy stuff. Along the way, he talks about rod tapers and "action" and tries to explain why some folks will like one style of rod versus another. What I found most interesting is the way a rod blank is designed to have a particular action and function. It's not an accident that a tube of graphite results in a rod that balances well with a 5wt line.
Mr. Phillips certainly did his homework when he wrote this book. The early chapters discuss the history of rods and some of the early materials used to make them. I knew "greenheart" rods predated split bamboo rods, but I had no idea how many other materials were used. He goes on to discuss the components of fly rods, from the reel seat all the way through to the tip top, taking the time to investigate every part in between, including the all important grip, guides, and ferrules.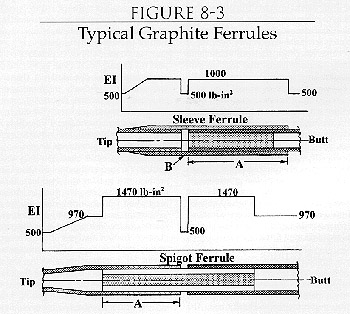 The book is filled with many helpful drawings which adequately support the text, but a few more color photos would have been a nice touch. While the book is not meant for the coffee table, I guess I'm just a sucker for pretty pictures. A half a dozen full page color plates of historically significant rods or components would have been nice. Given the intended audience, however, I can understand why a few corners may have been cut. It's a technical book, at least within the realm of fly fishing books, and technical books rarely err on the side of "pretty". I guess it is this aspect of the book, in the face of all the other "pretty" books available today, that held me back from giving it our highest rating.
There is no doubt all some folks care about a fly rod is how well it casts and fishes. Or looks. The why's and how's of rod design and contruction don't interest them in the least. This book is not for them. This book is for people like me, who have a nagging curiousity about how things work. I've built enough rods to understand how the parts are assembled, and how the components come together to make a functioning fishing rod, but I've always wanted to know more about the blanks themselves. More than just the general idea that sheets of graphite are rolled around a mandrel to produce a hollow tube that eventually gets made into a fly rod. This book answered all the questions I ever had about blank design and construction, and many that I didn't even know I had. It won't make me a better rod "assembler", but it certainly will add to my knowledge base and general understanding, which is never a bad thing.
In some ways, the cover price of the book can be justified by the back matter. Don is well known for his electronic index of decades worth of fishing magazines, but here he has put together a very extensive bibliography of books and magazine articles that deal with fly rod design, construction, and rod building in general. There is also a glossery of terms, which can be particularly helpful in finding one's way through the maze of advertising hype associated with today's supposed high-tech fly rods. In addition, there is a large collection of patent numbers associated with rod building, from rods and blanks to individual components. The industrious sort could get copies of these patents and really dig into the technological side of rod design and construction. In the sense that Don's work is an "executive summary" of centuries of fly rod innovation and evolution, it is a very important piece of work and we all owe Don a debt of gratitude for collecting this information under one cover.
If you, too, have a curiosity about how things work, I can highly recommend Don's book. I can guarantee you will come away with a greater understanding of fly rods and a deeper appreciation of how they are designed and constructed.


Don Phillips

The Technology of Fly Rods

Frank Amato, Portland, 2000

ISBN: 1-57188-190-5

Softcover price: US $19.95

Don's book can be purchased through his publisher, Frank Amato Publications, Inc.
More content from the front page