Simply the Best Place to go for Online Fly Fishing and Fly Tying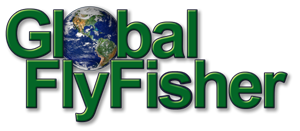 Published Nov 13. 2012 - 5 years ago
Updated or edited Jul 4. 2018
Wanna tie a big fly?
This is not an article about a pattern called The Big Fly, but some general advice on tying big flies, running through several methods of growing your flies into something that can lure a large predator.
What is big?
Big is of course a relative term. If your usual flies are dries and nymphs in the size 16-20 range, then a fly tied on a size 4 or 2 hook will seem huge and a two inch long zonker with dumbbell eyes will be gigantic. Some consider salmon flies on tubes big, and NE streamers on very long shank hooks are also quite large.
But just to set things straight here: I will be dealing with flies much larger than that, in the range 4-8-12 inches or some 10-15-30 centimeters and even larger.
Such flies are mostly used for pike fishing, saltwater fishing and even bass and perch fishing, but you will also find people fishing for stream trout with flies this size - and with surprisingly good results. Some predatory fish will willingly go for flies that are very large, and in some cases you can wonder how a fish can imagine swallowing and digesting something that is half its own size or even bigger, but it does happen - both with live quarry and artificial baits.
As you will see in this article there are several ways of tying big flies, and the two basic ways to go is to tie big or tie to look big.
Naturally, a large and massive fly will look big. Large deer hair bugs, flies with colossal amounts of fur or really, really long flies of course appear large for the simple reason that they are large.
But large is in the eye of the beholder, and in our case it's just a question of the hungry predator seeing the fly as large. This might be obtained by a simple silhouette or outline or by selecting and tying materials that spread out and fill out a lot of space in spite of being quite sparse.
Hook choice
Large flies often call for large hooks, not least because you might expect to catch large fish. But if you are about to tie a 8 inch or 20 centimeter fly, a hook with an equally long shank doesn't make sense. That would be a very large hook!
Most large flies are tied on smaller hooks - still big, but small compared to the finished fly. We are moving in the range 1/0 to 10/0 here, so they are large, but not as large as the fly might indicate.
Some large flies - especially US saltwater flies, many articulated flies and Intruder-style flies - are actually tied with surprisingly small hooks compared to the fly size. It's common to see flies where the hook is a short shank hook, which is just a tenth or even less of the total length of the fly. Some larger flies are tied on articulated shanks/hooks and some on two hooks connected with wire, also known as trailing hooks. These are also hooks, which are small compared to the finished fly.
An obvious way of tying a large fly and still keeping down size is to use a tube. The tube is lightweight and can be quite large without adding much weight, and the hook choice is then up to you once you're by the water and ready to fish the fly.
I will cover some of these issues later.
Natural vs. synthetic materials
One major problem when fishing large flies is their weight. They are already pretty heavy due to their size and hook choice, but once they have been in the water and soaked up what they can, they can become really heavy.
Choosing the right materials can change that.
Most natural materials tend to soak up more water than synthetics. Shaking the water off some types of feathers works, but hair - and skin in particular - is way more difficult to get dry. Flash materials, artificial hair and synthetic fibers excel here.
There's a large selection of synthetic fibers on the market, many of which are meant for tying large flies. Some are stiff and some are soft. Some are smooth and shiny and some have a dull surface more like a natural material. As a general rule the stiffer and the smoother (shinier) the less the hair is prone to absorb water.
Hackle feathers seem to be a nice compromise. They can add size, volume and mobility, but tend to hold less water than hair, not to mention fur on skin. Rooster hackle and saddles will again be preferable to the softer and webbier hen feathers and really soft feathers like marabou and ostrich can also contain an amazing amount of water, but can mostly be shaken dry with a false cast or two.
Natural hair varies a lot. Again: the smoother and shinier and the stiffer, the less water it holds, and the more it's likely to be suited for large flies. Removing the underfur and only using the smoother guard hairs is also a way of keeping the flies lean and less prone to sucking huge amounts of water.
Some types of hair - artificial and natural - will felt when it becomes wet and you cast it repeatedly. Casting and working the fly in and out of the water will make the hair bond into felt, which is just a massive clump of hair with no life and - worst of all - basically impossible to untangle.
Wool is an obvious contender here, but other types of hair can join in the merry bonding game. In general the thinner and softer and the more frizzy and dull the hair is, the more it's likely to be able to (and willing to) felt. You can avoid the worst felting by not tying the hair too long. Long hair tends to felt easily, while shorter bunches, like when stacked or spun as a hair hackle, usually stays untangled.
Skin weighs
Skin will become particularly heavy and flies with large chunks of skin, typically in the form of massive zonker strips, have a tendency to weigh a lot once they have been in the water a few minutes. At the same time the fine hair like rabbit, fox, nutria, opossum etc. will also be very willing to hold onto whatever water it's soaked up, so flies tied with the hair on the leathery skin can become very heavy when wet.

Heavy flies are not impossible to cast, but since you are already fighting wind resistance and maybe the added weight of a big hook, eyes or some other weight plus a heavy line, there might be a good reason to aim for materials that can be shaken almost dry with a blind cast or two.
Whether or not to use skin for the large flies is a compromise. On one hand the hair adds a lot of life and is very easy to handle in the tying process, but on the other hand the fly will become heavier when using hair on the skin.

There are many ways to grow a fly - to make it large or at least make it appear large. I will list some of them and try to sketch some general guidelines for using each method. There are of course many other techniques of adding size to flies, but these should cover the basics and give you some hints on useful tying techniques.

Enlarged
The first and simplest method is simply to take a pattern and make everything larger: larger hook, thicker body, larger hackle, longer wing etc. It might seem like a logical way to grow a fly pattern, but depending on the materials used, it's actually not as simple as it sounds. If you want to wind up with a fly that's 20 centimeters or 8 inches long, there's a limit to what materials you can use. Hackle with inch long fibers is rare and a 10 inch hair wing calls for some special hair, not available on many animals.

I often refer to this style as the pile-it-on style, and you can see several examples of this style in many flies. One type that comes to mind is the intruder. Lots of marabou and hackle plus a bunch of long fibers and rubber legs. The fly looks big because it is big. The basic hook is small and has the point cut off, and then a stinger hook is added as a trailer to get the hook out of the massive amount of materials on the main hook.
But there is of course a limit to the pile-it-on-method. Flies like deer hair flies can also grow to a certain limit. Spinning deer hair to create a 2 inch diameter body isn't easy - and will create a monstrously big and heavy fly.

Hair hackles and some types of zonker strips wound around the hook shank can make a dense and large body, but will also make the fly heavier when wet.
Enlargement can still be a simple way of growing a fly, and I have tied some of my own patterns large, and it has worked quite well. I have enlarged my own Moyerfokker, which was originally tied as a sea trout fly in smaller sizes. It's a simple and lightweight fly, and tying it on a 4/0 or 6/0 hook for pike is easily possible. This brings it back to looking much like the pattern that inspired it: Danish Morten Valeur's Pike Streamer, which is tied with a different technique.

Airy
As an alternative you can utilize air. Obtaining size on a fly by adding to its volume without adding an immense amount of material.
That can be done by using certain types of material and tying techniques that makes the material spread out, puff up and contain lots of air. Some types of material will collapse in the water, but most will actually maintain its shape and still be voluminous in the water. This goes for certain synthetics, bucktail, hackle, polar bear and other materials. They can be tied relatively sparsely and still make the fly appear large.
The fan style is quite common in many US saltwater flies tied on fairly small hooks with sparse and long material that's vertically fanned out to give the impression of size.
A lot of US tyer Pete Gray's saltwater flies use this method, and he creates some very convincing and sizable baitfish imitations with surprisingly little material.

Stacking material in the "mohawk" style, by tying in several smaller bunches on top of and under the hook shank is a way of building size without too much material.

Stacking is typically used to create tall, narrow bodies, and utilizes hair or synthetics that fans out when tied in. The body is often trimmed in shape after the material has been tied in. This technique requires a long hook or a tube or some extra material for a tail to create really long flies. Stacking is also sometimes used on articulated shanks and front hooks.

The method is used very effectively in Ramiro Garcia Malbran's very productive fly The Malbran.
Stacking can be done with feathers too, where they are tied in curved side in, and the final fly looks somewhat like a feather duster. This technique is seen used by Dutch fly-tyer Herman Broers whose huge flies are often a foot long.
You can see an example of a large, but still more modestly sized, stacked fly with step-by-step instructions in the pattern the Pike Duster, which was recently published here on GFF.

This method is much like the above, but here you use longer, tapered bunches of hair, that are tied in in stacks like above, but with a distinct elongated shape and up to the full length of the fly, which can be much longer than the hook. It's eloquently described and demonstrated in

Carlos Heinsohn's pattern the Chino

and also used in Jack Gartside's classic Zambezi Hi Tie.

This is probably one of the most commonly used techniques for large flies that require "mass" and volume, and gives the opportunity to create very fish like flies with good size. It's also often combined with other long materials such as hackles or skin strips.

Reversed
This technique is also sometimes called the "hollow fly" technique, so dubbed by Bob Popovics. It refers to tying in material - bucktail being the most common - pointing forward on the hook and then reversing it by pushing it backwards, typically using a tube. Then you grab the material holding it in the rearwards pointing position and build a wall of thread in front of it in order to hold it back. The result is that the material will spring out but be kept from returning to its original forward pointing position by the thread. Thanks to the butts still under the material, it's pressed out and form an airy corona around the hook shank. This techniques is seen used for whole flies using a similar technique as the tapered stacking mentioned above, as well as a single step or two in some patterns, creating a layer of material that will lift out whatever you tie in front of the reversed material. The method is perfect for airy bucktail patterns, but is also useful for stiffer synthetic hair.

Spun
Spinning material is a technique that's known from deer hair flies, but is useful for many other materials too. You can either spin the material directly on the shank or tube or you can make a loop and spin the material to form a hair hackle.
Some fluffy materials that compress easily will spin nicely on a hook shank and create volume, but can also become quite dense. By adding the material in a loop, it's possible to spin a very large, but still very light body.

Elongated
Adding length is a simple way of making a fly larger. Long flash wings, long hackle tails will make the fly much longer and tastier looking, but not make it immensely bulky.
A lot of large flies are actually very long materials like hackles or skin strips tied to a normal length hook, and this also a method that is often used together with other methods like spinning or stacking.
Some obvious examples are found in the American flat wings, that use few but long feathers plus a little supporting hair to create a large and yet lightweight fly.


Shanks and trailer hooks

In stead of using a large, long hook it's possible to use two or even three smaller hooks connected with shanks or wires. This does in essence give you the effect of a long hook without adding the weight of a long or large hook as such. When tied on two hooks these flies are also sometimes referred to as tandem flies. It's most common to tie on the front hook only, and simply have the trailing hook dangling after the fly.

In places where it's only allowed to fish with one hook, you simply cut off the point of the front hook. It's by far most common to leave the rearmost hook intact.
An articulated shank is another way of getting length and even movement. The shank is a bent piece of metal wire with no hook, but with an eye in both ends. Mostly the shanks have a closed eye in one end and an open eye in the other, enabling them to be tied in front of or in the rear of a hook. The common method is to tie on both the shank and the hook.
Shanks are not a new idea, but has been around for decades in the form of Waddington shanks used for salmon flies, and have been available from hook makers such as Patridge of Redditch.

Recently the Flymen Fishing Company has come out with some smaller shanks that they call spines (articulated Fish-Spine to be exact), and these daisy chain together to form a backbone in a large fly, while at the same time letting the shanks work very freely to give the fly mobility. These links are tied onto the back of a hook and create an undulating tail section.

Articulated flies
Some of the most efficient large flies tied for stream fishing have been tied on so called articulated shanks. These shanks are in essence pointless hook shanks, but made in such a way that a hook (or another shank) can be slid onto it before you tie, creating an articulated joint. This not only elongates the fly, but also makes it flexible and more lively in the water.
The shanks are available in many lengths and you can combine them one of several shanks with one hook.

Good examples of articulated flies are patterns like Richard Strolis' Headbanger Sculpin, Ray Schmidt's Rattlesnake and Kelly Galloup's Barely Legal, all very productive large streamer patterns for brown trout. Recently Blane Chocklett's Game Changer has stirred a lot of commotion, and noteworthy are also Foxy Tails' Steve Osborne's impressing linked pike flies, which are both large, have spun deer hair and an articulated body.

When you tie a fly that is 10 or maybe 15 inches long, it suddenly becomes critical where you place the hook point. If you use one large hook, the point winds up in the front third or fourth of the fly with no option to choose.