Published May 10. 1998 - 25 years ago
Updated or edited Mar 11. 2023
Fishing the Muddler Minnow
The muddler can double as a serviceable grasshopper, cricket or even damselfly nymph. One can fish it dry and doped up, damp, wet and sunk.
Bottom line: Fish it anyway you can imagine.
The muddler can double as a serviceable grasshopper, cricket or even damselfly nymph. One can fish it dry and doped up, damp, wet and sunk.
Floating Muddler on a sinking line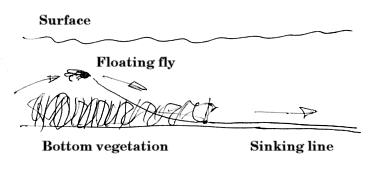 Floating Muddler on a sinking line
One of my favorite ways is to use a deep sink line and use a dry, well doped muddler on a leader of varying length depending on the conditions - A sort of fly fishing carolina rig, if you will. It's the best sunk-fly approach to use in heavy hydrilla. Leader length is dependent on the height of the subsurface vegetation. You want the muddler to swim just above the vegetation.
I tie an olive muddler minnow that I use as a dragonfly nymph. In this case, I use a jerky retrieve, and I usually will soak the muddler in water until it is just negatively buoyant enough to sink very slowly indeed. I use a countdown method to achieve a desired depth and then strip in a jerky fashion or a long steady pull upwards to simulate an emerging insect. Sometimes I will use both interspersed with slow drops.
Floating Muddler with a dropper

Floating Muddler with a dropper
In some cases, I will dope the pattern heavily, add a dropper and pin-point casts towards pockets in the lily pads. It is imperative that the muddler ride real high and dry to minimize hangups. Some impressive bass have fallen to this tactic, not to mention some very impressive brim that took the dropper. I usually fish this approach very slowly to known or suspected fish or lies.
Searching by skittering

Searching by skittering the floating fly
If I am fishing in a searching mode, I will dope up the muddler and skitter it on the surface around vegetation to draw strikes. Again, make sure that the muddler is well doped up so that it minimizes hangups. A soak in Rain-X or ScotchGuard, and then letting it dry before applying the dope will greatly aid in keeping the fly floating well. It isn't a bad idea to use a weed guard when fishing a muddler this way, a thicker, larger head doesn't hurt either.
Fishing low with a split shot

Fishing low with a split shot
The deep sunk approach entails the use of split shot about a foot or so from the muddler. Fish slow and deliberately in suspected lies. The fly can be doped up or left au naturel. I prefer it ginked up to minimize hangups.
Another approach is to add the split shot close to the head of the muddler and fish it like a jig with an up and down motion. Retrieve the muddler then let it drop. The smallest weight that allows an effective up and down motion should be used. Retrieve should be fast with stops to allow the lure to drop down between retrieves.
Searching the vegetation

Searching the vegetation with a cone head fly
Another way to achieve this is to use a heavy cone head (the cheaper approach is to use bass worm weight-these can be purchased in various sizes) and try to bust through vegetation to reach the fish-A fly fishing version of flipping. It's definitely not fly fishing by any stretch of Halford's imagination, but it may produce that fish you will think about for a long while. Use a short line and let the rod send the lure to its destination. Fish the muddler with and up and down motion. Marabou in the construction of a muddler used in this manner is highly recommended. Use a stout rod-at least an 8 wt but preferably heavier-and a short tip sink line.
The leader should be real short, about 2-3 feet maximum. I've gone down to 12 inches on certain occasions. I use a floating level line with a two or so foot LC-13 sink tip, the short leader-usually a straight piece of 10-15 lb nylon-the weight and a large marabou muddler.
Dead drift at edges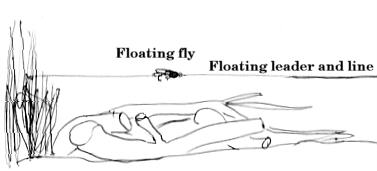 Dead drift at edges, over logs, holes and other lies
There is, of course, the dead drift dry approach. I use this in mid-day when bass are holed up in the pockets in the maidencane feasting on damsel and dragonfly nymphs and adults. Usually the water is 90 degrees and the fish are holed up in the shaded holes in the edges of the lakes, among the maidencane or pads. I use a dopped up muddler with a floating line and a ginked up leader. I cast it in a suspected lie and let it lie for as long as the fish can stand it. BTW, I have some adult damselfly patterns that are modified muddlers that I use in this context. The muddlers sport a deer hair collar, usually green or blue, wings are not flat but on edge to simulate the wings of a damsel at rest and the body is made of deer hair or bucktail tied in an extended style. Make sure that the abdomen where the hook and extension meet is well reinforced since that area will get hammered quickly.
Dead drift a well ginked black or dark brown muddler in wooded areas to imitate crickets. An occasional twitch might not hurt as well as dark rubber legs in a madam X tie. The rubber legs are not a bad addition to any muddler that will be fished near the surface since they provide additional irresistible motion to still patterns.
As far as tying this pattern, I recommend a very sparse ragged head for muddlers that are to be fished sunk. Although, a floating muddler with a
thicker head is recommended when the fly is doped up with floatant whether it is fished on the surface or sunk. I hope these approaches inspire additional off-beat methods to fish that very versatile fly, the muddler.
More content from the front page