Published Dec 12. 2002 - 20 years ago
Updated or edited Dec 3. 2016
Lamar Reel Seats
Andy Dear hits a home run with his custom reel seat spacers and complete reel seats. It's a rare thing for a product to get a "Global Class" GFF rating, but Andy's woodworking skills earn him that high honor easily.
GFF Rating: 6
Lamar Reel Seats
7563 Corian Park
San Antonio, Texas 78249
210-865-3256
http://www.lamarreelseats.com/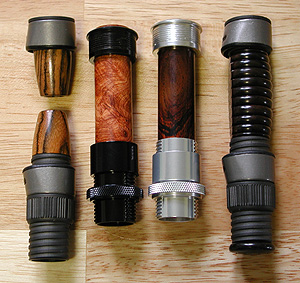 Some of Andy Dear's fine reel seats. L-R, the Kirkman split barrel, black anodized w/ amboynia burl, polished aluminum w/ cocobolo, ebony bead barrel.


A close-up of the amboynia burl spacer. The figuring in this piece of wood is amazine. You can buy either the spacer alone, or with matching reel seat skeleton.


The Tom Kirkman Split Barrel design with Bocote wood eliminates some of the weight but retains the beauty of natural wood.


The Bead Barrel seat is unique to Lamar. The spacer is flattened where the reel foot would rest, but the remainder has a gentle swell accented with bead details.
Custom rod builders are always looking for something to differentiate their rods from those of other rod builders or factory made rods. Speaking for my own rods, since I keep the thread wraps and decorative trim to a bare minimum, I like to set my rods apart through the use of beautiful wood in the reel seat. There are some times, however, when I don't want to spend the big bucks required for a nickel silver seat with a highly figured wood spacer. Being a hobbyist builder, budget is always an issue.
Some rodbuilders have taken their craft to the point where they can turn wood spacers for their reelseats in their shop on their own lathes. Lucky them - because they can purchase exotic woods from specialty supply shops and pick the best pieces for their rods. The rest of us without such means have always been on the outside looking in, wishing we had such abilities. For the longest time, we've been limited to what we can buy from various retailers and supply shops. For all but the most expensive seats, the choice in woods has been limited and, well, not really all that exciting.
This is where Andy Dear's Lamar reel seats and wood spacers comes into play. He will do the woodworking - you handle the rodbuilding. If you so choose - you can send him a block of wood and a reel seat skeleton and he will turn and polish the wood to fit. Or you can send him the reel seat parts and use some wood from his supply. Heck - you can even buy the the entire reel seat from him.
Do you like the function and cost of those Fuji graphite reel seats, but are unwilling to give up the look of beautiful wood? Andy can easily turn a spacer to fit these seats - giving your rods the legendary Fuji reel holding power while retaining the natural beauty of figured woods. You can get the best of both worlds for about half the cost of a high end nickel silver reel seat.
Being a lover of wood and a admirer of fine craftsmanship, I had to get a closer look at some of Andy's reel seats.
What I saw exceeded my expectations. For example, the stabilized Amboynia barrel was as smooth as my 2-year-old's cheeks, with a perfect low lustre finish that allowed the grain of the wood to show off. The cocobolo was equally beautiful, and was paired with a matching winding check. How many factory rods do you see with a cocobolo winding check? Exactly. This is what will set your rods apart.
The last two pieces I saw were really interesting. The first is Andy's version of the Kirkman Split Barrel, where the reel seat spacer is made in two tapered pieces, allowing the bare blank to show between the two pieces. This allows the builder to make a lighter rod while still showing off a dense piece of beautiful hardwood. The other was a bead barrel seat with a matching wood end cap. Instead of a straight spacer like more traditional seats, this one is turned down to form a series of round beads of varying outside diameters. Wonderful stuff.
The fit and finish of Andy's seats are outstanding. They will certainly add to the beauty of your rods, while not sacrificing a bit of function or breaking your budget. Give 'em a try.
More content from the front page