Published May 1. 1995 - 27 years ago
Updated or edited Jul 17. 2020
Spring
The spring means activity in the Baltic where the winter fish start eating and the spawning fish return from the streams to the oceans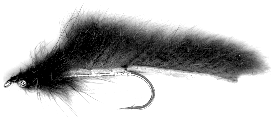 The Fair Fly is a typical large spring pattern
Flies are not the only way

In the spring all fish are beginning to eat again. The spawning fish return to the sea and all fish leave the fjords. Flies are an excellent way of getting contact with these hungry fish, but spin fishers using larger lures of different kinds can also trap many fish. For those not fishing flies, the spring is probably the best season. The fish are hungry and very willing to eat large bait, such as sand eels and small herring. These are easily imitated with lures.
Fishing gets better as water warms

Fishing gets better as water warms, and can be good on sunny days even in January. In the early spring it's all day, but later on in April and May, the action is early morning and evening. You can start out fishing the fjord and estuary areas in January and March, and the move out to the open coasts as the water gets warmer.
Fish will go for large flies (zonkers, streamers, silvery flies etc.). Early spring is for fishing shallow waters with dark bottom, but when temperatures go up, deeper water with sandy bottom will fish good too.
Fish are fast, take the fly with a bang, almost always hooking themselves, and offer a good fight. A lot of fish have to be released again because of their poor post spawning condition. If you want to keep fish, keep only those that are pure silver with loose scales.
More content from the front page