Published Jan 1. 2001 - 22 years ago
Updated or edited Mar 11. 2023
Omoe Brush
Ken Bonde Larsen's now-classical Danish sea trout pattern.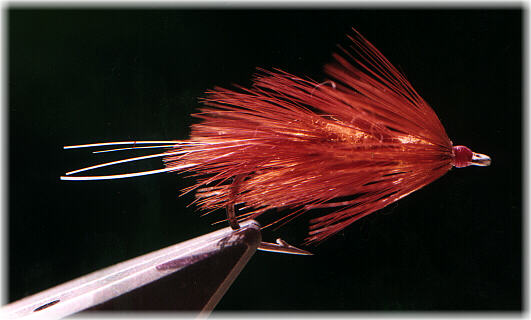 The Danish name of this fly is Omø Børsten - meaning the brush from Omø - or Omoe. Now Omoe is an island in the Danish water Great Belt (Storebælt). My friend Ken Bonde was fishing here one spring and came up with this pattern as a clamworm imitation. The clamworms (polychaetes/annielids, børsteorm - brushworms in Danish) can be very abundant in a short period in the spring, and Ken invented this pattern to imitate them. It has later proved itself to be a very good allround pattern which can be used any time of year.
One of the nice traits of the pattern is its usage of the very common and inexpensive body feathers from Golden Phesant. It's a material that's much too little appreciated.
| | |
| --- | --- |
| Hook | Size 4-8, curved nymph/streamer-hook, Partridge Nymph/Emerger or Tiemco TMC 200. |
| Thread | Red |
| Body | Lureflash Super Bug Yarn in the color Tobacco. Rusty red dubbing or chenille will do as a substitute. Red Golden Pheasant (GP) body feathers. |
| Tail | A few (approx. 4) straws of clear flashabou or similar smooth flash and one red GP body feather. Length as hook shaft or a bit shorter. |
| Head | Thread |
Tie in flash over hook bend
Tie in one GP body feather on top
Tie in the yarn and cover the rear fourth of the hook shank
Cut the yarn if you feel like it. It's not mandatory.
Tie in one GP body feather at base
Turn the feather while stroking back the barbs and tie down.
Cover the base of the feather with yarn and cover the central quarter of the shank
Make one more GP hackle
Cover the front fourth of the hook shank with yarn
Tie in the front GP hackle
Finish of fly with a small cylindrical head
The fly can be tied with the yellow feathers too. It will no longer be a polychaete imitation, but still be a nice fly.
The flies show here have all been tied by turning the hackles in the normal manner. You can also tie in two or more hackles parallel to the hook shank and spread them to achieve a similar but more controlled look. See the color photo of an Omoe Brush tied with this technique in The Fly Gallery.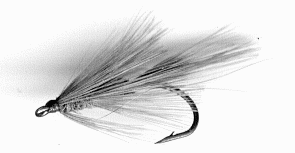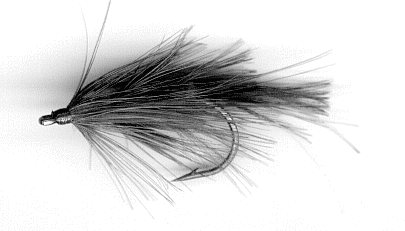 More content from the front page