Published Oct 14. 2002 - 17 years ago
Updated or edited Jul 3. 2017
Small and large flies for sea trout
I highly recommend using small flies for fall fishing for sea trout and rainbows in salt water. The fish have been feeding all summer and can be picky and veeery slow and reluctant to take any fly offered to them.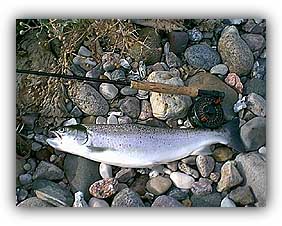 One more fell for the Moyerfokker. This 1½-2 kilo fish took with vigor in bright daylight and gin clear water.
Boring flies
When brought home and examined the fish will mostly reveal a stomach filled with the smallest and most discrete animals in the ocean popularly known as sea flees. These are less then 5 millimeters (1/5 of an inch) in length and are a dull shade of grey in color. Some species are red or slightly pink, but mostly they are just... boring.
Hence the imitations are also very boring. The most boring one is a pattern that doesn't hardly deserve a name, but to my knowledge is generally known as the Killer Bug.
I usually start out with this fly at tying demos because everybody can learn to tie it. It's also so easy that I can't fail... Last - but not least - tying this fly also demonstrates how little it takes to tie a good fishing fly. It's nothing but grey dubbing on a hook. Thats it! It's one of my most productive flies for rainbow in salt water and a very good autumn fly in clear, calm water. And it's a good imitation.


A Bully and a classic
The Copper Bully is a pattern I started using with great succes this spring. It was shown to me by a guy in a local flyshop, and proved its worth on its first few trips. I tie it smaller than the original and use some copper dubbing which is not as bright as that used on the original. My version could rightfully be called a Fancy Killer Bug.
My last small, fall favorite is a true classic. The Red Tag is a regular in my fly box. I use two versions: an ordinary wet fly tied on a streamer hook and a low water version tied on a hook almost the same size. The idea of low water flies is old as Methusalem (almost) and is simply a way of tying a small fly on a larger hook. My thought was that when it can be done with salmon flies, it can also be done with Danish salt water flies. A small fly on a big and sturdy hook - ready to take on a 5 kilo (10 lbs) fish.
Size does matter
Small flies are mostly the right stuff for fall fishing... mostly. Some times the small flies just don't work. Don't ask me why. The fish are supposed to eat small things, and mostly they only have very small things inside them. My flies imitate those small things and should be perfect for 'matching the hatch'. But the fish just don't seem to bite.
If the cure for fish not taking large flies is decreasing fly size then the cure for fish not taking small flies must be the opposite. Using this simple logic I have started changing to larger flies when small ones are refused.
My two favorites for this stunt are the Black Frede - a variation of an old and trusty friend, The Grey Frede - and a new fly, The Moyerfokker. The latter was inspired by Morten Valeur's large Pike Streamer, slightly shrinked and modified. The fly is still large by my normal standards, but thanks the the mylar flash which does not soak water it's light and easy to cast. The eyes make the soft mylar work very well in the water.
---
Low Water Red Tag
Materials
| | |
| --- | --- |
| Hook | Gamakatsu F-16, size 4 or 8. Any down eye 2X streamer hook can be used. Stainless or salt water resistant recommended. |
| Thread | Black |
| Tail | Red wool |
| Rib | Copper wire |
| Body | Three strands of peacock herl |
| Hackle | Small, soft, brown hen hackle |
| Head | Thread |
Tying Instructions
Start the thread behind the hook eye
Cut off a short length of red wool
Tie in one eye width behind hook eye
Cover wool with tying thread to the middle of hook shank
Cut wool leaving a small tuft for tail
Tie in copper wire under hook shank
Wind thread to front of wool
Tie in three strands of peacock herl
Cover herl with tying thread to the middle of hook shank
Twist herl and thread a to form a peacock rope
Wind herl to form a tight, cylindrical body
Prepare a small, soft hen hackle
Tie in base first in front of body
Wind the hackle 3-4 times backwards to form a mini palmer hackle
Wind ribbing 3-4 times forwards over hackle to secure it
Tie down copper and cut surplus
Form a small head from the tying thread
Whip finish
Varnish
---
Copper Bully (Kobberbassen)
Materials
Hook

Short shank wet fly hook size 8-10
Thread
Red or orange
Rib
Copper wire (optional)
Body
Copper flash dubbing
Angel Hair, SLF or equal
Head
Thread
Tying Instructions
Start the thread behind the hook eye
Cover hook shank with thread
Tie in optional ribbing
Dub with flash dubbing to a slightly tapered shape
Rib counterclockwise, tie down and cut ribbing
Form a small head from the tying thread
Whip finish
Varnish
Tease out material with velcro
---
Killer Bug
materials
| | |
| --- | --- |
| Hook | Small wet fly hook, size 10 or 12 |
| Thread | Black |
| Rib | Copper wire (optional) |
| Body | Natural grey hare's or rabbit dubbing |
| Head | Thread |
Tying Instructions
Start the thread behind the hook eye
Cover hook shank with thread
Tie in optional ribbing
Dub with wool to a slightly tapered shape
Rib counterclockwise, tie down and cut ribbing
Form a small head from the tying thread
Whip finish
Varnish
---
Moyerfokker
Materials
| | |
| --- | --- |
| Hook | Gamakatsu F-16, Tiemco TMC 700 or similar heavy, Limerick bend hook size 2-4 |
| Thread | Black |
| Tail | Black and silver flash |
| Body | None |
| Hackle | Black and silver flash |
| Eyes | Bead chain |
| Head | Thread |
Tying Instructions
Start the thread over the hook bend
All flash straws should end up a bit longer than the hook
Tie in a bunch of black flash over the hook shank
Tie in a bunch of silver flash under the hook shank
Whip finish, don't cut thread, but varnish over the bases of flash
Let dry before continuing
Advance thread to an eye width behind hook eye
Tie in one more bunch of black flash over the hook shank
Tie in one more bunch of silver flash under the hook shank
Tie in bead chain eyes under the hook shank
Whip finish
Varnish
---
Black Frede
Materials
| | |
| --- | --- |
| Hook | Kamasan B840 size 2 |
| Head | Medium brass bead |
| Thread | Black |
| Tail | Black marabou feathers and a few flash straws |
| Rib | Copper wire |
| Body | Black marabou dubbing |
| Hackle | Large, black hen hackle |
Tying Instructions
Slip the bead over the hook bend and secure behind hook eye with glue or varnish
Start the thread behind the bead
Cover the hook shank with thread
Tie in flash over the hook bend
Tie in two marabou feathers - one on each side of the hook shank
Leave the base of the feathers and tie them down over the hook shank to right behind the bead
Fold the feathers back and tie down to form a base for the body
Cover the feathers with tying thread finishing over the hook bend
Cut surplus
Tie in copper wire under hook shank
Dub the thread heavily with marabou dubbing. Use wax if necessary
Form a thick, fluffy body
Prepare a large, soft hen hackle
Tie in base first, shiny side facing forwards in front of body, just behind bead
Wind the hackle 4-6 times backwards to form a palmer hackle
Wind ribbing 4-6 times forwards over hackle to secure it
Tie down copper and cut surplus
Whip finish just behind bead
Varnish