Published Jul 15. 1997 - 25 years ago
Updated or edited Jul 25. 2016
The Flex Hex
The fly that did the Limbata as told by Jim Hauer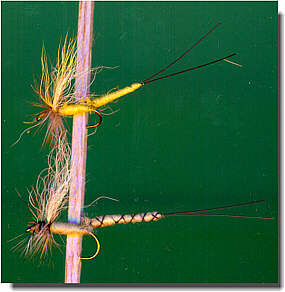 Two Flex-Hex's. Top: dun with yellow body and wing. Bottom: spinner with cream body and tying thread pattern.
Advantages: folds up, soft = deceit
Tough poly yarn body = endures 20+ fish, snaps dry
Easy casting = no leader twist
Barreled upright wings - Stand'em up = dun, pull'em flat = spinner
So on a good night one fly may be all you need.
Materials:
Tail
2-3" of 8 lb. brown Maxima
Rear body
Bright yellow polypropylene yarn
Hook
Daiichi 1180, #8
Connection
4 lb. monofilament
Wing
For dun: elk and yellow calf tail
For spinner: white calf tail
Front body
Bright yellow polypropylene yarn
Hackle
grizzly, cree, yellow, ginger or your local choice

Maxima for tail



Set in vise



Cover with poly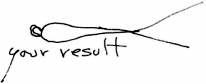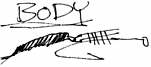 Connect to hook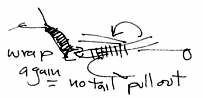 Reverse to strengthen
John Nebel drawings
---
[REFLECTIONS]
Find the size - style - color - wing - hackle that fits YOU
If the tails are too long - trim them. Even down to 1/4 inch
Get a rejection?
Fold the Flex-Hex over in half, roll cast and there's a good chance that it lands with a NEW PROFILE = BIG TROUT
...or finger nail the tail...
...or trim the hackle...
...or sink the fly...
...or pop it up...
...or...
Flex-Hex tying instructions:

Pinch 8 lb. brown Maxima into vise to form tail section
Set in vise as shown
Tie 6 wraps of black 3/0 Monochord tightly nestled against vise jaws
Tie in yellow polypropylene yarn
Cover first section of Maxima while manipulating to a narrow taper
Bring back poly yarn, tie off and cut
Tie optional criss-cross pattern of tying thread over the rear body between tails and back
Whip finish, cut and varnish
Mount hook in vise
Thread 4 lb. mono through eye in tail section
Tie mono on hook with the link right over the hook bend
Reverse the mono and wrap again to keep the tail from pulling out.
Tie on wing. I prefer to post it in two separate wings with thread
Tie in hackle in front of wing
Cover front body with poly yarn
Wrap hackle, tie down and cut
Whip finish, cut and varnish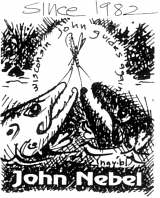 © The Flex-Hex is a copyrighted concept and trademark name.
Enjoy it. Tie it. But use the term Flex-Hex only with credit to me (or permission). No Flex-Hex sales w/o contractal permission.
John Nebel
336 Chute
Menasha, WI 54952
USA
Phone: 414-722-4004
More content from the front page