Published May 1. 2002 - 20 years ago
Updated or edited Oct 27. 2021
Lamiglas Perigee
In the world of fly fishing in the 21st Century, Lamiglas is making some of the best blanks available to anyone, anywhere, for any price. In this review by GFF Partner Bob Petti we look at the Perigee blank, which is only available to custom rod builders. He concludes: "People like rods made from Perigee blanks simply because they make excellent fishing rods." Read Bob's Review.
GFF Rating: 5
Lamiglas Perigee 9' 5/6wt 3pc blank
Price: US$ 165.-
Lamiglas Web Site
Lamiglas Perigee PFT1085/6 9'0" 5/6wt 3pc

The Lamiglas Perigee - available only to custom rod builders.
Something special for the rod builder

How many rod companies do you know that produce a series of top quality advanced blanks and do not sell them as finished rods? Sure, there are companies that make and sell only blanks, but most rod companies who sell their blanks always offer them as finished rods with what seems to be a pretty large profit margin. The advertising hype goes behind the rods, not the blanks. Lamiglas is an exception to this rule. They are a rod company, yet their "Perigee" series of blanks is not offered to the general public as a finished rod. These blanks are produced for the custom builder only. As such, not many people have heard of them. On one hand, that's a shame because they build into rods that really do stand out as fine performers, but on the other hand it's kind of neat that the custom builder can build a rod that nobody else can buy off the shelf.

The fly rod business is very quirky. For the most part, "factory" rods are almost universally more in demand than a true custom built rod. Whether one follows the new or used market, it's almost always the case. A factory rod will move easier and with a higher price than a custom rod. I have no idea why that is. The factory rod is not made with better components, a better blank, nor with better craftsmanship, yet most folks believe that to be the case. I am a firm believer that if a person is looking to spend several hundred dollars on a new rod, they would do themselves a good service to enlist the services of a skilled custom rod maker and have a rod built especially for them.

On the other hand, if you look at bass fishing professionals or saltwater fisherman, the custom rod is considered a competitive advantage. In that sense, Lamiglas isn't taking too much of a risk since the Perigee line of blanks is also available in non-fly models which are very popular. With fly rods, however, having a line of blanks that a person can't walk into their local fly shop and test cast is not only out of the ordinary, it does represent a slight risk to the manufacturer.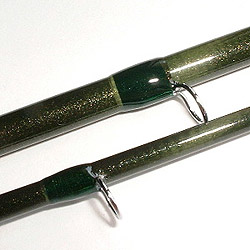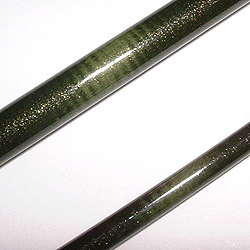 The finish on the Perigee blank is just beautiful. A deep green with a very fine gold fleck. These really are unique and wonderful blanks with beauty matched with functionality.


All that has nothing to do with the blank itself. The model I built was a 9 foot, 3 piece, 5/6 weight. It has overall dimensions very similar to the "Ti2000" rod I build last year in that the butt is a good half inch in size and the blank has an overall larger diameter than what most of us are used to. This time, however, instead of going with a woven graphite reel seat, I asked a friend to turn me a spacer to fit a nice REC nickel silver skeleton. Matching with a full wells grip and a set of single foot snake guides, it makes for a rod that looks as nice as it performs, especially given the "gold sparkle" in the rod's finish. These are really unique and beautiful blanks.

Like the Ti2000, the Perigee is quite a performer. Although listed as "fast" action, I consider it more of a medium/fast action in that the flex is not all located in the tip. The middle of the rod is very active during the cast. I don't like using buzzwords like "reserve power" or such, but it seems that these rods have no quit to them. The more line I keep in the air, the more the rod works for me. The tips are soft and lively enough to allow a delicate delivery at short range, but the bottom of the rod can give a boost to performance when demanded. No one rod can do it all, but some rods seem to be able to do more things than others, and the Perigee blanks make for rods that truly are versatile fishing tools.

As I sit back and listen to people talk about rods on the various online bulletin boards, the one common theme about the Perigee blanks is that they quickly become a person's favorite rod even if the person already has a quiver filled with several "big name" fly rods. Since there is no associated hype or fashion baggage with them, these really come across as sincere comments. People like rods made from Perigee blanks simply because they make excellent fishing rods.

In the world of fly fishing in the 21st Century, Lamiglas is making some of the best blanks available to anyone, anywhere, for any price. For people who are more interested in the performance of their rod rather
than the price they paid for it or the logo in front of the grip, they should contact a custom rod builder and inquire about a Lamiglas Perigee rod. To learn more about custom rods and get contacts for rod builders, I would direct people to The Custom Rod Builder's Guild web site.
More content from the front page