Published Jan 1. 2001 - 22 years ago
Updated or edited Nov 10. 2017
Supreme finish
"In many ways, it was a rod builder's dream finish." Bob Petti writes about Trondak U-40 Duragloss LS Supreme and hands out one of the rare Global Class scores of 6 in his review. He also looks at Trondak's U-40 Rod Bond, which 'only' scores a 5.
Trondak Rod Building Products
U-40 Duragloss LS Supreme
GFF Rating: 6
U-40 Duragloss LS Supreme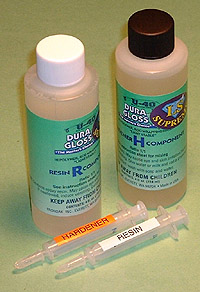 Last year, Ralph O'Quinn, chief formulator and developer at Trondak, told the world of a new epoxy thread finish he had developed. It's name was "LS 2000", and did it ever make a splash with the rod building community. The chief selling characteristic of LS 2000 was it's unparalleled ability to release bubbles no matter how frothy the results of the mixing or the degree of air in the thread wraps. In many ways, it was a rod builder's dream finish. It had a long pot life, so a person could relax and take their time while working on a rod. It was very clear and in fact was very resistant to "ambering" when exposed to UV radiation.
It dried hard but remained flexible. Most important to a person like me, it was about as idiot proof as I could hope for. I was confident that my finish would dry hard, clear, and bubble free without much in the way of unnatural acts. Finally, I had a finish with which I could confidently and repeatedly produce excellent results.
What gave LS 2000 freedom from bubbles also introduced troubles for people used to other finishes. The combination of being very thin and having a long pot life made many complain of drips and sags on their wraps, and dry thread edges as the finish migrated to the center of the thread. My own experiences showed me that I had to baby-sit my wraps for a couple hours, periodically redistributing the LS 2000 on the wraps to prevent the drips and dry edges. The common advice was to use "thin coats", but I couldn't imagine applying the finish any thinner than I already was. A slow RPM motor wasn't much help, either. I was able to get very nice results, but it took some doing.
LS "Supreme" is meant to retain the positive attributes of 2000 while helping those of us who complained of it's thin nature. That it is thicker is immediately apparent when the resin is drawn from the bottle. That's some thick sticky stuff. The resulting mix is noticably thicker than LS 2000, but still has a very long pot life and releases bubbles completely. It retains it's shape on the wrap much better, although a heavy coverage will still sag due to the pot life. LS "Supreme" is also more clear than LS 2000, which is evident as soon as one compares the hardeners of the two. While it does not release bubbles as quickly as LS 2000, fear not. The bubbles you introduce into the mix will release easily and completely.
As much as I was a fan and advocate for LS 2000, I am that much more so a fan of LS "Supreme". This truly is, to me, a slap it on and leave it alone finish. While I don't use it as a one coat finish, I have complete confidence that once I add the finish to my wraps with the second coat, I can walk away and leave the rod to do it's own thing and not worry about drips and sags and dry thread edges.
It is very easy for me to give LS "Supreme" GFF's highest rating.
---
Trondak Rod Building Products
U-40 Rod Bond
GFF Rating: 5
U-40 Rod Bond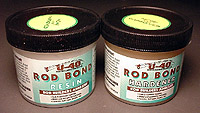 Rod Bond is a terrific rod building epoxy. Being thick, almost "jelly" like, it is perfect for applications where there might be some gap to fill, such as mounting reel seats and grips. Rod Bond is very strong - far stronger than the components it binds together. You can be sure that two parts joined with rod bond will stay joined for the life of the rod and beyond.
What I like about rod bond is its ease of use. While it is designed to be mixed in a 50/50 ratio by volume, it's not so touchy that you need to use measuring devises to mix it. You can eyeball the two parts and be confident the resulting mix will cure properly. Even more, unlike liquid epoxies, it pretty much stays where you put it when it comes times to use it. I don't know about you, but liquid epoxies usually imply a big mess for me. I don't know how many shirts and pants I have that have permanent shiny "wet spots" from liquid epoxy that drips off a rod blank or brush as I'm assembling a rod. Not to mention the blobs of dried epoxy on my desk. Rod Bond prevents that type of mess because you spread it on like peanut butter and it stays where you put it. The excess is easily wiped off with a paper towel and the mess is kept to a minimum. What a relief.
What's new about this version of U-40 is that now all the ingredients are made by Trondak, thus ensuring a consistent and continual supply to the rod building industry as well as the ability to tweak the formulation for specific tasks. According to Ralph, this formula is also a bit more tolerant of the mix ratio and better adhesion to marginal surfaces. If you are currently using liquid rod building epoxies, you owe it to yourself to give U-40 Rod Bond a try.
More content from the front page