Published Oct 7. 2002 - 20 years ago
Updated or edited Dec 2. 2016
Sirrus Co-Matrix
"While the mention of modulus does continue to pop up from time to time in advertising, most anglers, and indeed most rod and blank manufacturers, have gotten over their numbers fetish.". Read Bob Petti's review of the excellent and interesting Sirrus Co-Matrix 9' 2pc 6wt.
GFF Rating: 5
Excellent
Co-Matrix 9' 2pc 6wt
Retail Price $189.95 US
Lifetime unconditional warranty
Available from Sirrus directly.
Sirrus
4820 Intrepid Drive
Las Vegas, Nv. 89130
Ph: 1-702-395-2173
E-mail: sirrusrods@mindspring.com
"Put away your calculators, the Modulus Wars are over."
Modulus is so 90's. From a marketting and advertising point of view, it is yesterday's news.
While the mention of modulus does continue to pop up from time to time in advertising, most anglers, and indeed most rod and blank manufacturers, have gotten over their numbers fetish. Modulus is simply not the deal maker it once was. We're hearing more about the design and construction process, including the introduction of new materials and the blending of existing materials. In short, the hype now is centered around the engineering that goes into a rod, not the material selection.
While consumers are still faced with a good deal of smoke and mirrors, along with a whole new set of jargon (now we have to learn what "scrim" and "pre-preg" are), at least the advertising direction is away from a single reference statistic that does not really tell much of a story by itself. That the marketting folks are giving us a glimpse into the engineer's world is a good thing. Whether or not any of it makes sense, or indeed yields a better performing rod, is another.
Of course, an engineer (of which I am one by degree) will be the first to point out that the term "modulus" is not just a marketting tool, that it describes the properties of the materials that are constructed into a rod blank, but that's beside the point.
Although it might be hard to see in this photo, the butt section (top) shows the filament winding and the tip section (bottom) is made with a conventional graphite blank.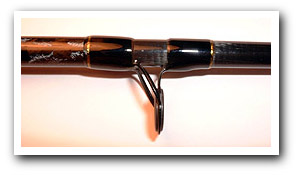 The filament winding ends at the first stripping guide. The joint is a "permanent ferrule" of several inches.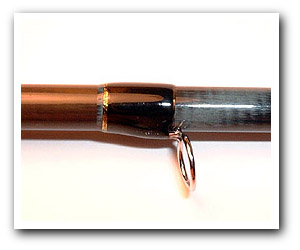 The craftsmanship is top notch - much better than most product rods I've come across and as good as most custom rods I've seen.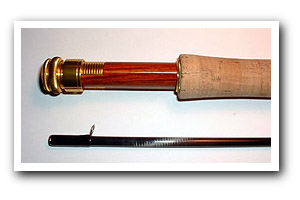 The gold hardware on my rod is not standard. The production rods will feature platinum finished seats or optionally nickel silver fittings. The saltwater rods will have all-metal black anodized seats.
Sirrus is a brand new rod company. If you remember my review of the Lamiglas Ti2000, you'll recognize the concept in use here - the butt section of the rod includes a section of tubular material where you would normally see the continuation of a "normal" graphite blank. In the Lamiglas case, it was a flared tube of titanium. In the Sirrus case, it is a flared tube of "filament wound graphite". The connection between these two rods is their designer, Ken Whiting.
In the late 90's, Ken was busy designing golf shafts that used a combination of titanium and graphite when the idea struck him that this same process could be transferred to fishing rods. The result of his work with Lamiglas was the "Ti2000" that took the "Best Rod" award for new products at the 1998 ICAST show.
It was apparent that Ken was on to something - by introducing new materials and new design concepts, he could produce a product that set itself apart from standard graphite rods. He continued his work after the Ti2000, working with other companies, designs, and materials. In Ken's own words "It was during these tests that I became aware of just how important that area between the reel and the first guide really is to a rod. In testing we saw reduced fatigue, increased fighting power, and significant improvements in casting distance." By making this portion of the rod very strong, he was able to boost the performance without sacrificing fishability. The Sirrus Co-Matrix rod is the latest result of Ken Whiting's
research I was able to verify Ken's performance claims for his Co-Matrix rods with my own backyard and streamside tests. The rod is indeed powerful, but not overly stiff and has a very light feeling tip. Like it's Lamiglas cousin, the Co-Matrix is flexible enough to allow in-close fishing, yet has plenty of backbone to reach out to distant targets. Simply put - it's easy to cast and a joy to fish with.
What surprised me most about the Co-Matrix rod was the aesthetics. The craftsmanship in the rod rivaled what I would expect on a fine custom built rod - gold trim rings at each guide, a grip turned from high quality cork, and outstanding epoxy work. This rod would stand out among any big name production rod. My hat's off to Sirrus for not taking a short cut in this area while still keeping the price surprisingly reasonable.
The components of the Co-Matrix are in tune with most modern "high performance" rods. Single foot wire snake guides (which I use on my own personal rods), a ceramic insert stripping guide, and a nice reel seat with a beautiful cocobolo spacer (although Ken tells me the final production rods will feature platinum finished or optionally nickel silver seats in place of the gold found on my rod). A very professionally put together tool, this rod.
In addition to the 6wt reviewed here, Sirrus also produces the Co-Matrix in an 8' 3/4wt, a 9' 9wt, and a 9' 12wt. The latter will be field tested by Martin Joergensen when he takes a trip to Belize sometime this year (no, he's not bringing the GFF crew with him, the bum). If it's as good as Ken says it is, then Martin won't have an excuse for us if he doesn't land his tarpon. The rest of the Sirrus Co-Matrix line is comprised of bass rods. These rods are not as yet available as blanks.
I have to hand it to Sirrus - for under $200, they made one heck of a fine fly rod. Give them a call. I'm sure they would be glad to tell you more about them.
More content from the front page