Published Jan 1. 2001 - 22 years ago
Updated or edited Mar 14. 2016
Mix your own dubbing
Making your own or improving store bought dubbing. I recommend that all dubbing be passed through a coffee or spice grinder prior to using. The grinder tends to separate and air out the fibres providing a lighter product than would be normally accomplished by just using the blend out of the bag.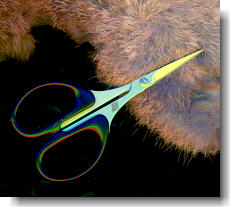 Cutting the fur off the skin and processing it in a coffee grinder yields some very fine dubbing.
I recommend that all dubbing be passed through a coffee or spice grinder prior to using. The grinder tends to separate and air out the fibres providing a lighter product than would be normally accomplished by just using the blend out of the bag.
In addition, dubbing your own allows one to change the chroma to match local conditions. You can vary colour, texture, and any other characteristics as needed. I won't argue for cheaper because it probably isn't cheaper than buying pre-made dubbing unless you tie a lot more than I do.
Methods to blend
By hand: just pinch, pull and mix. Pull some yarn or underfur and mix as needed. Continue until the mixture is uniform. The process is pull some material and add to the pile, continue the pull and mix procedure until the desired result is reached.
Using carders or brushes. This procedure needs two carders or wire brushes to tear apart the fibres. Just stroke the materials with the carders until a suitable quantity has been gathered. Repeat for additional materials. Just use the pull and mix method with the two implements. This is accomplished by stroking the carders horizontally until the material is blended to suit tastes.
By using a coffee or spice grinder: cut yarn or fur into lengths no longer than 1/2 inch. Add to grinder and whirl away. Some tyers will rub the grinder with an anti-static sheet to remove the static electricity which may cause uneven results. Pulse instead of using a continouus grind. Check to make sure that the fibres do not tangle in the blade and that the synthetics are not meltingin the process. This will be seen as little nits of fused plastic throughout the dub. Do not grind for long periods and without continual monitoring. One may want to scrape the sides periodically to aid in the blending process if the materials have vastly different textures.
By using water and a blender - Blenders are not ideal for blending dry materials. Water should be added prior to running. Just immerse the materials to be blended in water and use the blender in a pulse mode. When the materials have beenmixed suitably, let the mixture dry. It doesn't hurt to run the dried mixture through a grinder to fluff it out. This method is ideal for materials that might melt when blended dry or mixtures where the materials vary widely in consistency. The water also minimizes the effects of static on the ingredients.
Blending by hand using water: Just immerse materials in a container with water and stir to mix. Allow to dry and then fluff.
One last note: These methods are not mutually exclusive and several may be used in conjunction to produce the desired results.
Using soap water
Here's an alternative, cheap and a bit more time consuming and low tech way to mix dubbing: pluck or cut the fur you want to mix into a lidded glass or large neck bottle. Mix as you wish: underfur, spiky cover hairs, antron, flash etc. and add water and a bit of dish washing soap or shampoo.
Put on the lid and shake violently for half a minute or less. Drain the water thrugh a sieve or coffee filter, put the now wet and sorry looking lump of fur into the glass again and rinse in clean water. Repeat the rinse process until there is no more foam when you shake the glass. A couple of times is normally enough.
Pour out the fur on a coffee filter, spread it out a bit and let it dry for a day or so. You can now pick it out and put it in a bag and you will have a dubbing that is well mixed and normally easy to apply.
Suggested dubbing mixes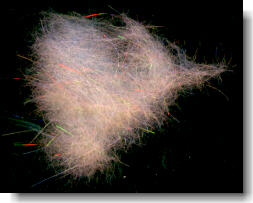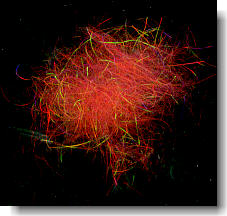 These mixes are both made from natural rabbit and SLF - on top gray and pearl and below red rabbit and sparkling red SLF.
Here are some good and useful dubbings:
Plain rabbit - Cut the hair off plain natural or dyed rabbit skin and mix. Most suited for the coffee grinder. The dubbing will become very dense and easy to apply. The underfur is long and soft and will adhere well to almost any thread.
Rabbit and deer hair - Mix some fine deer hair into the above mix. Approx 1/10-1/5th of the amount of rabbit. The deer hair should not be too long - approx 2/5" (1 cm). I have used surplus from muddlers with luck. Some of the deer hair will be lost when using the dubbing, but the result will still be excellent.
Rabbit and SLF - Cut natural rabbit off the skin and remove as many guard hairs as possible. The remaining underfur is normally a dull gray. Mix into this SLF in one or several colors. The SLF must be cut into pieces no longer than 1/2" (1.5 cm). I like a combination of bright red, dark olive and off white. I take 1/3 of each adding up to approx 1/4 of the whole portion.
Squirrel and Antron - Cut the hair off a natural or dyed squirrel skin using scissors. You might want to remove some of the guard hair. Mix with approx. 1/3 white, sparkling antron yarn cut into 2/5" (1 cm) pieces in a coffee grinder.
Marabou - This is one of the best and most underrated types of dubbing I know. It consists of all the surplus from almost any kind of feathers. 'Genuine' marabou can be used too, of course.I prefer to keep colors and types separated, but you can mix according to taste. While working with the feathers, you normally strip the 'webby' - plumulaceous - part of the feather bu pulling off the barbs. In stead you should cut them with scissors into a container or bag. After gathering a sufficient amount, just drop it into a coffee grinder and run it for a few seconds. Static electricity will be a problem with the very light and fluffy material - but believe me: it's worth the trouble.
More content from the front page