Published Aug 19. 1999 - 23 years ago
Updated or edited Mar 11. 2023
Selecting hooks for saltwater
Fly hooks for Scandinavian salt water fishing There are several considerations to make when choosing fly hooks for salt water fishing for sea trout.
Hook types that I recommend for salt water flies:
Tiemco TMC 700

Tiemco 800S/811S

Tiemco TMC 200

Partridge Nymp/Emerger

Partridge John Holden

Kamasan 800/820

Kamasan 840B

Kamasan B175

Mustad 34011, streamer
There are several considerations to make when choosing fly hooks for salt water fishing for sea trout.
We are talking salt here,
so obviously 'salt tolerant' or stainless steel is something you have to consider. You can fish with normal non-stainless hooks -- they often work very well -- but be prepared that the hook will rust no matter what and the fly will eventually give up.
Stainless steel does have one disadvantage, though; The stainless hooks are fragile and break, but normally that will not happen, unless you abuse the fly.
The size of the hook
is a question like in any other kind of fishing. Most of my flies are tied on hooks from #4 to #12. I use a few larger hooks for special flies like the Crab.
I've heard of people that fish sea trout with hooks into the 20's, but I personally wouldn't like to fight a 5 kg (10 lb.) fish on a #20 hook. Very large hooks can be difficult to cast with the avarage Danish or Baltic sea trout tackle.

Two straight eye streamer hooks:
a Kamasan Thunder Creek #4 and a Mustad 34011 Stainless #8
Both types can be used for salt water fishing.
The Kamasan will stand salt to a surprising extent.
The shape of the hook
is mostly dictated by the pattern, but many of the patterns I use can be tied on various hooks. Most common are streamer hooks -- straight or down eye -- and curved hooks like nymph or emerger types.
The type of the point of the hook
is a matter of personal opinion. Chemically sharpened hooks are very sharp when you buy them, but will loose the point after a few times in salt water. They can be resharpened many times, but will loose that ability too after enough wear. Most modern hooks are chemically sharpened, though, so the decision might not be so hard anyway.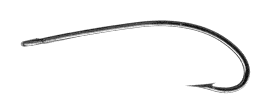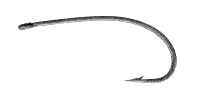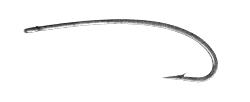 Three types of nymph/emerger hooks: Mustad Curved Nymph/Dry (80050 BR), Partridge Emerger/Nymph (GRS12ST) and Tiemco TMC 200. All are the same size (#6).
The Partridge is my own favorite. It's made in a Niflor coated version which is not stainless but close.
More content from the front page