Published Jul 17. 2007 - 15 years ago
Updated or edited Oct 8. 2020
Cool, crazy flies
Foam Toads are flies just as I like them!
Matti Majorin whose name sounds kind of Finnish, is a fly tyer and angler whose Foam Toad flies have stirred my interest - not least because they are really crazy in colors and construction.
Matti seems to be an avid tarpon fly angler, and his Foam Toads are a new and different breed of flies for tarpon altogether. They are colorful, seemingly upside-down files, which look like candy-striped Del Brown Merkin Crabs - a fly more known for its ability to attract permit.
Matti's flies seem to be tied using the same technique, but uses foam in stead of the yarn usually used for the Merkin. It also seemt to use marabou as a tail, where the usual crab patterns are mostly tied with stiff hackle feathers, perhaps even supported by some even stiffer bucktail.
So even though the Foam Toads look like the crabs, they must necessarily act completely different: Fish "upside-up" because of the foam, have a lot of movement compared to the crabs and of course be far more visibly provoking with their bright colors.
There are precious few references to these flies online, but the Black Fly Outfitter Store has them for sale and also features some really nice photos of the flies and a short bio on Matti. I took the liberty of lifting the fine pictures of the flies from the shop's site.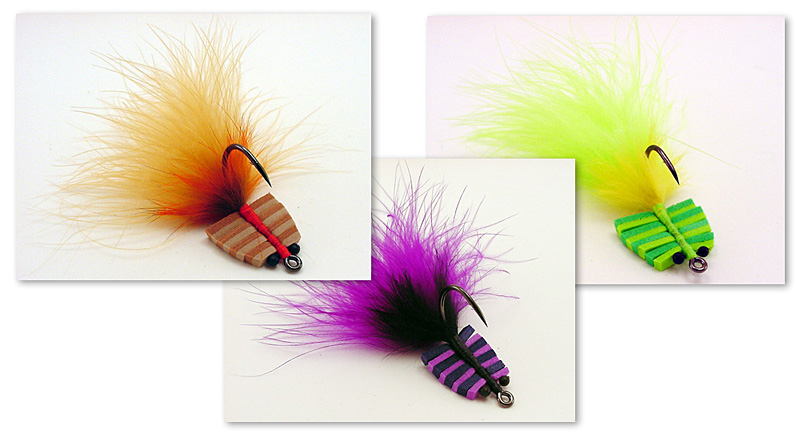 I will try to get a hold of Matti and get some guidelines to tying this fly - and maybe even enticing him to do a little writeup about the pattern, which I really like. Just my kind of fly - foam and colors!
More content from the front page