Published Feb 7. 2012 - 10 years ago
Updated or edited Oct 8. 2020
I did it again
My bookshelves are already filling up as it is, but I still have a very hard time with the online bookstores. I simply can't help it.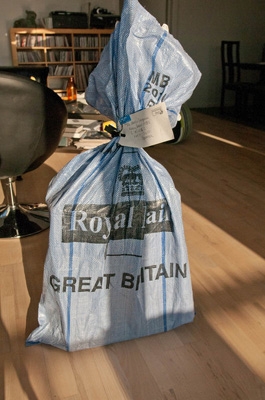 I routinely visit the virtual Coch-y-Bonddu, Anglebooks.com, Paul Morgan's Welsh bookstore, which is an excellent web site with a whooping 60 pages of bargain books.
It's my usual game: I click my way through the pages, add the interesting books to the shopping cart and when I'm done I usually have some 2-300 US$ worth of books accumulated. Even though it's tempting, I usually avoid clicking the checkout-button right away.
The next part of the ritual is going through every single book and assessing it again, checking value-for-money and picking the best and most interesting titles. That usually brings the bill down to about 100 dollars, which is my sweet spot. It leaves me with about 4-8 books depending on what I have selected. At that point I'm ready to press checkout, virtually swipe my credit card and then wait for the Royal Mail bag to arrive. Since Paul's shop is in Wales and I'm in Denmark, that is usually only a question of a few days.
One such bag arrived today, containing seven books. Perfect to accompany a cup of coffee and a sandwich, and as always a treat and something to look forward to reading in detail. I always get a kick out of these first looks at new books.
I noticed a thing by the way: all books are from about 10 years ago 1999-2003. I bought them all from new, so they are in mint condition (one had a bit of damage from moisture), but none of them are brand new, which may be one reason that they are in the bargain bin.
I'll do as I did last and cover each with a short description as I add it to our review queue.
---
I have become more and more interested in biographies and fishing stories compared to earlier where patterns and photography was my thing. This is yet another book to bring to bed to read just before I sleep. At 5£ or about 8US$ it can't go all wrong.
---
This is a really charming and beautiful book that I really look forward to go deeper into. And it's beautiful too with meticulously drawn color plates. At 3£ or less than 5 USD it's a steal. There's a second volume out, "More Flies, Flowers...€ which I may have to acquire.
---
Nice pictures of nice flies always get me, and even though I rarely tie salmon flies, I enjoy books about them. 8£ for this one.
---
Not the most exciting book of the bunch but at 10£ the most expensive - but still cheap for a nice big book with lots of pictures and flies.
---
I'm a sucker for photo books and this one is mostly photos. Good book for 8£
---
Destinations but also lots of photos. Not much to think about when the price is 6£ or less than 10 USD.
I also bought Poul Jorgensen's Dry-Fly Patterns for the New Millennium which Bob Petti has already reviewed. Just nice book with lots of dry fly patterns.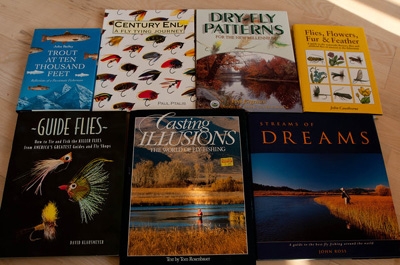 More content from the front page