Published Apr 6. 2008 - 14 years ago
Updated or edited Oct 8. 2020
Thunder Creeks
These were the first Thunder Creek streamers I have ever tied. A couple weeks ago I was rummaging through a stack of Fly Tyer magazines and tripped across a profile of Keith Fulsher. "That's it", I said. "Another itch that needs to be scratched".
Yesterday, my wife and daughters were in NYC on a girl scout trip, so I had the day to myself. I fished in the AM, but conditions are just not good now. I came home, put the Yankee game on the tube, and dug out some materials. The first fly wasn't so good (the oddball in the photo below), but I wasn't discouraged enough to give up. By the time the dozen was complete, I felt I got a sense for tying these flies, although my results are still miles from Mr. Fulsher's.
The biggest challenge is in selecting the bucktail. A real crinkly hair just won't work on these flies. Fortunately, I have a good stash of white tails, so I was able to get the natural browns for some of the backs as well as the good white bellies, but for a few of the flies that called for dyed tails, I was at the mercy of my bin. The Brook Trout, for example, calls for the brown side of a blue dyed bucktail. I have a few blue bucktails, but none of them have that nice straight hair you'd like in a Thunder Creek, so I had to do the best I could.
The next challenge is keeping things in proportion. If you study photos of original Thunder Creek streamers, you can see that the head is about a third of the shank length, so I tried to maintain that through my set of flies. I think I did ok in that regard, although a few of the flies required multiple tries to get it right.
Finally, the epoxy head is not as easy as it might seem. My first mistake was working with cold epoxy. My tying room is downstairs and it is always cold in there, so the epoxy was pretty stiff and goopy even after mixed, which lead to a few lumpy heads. It was also a learning experience trying to figure out how much to use - just enough to cover the hair but not enough to sag and create footballs. You can see a few footballs in the set of flies. Oh well. They will fish.
I tried to keep these sparse - in respect of Mr. Fulsher's original designs. Less is better than more on this style of fly, although a few might have gotten away from me in that regard. The olive grizzly wing on the Brook Trout make those appear to be heavily dressed, but I there really isn't much hair on those.
It was fun. Thunder Creek streamers are sorta like Lays potato chips. One you start, it's hard to stop. Now I wanna tie the whole set.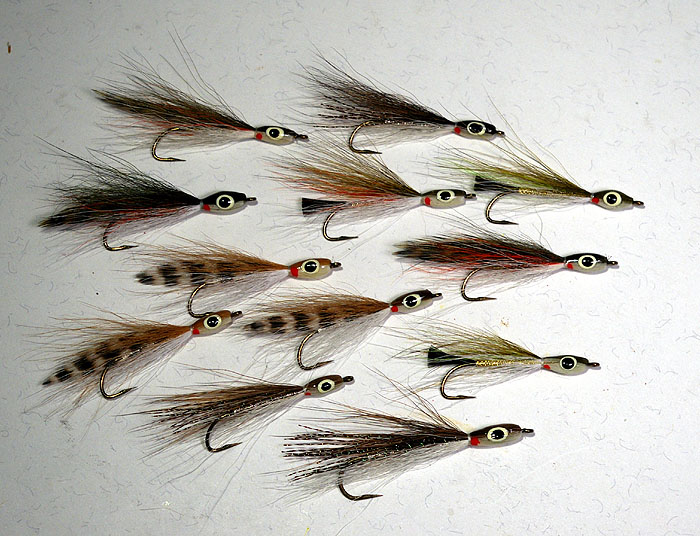 More content from the front page