Published May 1. 1995 - 27 years ago
Updated or edited Mar 11. 2023
This is Denmark
Denmark is a small country; the size of Pensylvania, and can by no means be compared to the other and far larger Scandinavian countries; Norway, Sweden, Finland and Iceland.
Small country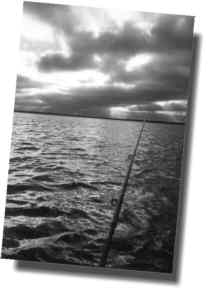 Denmark is a small country; the size of Pennsylvania, and can by no means be compared to the other and far larger Scandinavian countries; Norway, Sweden, Finland and Iceland. We don't have space and far stretched widths to match them. What we do have is more than 7,000 kilometers of unspoiled shoreline and good clean water.
Thanks to an intensive (almost too much, but that's another story) care and release of millions of fry and smolt we have an almost unnaturally high abundance of sea trout on these coasts.
Sea trout is a migratory fish, but it stays near the shore to eat and grow, so many of the released fish will be available to fishermen for years to come.
No mountains
We have no mountains, no big rivers and not many big streams, but the few streams and rivers that hold fish will offer sea trout, salmon, brown trout and grayling. On top of that there's pike and perch to be caught on the fly in fresh waters. We find rainbow a few places, but they have escaped from sea-farms and don't breed naturally in Denmark as far as I know.
Sea run brown trout
In salt water the primary target is sea run sea trout. There's salmon too, but they are only rarely caught in salt water, and when it happens it's mostly from boats over deeper water. As in the streams we find rainbows which have escaped from sea farms. As the sea trout they stay close to the shore, and after a few months in salt water they are in top condition and offer very good sport.
Cod
Cod is another popular fish to catch in Denmark. Most cod are landed from boats, but actually cod is an excellent fish for fly fishing. I've caught a 2.6 kg (5 lb.) cod directly from the shore on the fly, though that's a Benjamin compared to the 5-20 kg (10-40 lb.) cod that are taken in deeper parts of the sea. Other fish can be caught from the shore, but none are as common as trout and cod, and few take a fly.
Garfish
In the spring we have a short season for garfish (Belone belone). This fish can be taken on a fly rod and offers very good sport and food. It's a welcome addition to trout fishing, that can be a bit slow in May/June.
Almost free
Fishing on the coast is almost free. There is a fee/tax of DKK 100.- (app. 20 US$) for one year of fishing, and this money is used for breeding fish and stocking smolt on the coast and in the streams, restoring streams etc.
All the coast is accessible. No one can limit your right to fish, even if they own the land. Your ways of getting to the water can be limited by land owners, but in principle you can always get there by the beach or by wading in the water.
Best time
The fishing season is all year - whenever the water is open. For flyfishers fishing is best in the spring, late summer, autumn and early winter. Water temperetaures should be 12 degrees Centigrade or below down to 4-5 deg. C. In the spring and fall the temperature passes the 6-9 deg. Centigrade span, and the trout are usually eating small fry, sticklebacks, shrimps and different copepods, isopods etc. - ideal for a fly tackle.
More content from the front page