Published Jan 1. 2002 - 21 years ago
Updated or edited Mar 11. 2023
Monster Muddler
A large muddler for pike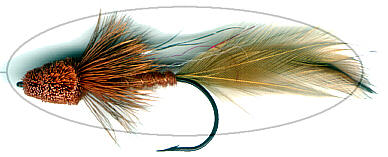 Brown Monster Muddler
Materials:
| | |
| --- | --- |
| Hook | Large but light pike hook size 1/0-6/0 |
| Thread | Brown |
| Tail | 4-6 badger or furnace hackle feathers |
| Rib | Oval silver tinsel |
| Body | Brown dubbing or brown chenille |
| Wing | 4-6 strips of silver mylar |
| Head/collar | Brown deer hair |
Tying instructions
Select 4-6 hackle feathers abd strip or cut the webby part from the feathers. The tail should be a bit longer than the hook shank
Tie in 2 or 3 feathers on each side of the hook, dull side out
Tie in ribbing over the hook bend

Tie in chenille over the hook bend and wind tying thread forward followed by the chenille to one third behind the hook eye
Tie down and cut surplus
or...
Dub a slightly tapered body to one third shank length behind the hook eye

Wind the ribbing opposite the body material
Tie down and trim
Tie in the mylar flash over the front of the body. Length should be to middle of tail
Stack a bunch of deer hair and tie in to form a collar
Tie in more deer hair to form a large and dense head
Whipfinish in front of the head and varnish
Trim deer hair to form a large conical head
The Monster Muddler is good for more exotic fish too. This mail arrived on December the 25th 1995:
Hey Martin,
Happy holidays, I hope you're still online and you receive this note...
Stopped by the Glades the other day, first time since summer I really checked it out... I was very surprised to see the tarpon rolling, I threw every fly I had, until the large sized muddler you tied hooked and landed a 15 pounder... It was a memorable moment, and loads of fun...
I'm all outta muddlers, and I need some help with the recipe, so if you're still around, please let me know how I'd go about creating one..
Merry Xmas..Paul
NMB, Florida
More content from the front page