Published Jan 1. 2002 - 21 years ago
Updated or edited Oct 27. 2021
Harry Boyd
GFF's own bamboo rod expert and maker of these beautiful rods. Best known for his extremely popular series on making your own bamboo rods.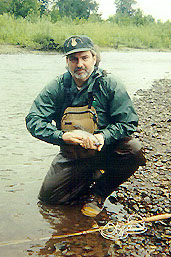 Harry with a nice grayling on the Talachulitna River in Alaska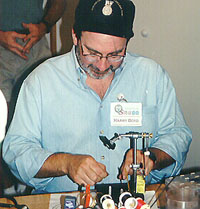 Tying flies at the 1999 Southern Rodmakers Gathering. I organize this gathering each year. In 1999, we had 74 rodmakers from all over the world in attendance.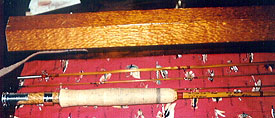 One of my deluxe model rods.


No one ever said it better than Norman Maclean, "In our family there was no clear line between religion and fly fishing..." For me, that is certainly true. I am a minister and build and fish with bamboo rods in my free time. Handcrafting fine bamboo fly rods one at a time in my small garage workshop is more than a hobby, more
than a labor of love, it is almost a spiritual experience. John Gierach says it well in Trout Bum: "... fly fishing is a sport in which fish are caught properly only in a certain way, often against all odds, and using rods made from a weird kind of grass that grows in China ... it seems somehow appropriate."

Several years ago, I bought a used Leonard fly rod from one of the major dealers.
For once in my life, I got the best end of the deal. Dreams of bamboo fly rods had danced in my head for as long as I could remember, and I fell in love with the gentle rhythms and sensuous look, feel, and smell of that old rod. Hundreds of fish were lovingly drawn to hand with that old 50df, and I loved it more each time I hooked another fish. That old rod just felt right.

Anyone who loves something that much naturally sings it praises. One of my fishing friends took my bragging seriously, and asked to try out that piece of old Hiram Leonard's handiwork. We swapped rods for a few hours that afternoon, and that was a mistake. You see, my friend liked the old Leonard as much as I did. And he simply had to have it. He paid dearly for it. I made quite a nice profit, and decided to buy myself another bamboo rod.

Little did I know that even with the profit I made, I was still far short of what was needed to buy a decent classic cane rod. I searched for months, and never found a rod in my price range that grabbed
me. About that time, a young man in our flyfishing club showed up for a meeting with a bamboo rod he built. I had tied my own flies and built my own graphite rods for years. My thinking was, "If Doug can do it, so can I!" Thus began an odyssey of nearly a year's worth of searching out tools, techniques and time.

Old rod makers refer to building one's first rod as a "thousand hour journey," and that's not much of a stretch. The first rod I built has a funky looking Garrison style grip, and goofy node spacing but it isn't for sale, at any price. It casts well, and looks okay, and though I don't often show it off, it's still special to me.
Something about it just feels right.

Harry Middleton has one of the characters in The Earth is Enough try out a new-fangled
fiberglass rod in a small town hardware store. As a confirmed bamboo man, he wiggles the new fiberglass rod a few times then throws the entire line with one backcast. He reacts by telling his admirers that he just doesn't feel the trout in that rod. Something about a bamboo rod just feels right.

Something also feels right about joining the GFF staff. A desire for quality, an intention to help, and the hope to provide only the best in fly fishing information fits well with my desire to build the best rods ever made.

Harry Boyd,
August 2000

fbcwin@3g.quik.com or
maker@canerods.com
canerods.com

Harry's articles
More content from the front page